My mission at the exhibition was to make a short list of the favourite ballgowns – yes, it did include both Gareth Pugh and Alexander McQueen. I was thrilled to be able to walk around a selection of contemporary designs, studying them from every angle. The vintage collection, on the other hand, is unfortunately behind glass but you will find an excellent selection of film clips from the 1950s, 1960s and 1970s. The exhibition is the closest I have been to ballgowns since I designed a collection for my paper doll, as a young girl.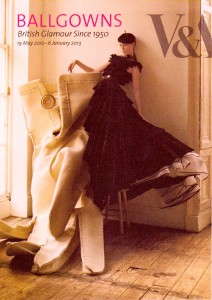 The exquisite fabrics in all the colours of the rainbow, beaded or embroidered or printed, were a feast for the eye. As was the projection of a selection of the garments exhibited photographed by David Hughes, in the gallery alcoves. You lifted your eyes to gaze in amazement at each gowns and at the sculpture replacing the head of the mannequin for then to see it vanish replaced momentarily by shooting stars on the alcove heaven. I could have stayed there all day. Here is link to two of the photos, see www.vam.ac.uk/content/exhibitions/ballgowns.
Afterwards I had the obligatory wander around in the bookshop and discovered, to my delight, that the knitting section has increased since my last visit. You will find talented designers with a focus on vintage knitting such as Susan Crawford and Claire Montgomerie on the shelf. My discovery was a new Pattern Magic book, the third in the series, called Stretch Fabrics by Tomoko Nakamichi, post will follow do not worry, and bought only that one – a new record! I can also report that not a single person was knitting in the courtyard in the sunshine and me – I was too busy munching my scone!
If you are not able to visit I recommend you to find your magnifying glass and study the main photo on V&A's Facebook page and the articles on their website. In addition, you will also find a fascinating collection of free knitting patterns from the 1940's, see www.vam.ac.uk.