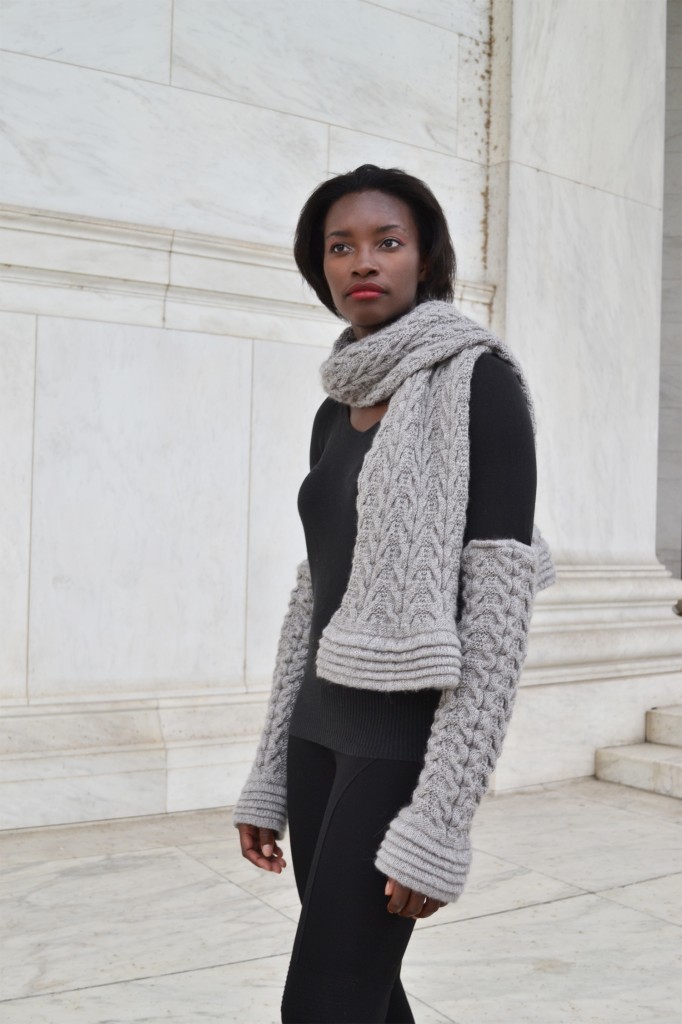 My design has been published in the recently published Fall/Winter issue of Clotheshorse digital magazine. I am delighted with Heather Dixon's photography and styling as well as the stunning model, Natalie! In my design submission in response to their experimental mood board, I wrote: "Tyrol Scarf and Loose Sleeves. An experiment with layered tucks and a patterned cable results in an exciting scarf with matching loose sleeves. I adore these Tyrol cables with their flower bud shapes and the contrasting tucks at each end. The layered tucks create a sculptural feel and add drama to the bottom of the loose sleeves. Both are knitted in the round to form a tube of textured volume." I suggested knitting it in Madeline Tosh DK in Composition Grey but Clotheshorse selected the much softer and more divine Blue Sky Alpacas Metalico in 50% alpaca, 50% mulberry silk in the natural color of Platinum, see blueskyalpacas. Each skein is 50 g with 135 m/147 yds, so you will need 13 for the scarf and 5 for the loose sleeves or 17 for the set and 3.5 mm/US 4 circular needles. Here is a link directly to the pattern page: issuu.com/clotheshorse.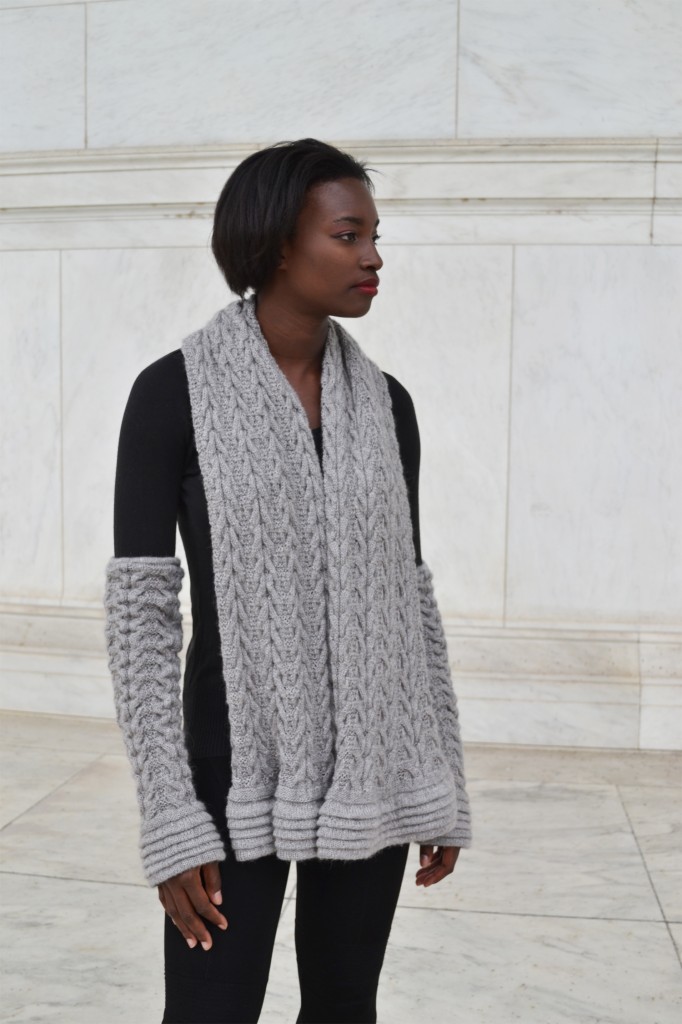 The scarf is worked in the round, bottom up in two parts; first: tucks and cables and second: opposite tucks to make the tuck layers identical. The parts are knitted together with a 3 needle bind off. The loose sleeves have elastic in the encasing at the top (or knitted in elastic, if preferred), in addition to a cord which can be tied onto the scarf at cable crossings when worn around the shoulders and fastened with a shawl pin or tucked into the end, see photograph below taken by my husband. One loose sleeve also looks nice worn as a small scarf around the neck.
The most popular of the 25 designs in this issue of Clotheshorse is the cabled cardigan; Hardy by Kristen Tendyke, see ravelry, while I prefer the spiked shoulder jacket; Hepworth by Ruth Roland, see ravelry. Here are all the designs presented on Ravelry; clotheshorse-fall-winter-2013/patterns but do not miss the Runway Reports in the magazine itself, see clotheshorsemag. Thank you, Clotheshorse!