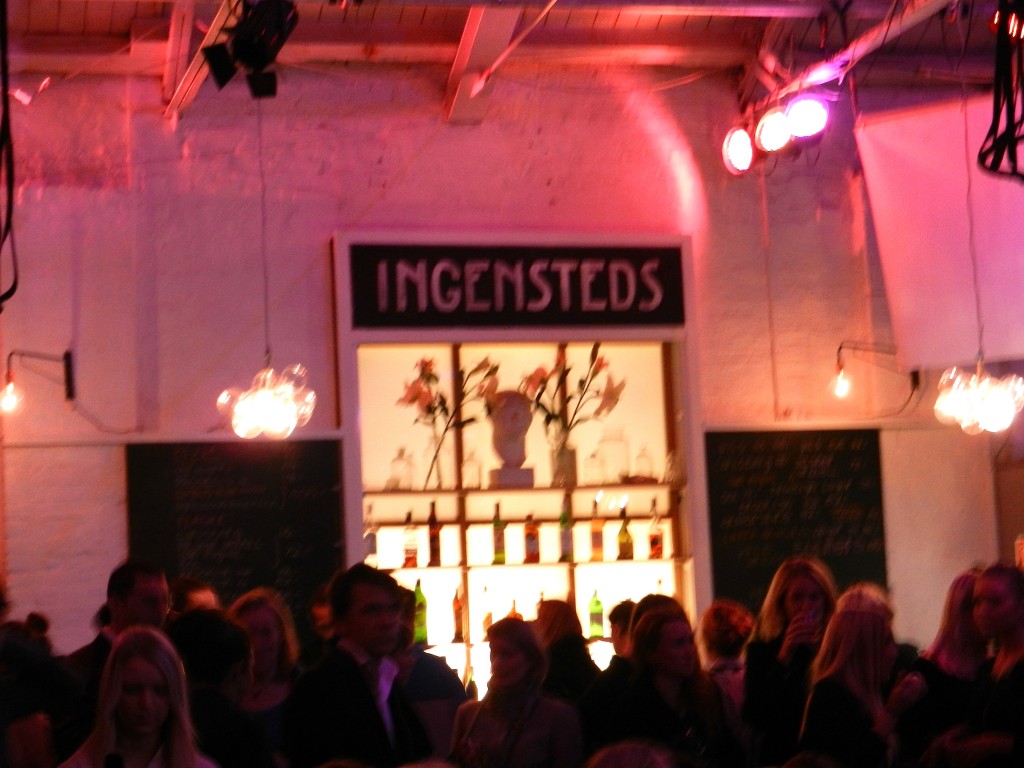 Oslo Trend Fashion Festival is on, and I went to Designerkollektivet's Fashion Show at Ingensteds/Nowhere. Designer Tove Klevjer and I had problems finding the venue, so I made sure I asked a passerby for the address, and not the name of the place. 14 of Designerkollektivet's designers participated in the show organized in co-operation with Oslo Trend, EB Models, Art Complexion Makeup School, Westerdals Høyskole/High school, Ingensteds and Oslo Trend volunteers. Ingensteds was packed and in disco mood, when we arrived just before 7 pm, but we found a good space to stand next to the camera on the stage above the catwalk. My highlights were the stunning wedding gowns by Judith Bech design, HotNok signature pieces, Sorl ved Strand magnificent knitted dresses, and corsets by Bine – Design med etisk pels/Design with ethical fur. You can see all the outfits here: flickr.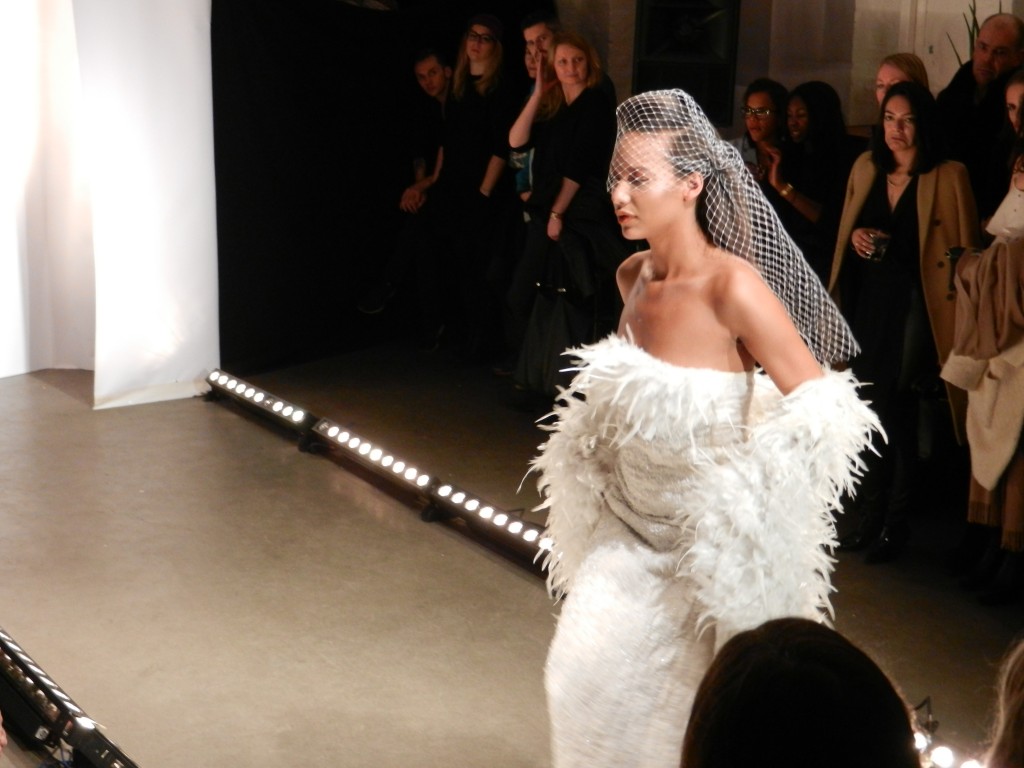 The model, wearing a gorgeous wedding gown decorated with feathers by Judith Beck, is on her way up a couple of steps, standing on a pedestal like a breathtaking sculpture for a few seconds before moving on.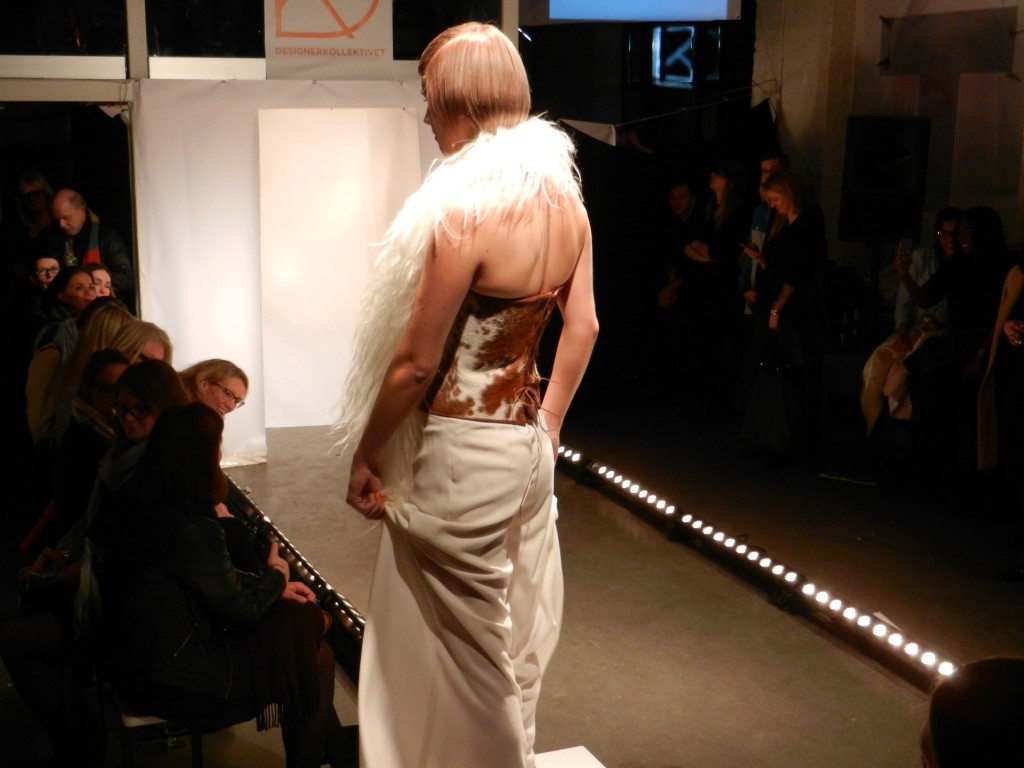 Here is one of several captivating corsets made from farmed livestock from Bine – Design with ethical fur.
Two of Sorl ved Strand stunning dresses, both ingeniously constructed by designer Sissel Strand! You could hear the awe when her Mens' poncho in panels with a blue hood and matching leg warmers came on the catwalk. I was too busy staring to take a photo, but look here: flickr.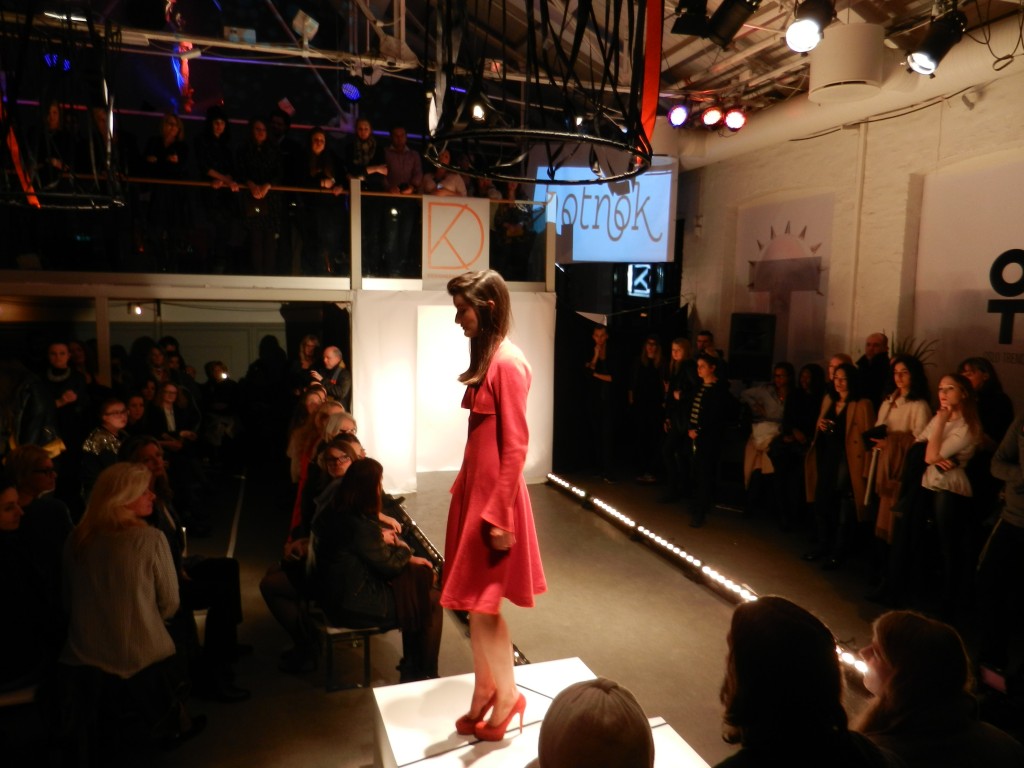 The signature dress and bolero from HotNok. Outstanding in a bright red. I was impressed by the models bravely stepping up the high steps in sky-high heels, and managing to keep their balance.
 And finally, all the designers came out on the catwalk while we applauded. I left the fashion show inspired, and with a collection of tempting discount vouchers.