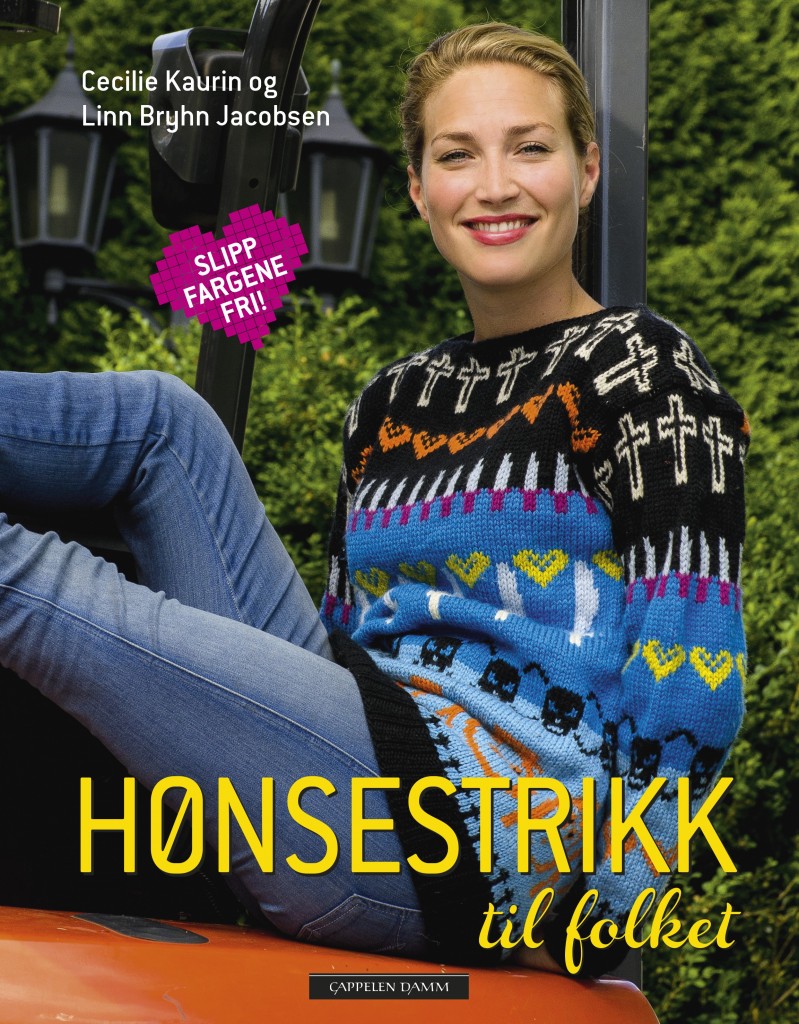 Chicken knits to the people is a direct translation from Norwegian of this popular newly published book by Cecilie Kaurin and Linn Bryhn Jacobsen, see cappelendamm. Slipp fargene fri/Let the colors loose is their encouragement to knitters here in Norway, written on a heart shaped chart with a photograph of the trendy Karpe Diem sweater on the cover of this book ring bound for easy and regular use, see my earlier post; Hobby Night at Cappelen Damm. Some knitters have even commented that they would have preferred to have the cover laminated too, so that the wear would be even less. I still have a number of my favorite patterns laminated, so I understand the request too well…
Chicken knitting has nothing to do with chickens, but is a 40- year old term invented by the Danish author and knitter Kirsten Hofstätter, who was tired of not being able to buy patterns without buying yarn, and made her own pattern book with less rigid pattern set up. She was refused by the left radical publishing firm Rød Hane/Red Cock and started her own publishing firm called Hønsetryk/Chicken print. She encouraged knitters to create and fantasize with knitting needles without strictly following a knitting pattern. Chicken knit became a term for knitting with colorful yarns, preferably waste yarn and for making your own colourwork borders. So begins the foreword to the book, and continues with how to knit creatively making up your own pattern. The patterns in the book are all knitted in the round and steeked. Not all border repeats fit the stitch number but the authors encourage you to end in the side where it is less visible. All the major borders on the body should fit, though, and you can adapt the smaller ones to fit yourself if you prefer. The book contains 23 patterns – with different variations for each one – for adults, children and accessories as well as chapters on tips and tricks and gauge/tension; personalizing your sweater; and how to make the perfect chicken hanger for your chicken knits. You will find more info and a fun free wrist warmer pattern in both Norwegian and English on their blog here: chickenknitting.blogspot and more of the projects on the preview here: Issuu.
I could not resist to show a children's version of the divine Karpe Diem sweater seeing this stunning photo. It is knitted in Mitu (50% wool, 50% alpaca, 50 g, 100 m/109 yds) a DK weight from Rauma Ullvarefabrikk, using 5 suggested colors and 3.5 mm/US 4 circular needles, see Raumaull. See other patterns from the book on the Cappelen Damm's blog: forlagsliv. The book has been sold to a Danish publisher so far. Enjoy and start creating your own borders to make your own sweater.