I am so pleased to present this series of stunning photos of the Autumn Symphony Jacket, wrap and belt, Synnøve Alet Kristiansen knitted for her friend Brit-Elin Ladehaug (read: the model) taken by brilliant photographer Tim Øsleby, aka MaritimTIM. Synnøve, aka sykris on Ravlery, took part in the test knit of the English pattern of the Autumn Symphony Jacket and chose to knit the wrap and the belt as well in Blue, Jade and Turquoise Rauma Finull – shades carefully selected by Brit-Elin. The photos are taken at the spectacular Hennebygda, by the Innvik Fjord on the West Coast of Norway, see Nordfjord panorama. You will also find more photos and details on Synnøve's blog: Sykris. Thank you so much, Synnøve! The Norwegian pattern has just been published in Familien issue no 20 (see previous post), while the English pattern is available on Ravelry.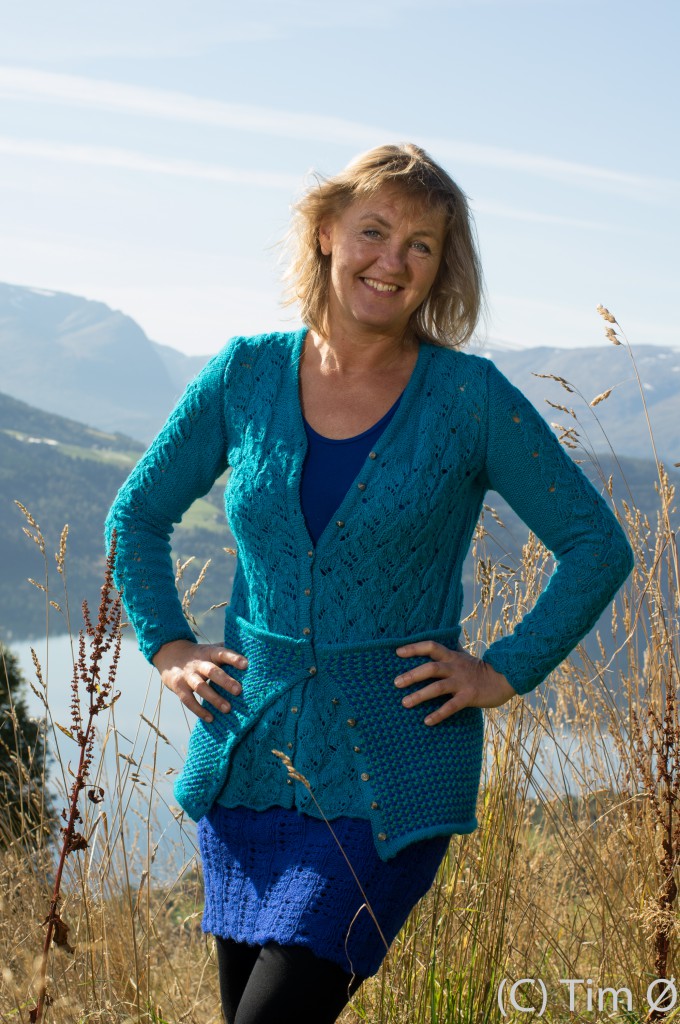 Yet another version, I had not considered, is wearing the Tweed belt on top of the jacket. But I early figured out that the wrap works well as a wide belt making the jacket longer, while the tweed belt can also be worn as a cowl. I love the sharp blue top that matches the wrap so well. The tweed belt comes in the same sizes as the jacket: Size S to 3XL while the wrap comes in one size. Both can easily be adjusted by adding pattern repeats.
The jacket here worn on its own, with some of the buttons undone and that stunning landscape in the background.  Lastly, I want to share a detailed photo of the lace pattern on the jacket and the tweed belt.