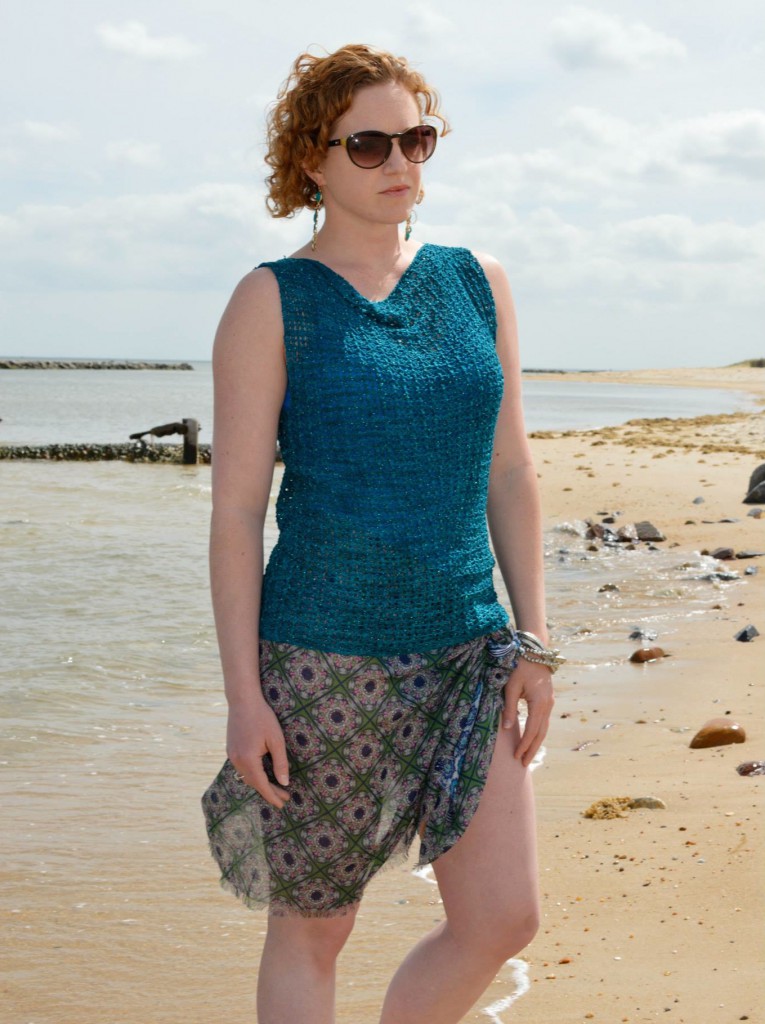 The latest, and unfortunately the final, issue of the digital Clotheshorse Magazine is out. It is with a heavy heart that editor and designer Mindy Gayle announces it, but she and co-editor designer Heather Dixon will both continue to design. I am very grateful that my designs have been selected to be part of this fashion forward knitting and crochet magazine. New friendships have been made, new lessons have been learnt, so thank you very much, Clotheshorse for your approval of my design submissions and excellent co-operation through the last few years! My last design for Clotheshorse is Marilla. Inspired by their Underwater Love mood board and blue shades into lime, yellows, gold and silver, I choose a hand-dyed silk with petit glass beads; Beaded Lace from Tilli Tomas in Jade. This is how I introduced the pattern in my submission: "A divine, generous lace top with a draped front and a shorter back to let the folds at the front rule. Knitted in a divine silk with beads attached from Tilli Tomas in an easy reversible lace pattern without any bands". Brilliantly photographed by Heather Dixon and beautifully worn by Mindy Gayle.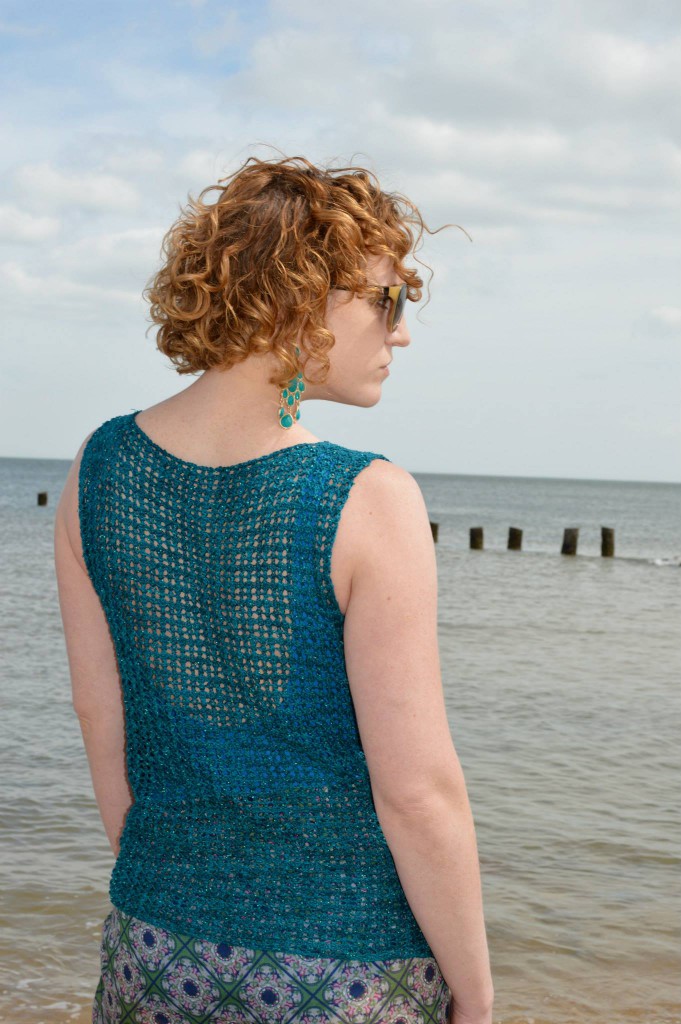 The top is available in four sizes with these finished measurements: Chest 31.25 (40, 45, 48.5)"/79.5 (101.5, 114.5, 123) cm. Construction notes: It is worked in two parts, from bottom and up. The front has a triangular shape with a wider bottom to make the draped front, while the back is straight and shorter than the front to allow the front to hang. To avoid the holes growing too large, since silk grows during blocking, I choose to use a 2.5 mm/US 1.5 needle.
Tilli Tomas Beaded Lace is made of 100% silk has 150 m/168 yards on it. The stitch pattern I chose is from Lynne Barr's excellent book: Reversible Knitting. Under notes in the pattern you will find this information: "This pattern will open up when blocked, so make sure to knit a gauge swatch to ensure correct sizing. The center stitch of the front is marked to correctly place the increases and pattern on the front; this marked stitch is referred to in the pattern as the center stitch. You may find it easier to place the center increases and pattern by moving the locking marker up every few rows. The front is wider than the back, and there may be a gap near the bottom of the armholes. If desired, when the top is complete, try it on and mark any gap. Sew a small dart, tapering to a point away from the armhole edge."
I was so delighted with all the photos in the magazine, including the close-up of the stitch pattern, and the stunning beach location. Especially the last photo below which seem to draw you in.
You will find more pattern information on Ravelry, and do take a look at this magic last issue of Clotheshorse.