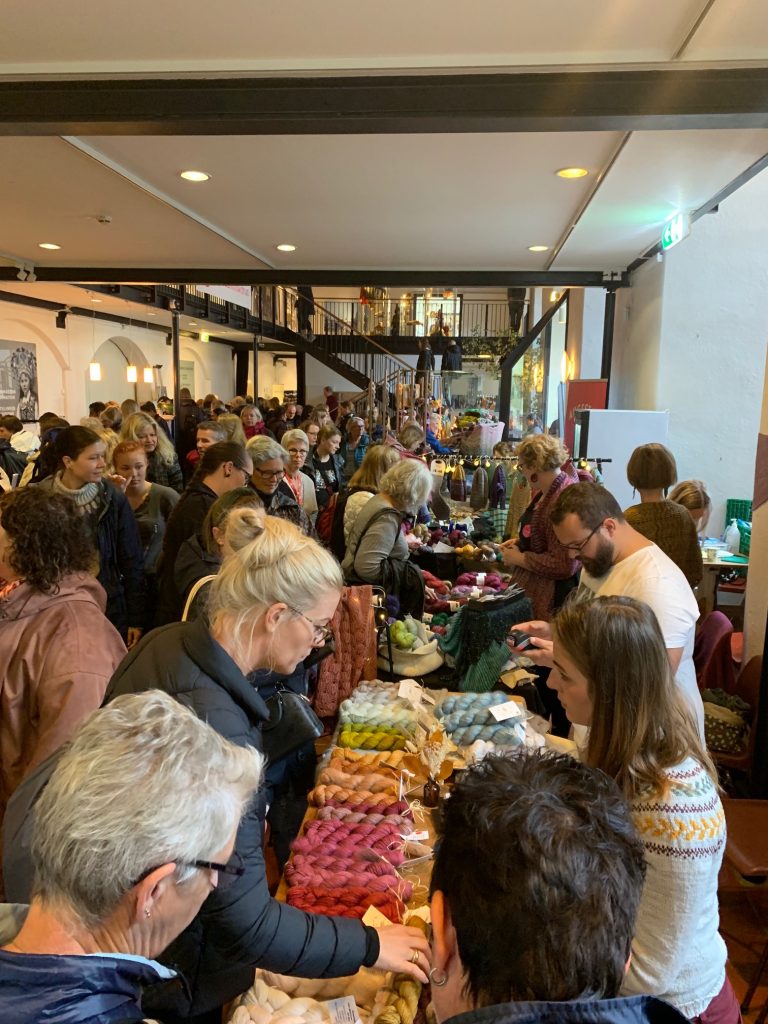 I have spent an exciting weekend at Oslo Strikkefestival/Knitting Festival and since I was not teaching I had the opportunity to sign up to workshops but due to the packed program it was difficult to choose. Last time I attended a workshop was at Strik Bornholm in 2014 with Norah Gaughan. I picked three in the end, all held in English by; Canadian Artist/Maker Arounna Khonnoraj, aka Bookhou; American Designer Renate Yerkes, aka Elephino PDX; and American designer Jennifer Steingass, aka knit.love.wool. I have learnt several tips on the Social Media front, how to work double knitting and more in depth on colorwork design. Above you can see the Lain'amouree stand.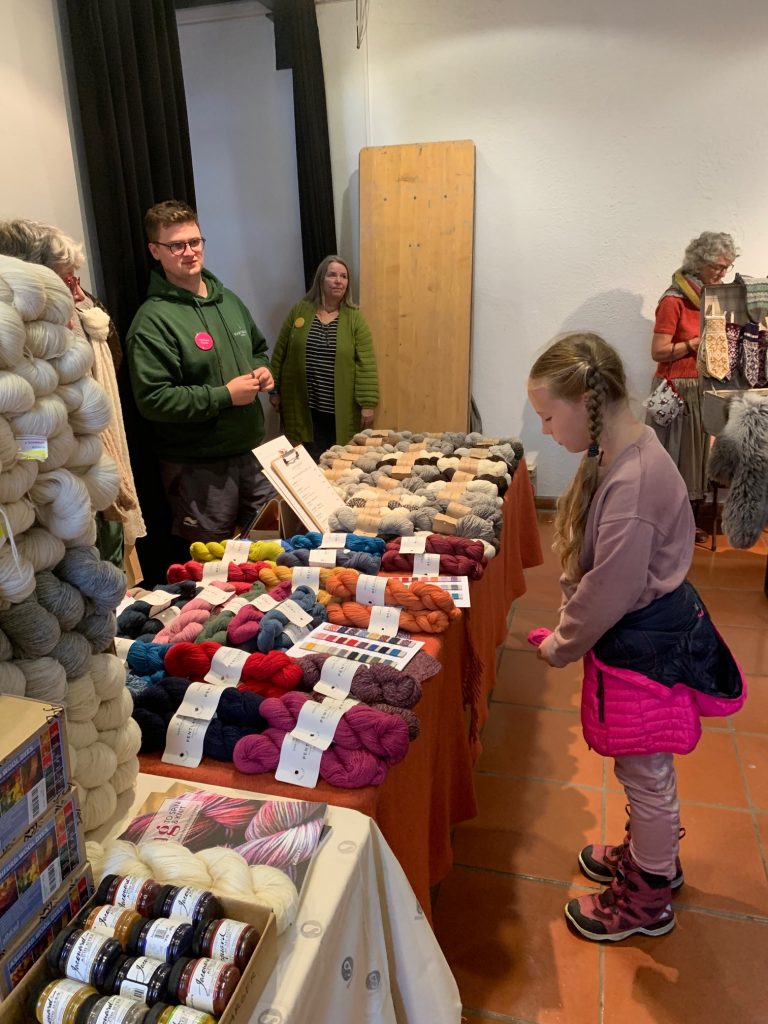 I discovered new yarns at the Market Place, got to fondle quite a number of lush yarns, met designers, knitters and yarn producers. I stopped Eli, aka Skeindeer, to introduce myself and I spotted Stephen West in his colourful designs. The festival was held at the Norwegian Museum of Cultural History at Bygdøy, in the different historic buildings with the main attraction being the Gol Stave Church dating back to 1200. Like most of the tourists, I preferred to take the ferry from Aker Brygge/Wharf instead of the very full bus. Above is the Garthenor stand. "Garthenor Organic have produced exclusively organic yarn in the UK since 1999, being the first company in the world to gain organic certification for wool yarns from sheep to skein in 2003. They offer lovely certified organic, breed specific, fully traceable yarns in dyed and undyed shades. Nothing less than gorgeous!"
Instead of travelling from Ørje both days, I chose to stay with my mum in Oslo for the weekend. The market hall on the first day on Saturday was packed and with a queue to get into the second room. I spotted designer Kristin Wiola Ødegård in the queue and I exchanged position with her relieved husband. Below is another photo from "Lain'amouree is a hand dyed luxury wool brand from France offering a wide variety of soft and exclusive wools ranging from baby alpaca and silk, through mohair and merino, to yak and baby camel. Their colour palette is soft and delicate, and every colour has its own story— revealing itself stitch by stitch".
While I was looking at yarns at the French Lain'amouree, Øyvind & Anette from Hillesvåg walked in together with designer Sidsel Høivik. They were heading for a talk by Erling Digernes of Rauma Ullvarefabrikk and I decided to join them. I enjoyed seeing old photographs of the factory and hearing about their production process.
After the talk I saw designer Marianne Skatten and her designer friend Rasa Ziburkute, aka galgendesign, who I met last time at Fefor Strikkefestival. We are all wearing our own designs in the rain. I asked if I could join them for lunch. We headed towards the coffee shop next to the entrance at the museum. It was packed with knitters and a fab place for sweater spotting.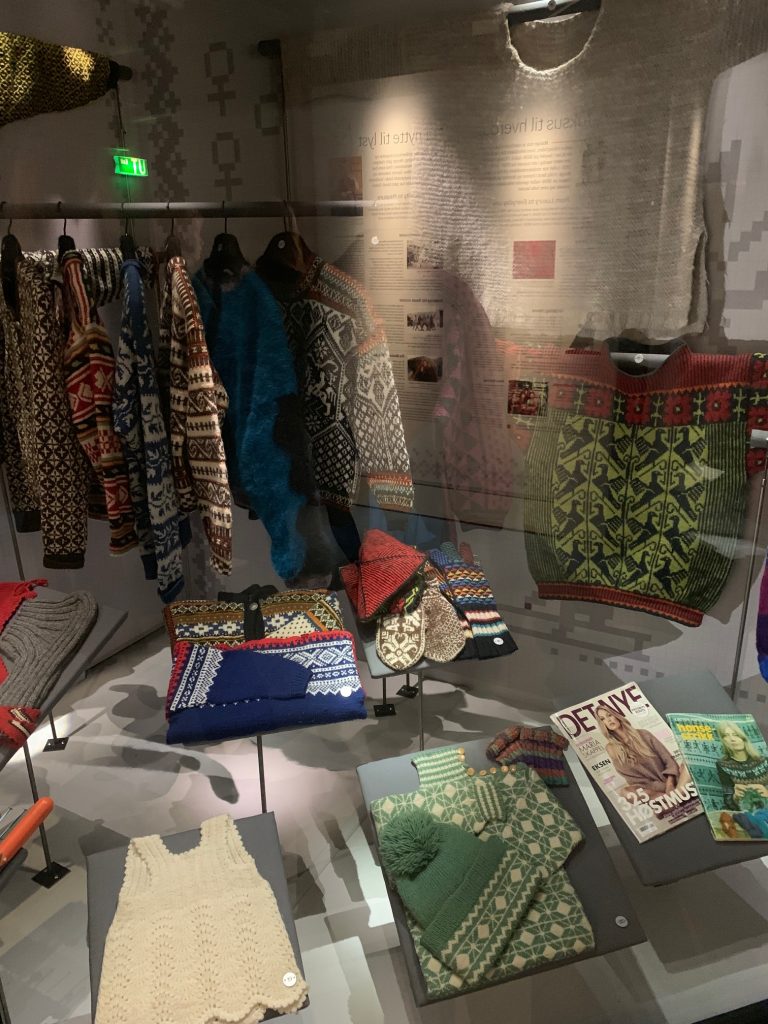 Marianne and I had both booked the Social Media workshop, so we headed there after lunch. There were about 20 of us attending the class so we had ample opportunity to ask questions during Arounna's presentation and after it. The workshop ended with her commenting on a few of the Instagram pages to some of the volunteers. I also had time for a quick spin in the knitting history exhibition at the museum and that is what you can spot above. Below is the full listing of the workshops I attended. I so enjoyed meeting these designers and learning new techniques, tips and ideas!
Arounna Khonnoraj, Bookhou — Social Media and Marketing your Business Online.
Renate Yerkes, Elephino PDX — Two Sides to This Story: The Dynamic World of Double Knitting.
Jennifer Steingass — Introduction to Colorwork Design.
For the first time I could look at the bright coloured Garnsurr yarns. They had a stand outside in the courtyard. Here is the introduction from the Market Hall listing: "Garnsurr is a Norwegian social entrepreneurship hiring refugee women. The women in Garnsurr dye yarn for sale, knit and learn Norwegian, so this truly is hand dyed yarn with a purpose. They offer beautifully hand dyed yarn in unusual and often surprising combinations—a real colour explosion!"
Værbitt also had a stand in the courtyard. Above you see Laila's friend looking after the shop while she was holding a workshop. The four last skeins on all rows are hand dyed on Sølje by Hillesvåg Ullvarefabrikk. Here is the introduction to Værbitt from the Market Hall listing: "Værbitt Garn is an Oslo-based indie dyery working their colour magic on no-nonsense wool, aka yarn bases that are locally produced here in Norway. With great care for the environment they make sure the yarn is short travelled and made from the wool of happy sheep wandering freely."
I also met Sophie from Pom Pom, who took a photo of my holding up last issue 27 issue 27 Winter 2018 magazine with my design Ataraxia for their Instagram story. The weather only cleared up later in the evening after the festival ended on Sunday at 5 PM. I went back to the centre on the ferry and had a walk on Aker Brygge/Wharf where a boat festival was ending and the boats were leaving. My head has been buzzing for a few days now, but my what a knitting festival it was! Oslo is a Knitting Capital, I agree with Ronja Cecilie Moås! Thank you for a fantastic festival!