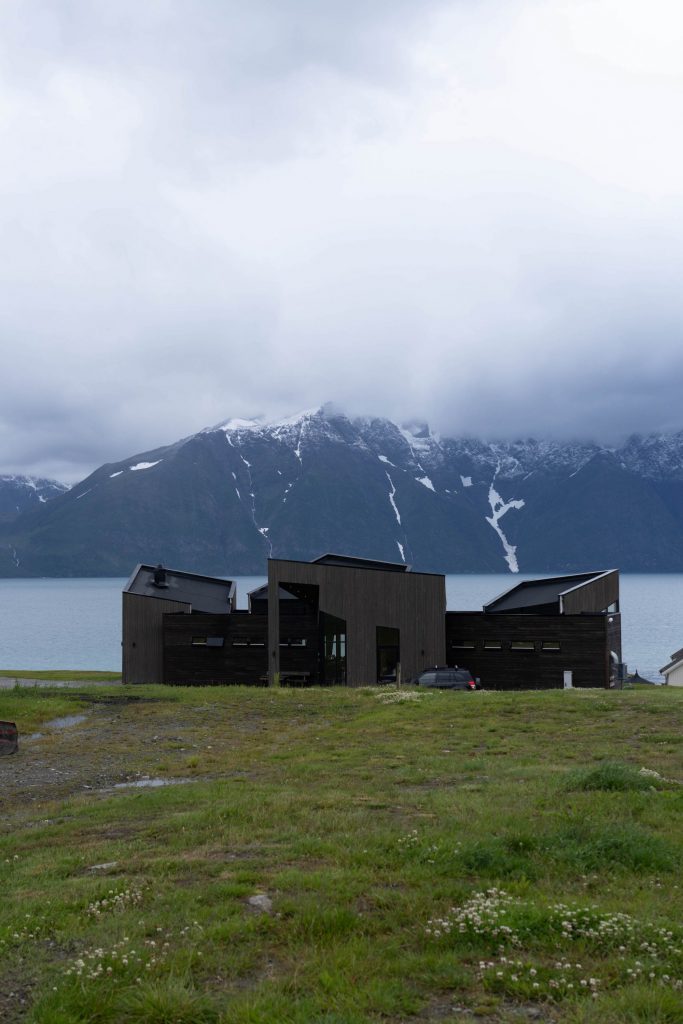 Michael and I have been on holiday in Northern Norway for a second time around! We had such a fantastic time last year, hence we decided to travel back to Tromsø. First we stayed two nights with my sample knitter Grete Jenssen & her husband Jan Sverre in Storsteinnes, and then another four nights at the Scandic Ishavshotel in Tromsø.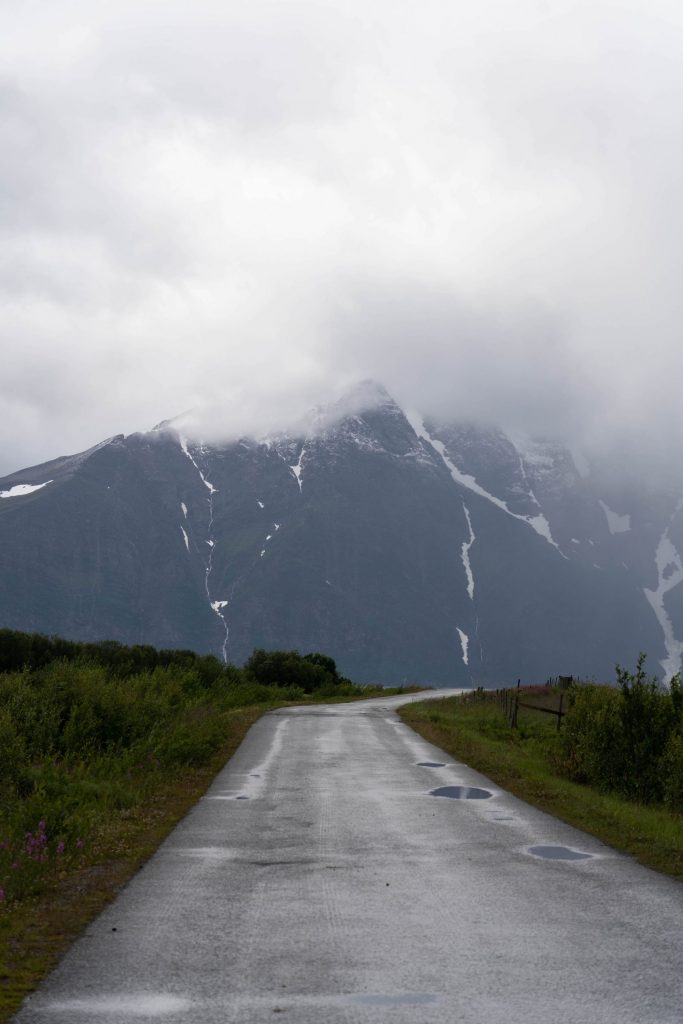 Unlike last year we had mainly rain and 8 to 12 degrees Celsius/46 to 53 degrees Fahrenheit, so it did not feel like summer at all. Still that did not stop us from travelling to Lyngen North at the Spåkenes peninsula, with a majestic view of the Lyngen Alps. All these wonderful photos are taken by my husband, except the one below.
I had brought thick tights but had to borrow a woollen hat from Grete – photographed above – to wear under my all-weather jacket hood. In Tromsø, I just gave in and bought a pair of leather gloves to keep me warm. A large number of the visiting Southerners could easily be spotted as they were wearing only shorts with t-shirts due to the heat wave in the South of Norway.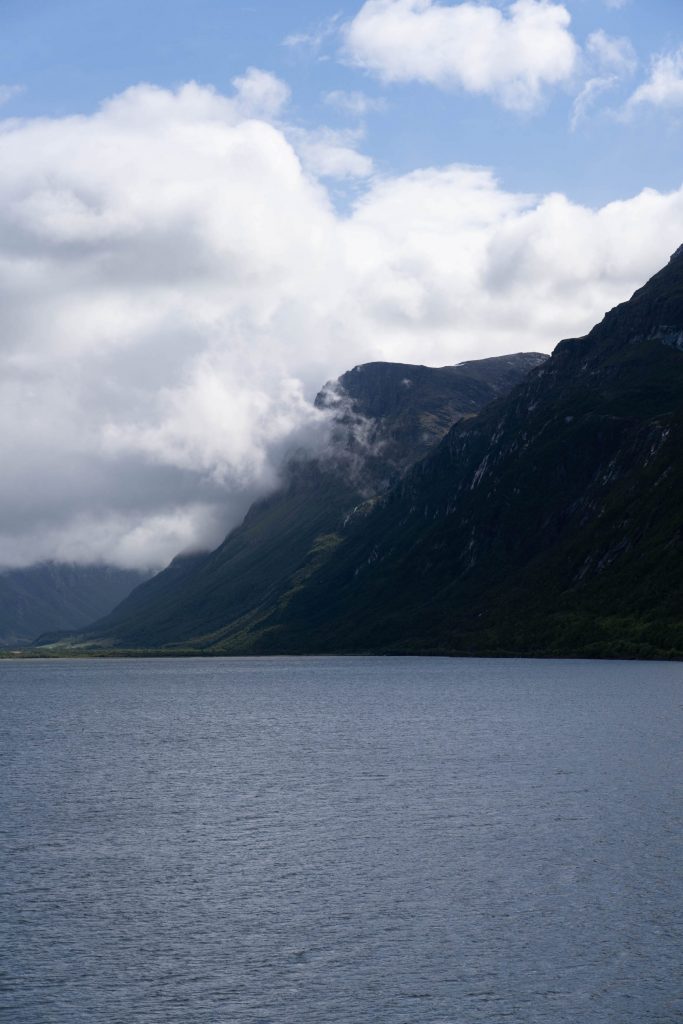 Jan Sverre was the designated driver that took us north on the E6 towards Alta, around the Kåfjord– see photo above and below for scale – to Spåkenes Coastal Fort. It was built by the Germans (or Soviet prisoners of war and German prisoners to be precise) in 1941.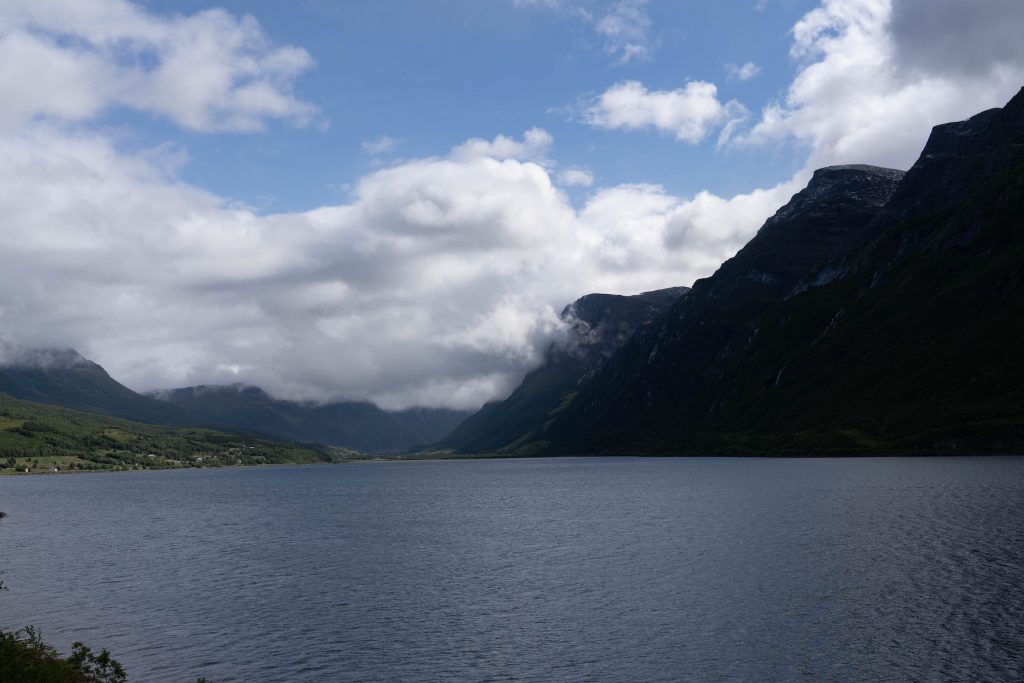 The heavy enduring rain made the command bunker look even bleaker, giving us a shudder to the German occupation during WW2. I stood on top of the command bunker capturing both Grete and the view from it.
From the fort we trekked to the Bird Watching Tower, except that the signs stopped and in the end we gave up finding it, as the view was majestic anyway. Check out the ferry in the photo above for scale – click on the photo for a larger version. On the way there we crossed the bog and did however discover nearly ripe Cloudberries; that was a treat! We had a fabulous stay with Grete and Jan Sverre! Thank you so much! We will be back in the future, and you can see last year's Postcard from Northern Norway here. If you have not been, do add it to your bucket list for the future, when it is safe to travel abroad again! Stay safe and healthy! Regards from Lyngen North in Northern Norway!