Here is a list of my favorite yarn shops in Oslo:
NØSTET MITT at Storo Shopping Centre, take the Kjelsås tram or the tube there, approx 15 min from the city centre, www.nostetmitt.no  They have a large selection of Rowan yarns, Artesano and Norwegian brands such as Du Store Alpakka and Sandnes. A popular fairly new yarn chain that organises events and knit cafes.
All the next 5 yarn shops are in walking distance, but the distance between Tjorven and Husfliden will take you approximately 15 min to walk. You will pass nearly all the best shops in Oslo and is a very nice walk, down Bogstadveien!
My preferred route:
1. TJORVEN, Valkyriegata 17, Majorstuen. Take the tube or tram up (see kart.finn.no ) The largest selection in Oslo with an international selection of yarns, e.g Art Yarns, BC Garn and Katia, you will find them listed under 'leverandører' on their website www.tjorven.no One of my favourites is Du Store Alpakka's lovely Tynn Alpaca (4-ply, 167 m per 50 g knits on 3 mm/US 2-3, tension 27 sts) in melange colours! Until the end of the year Tjorven has an offer of 25% discount on all yarns with alpaca from Drops! So stock up while you can!
2. HUSFLIDEN, inside the department store Glasmagasinet, Stortorvet 9. Walk down Bogstadveien, through the Slottsparken, down the main street Karl Johan. They have a large selection of traditional yarns in lots of colours for knitting & crocheting, embrodery, weaving and rye making. They stock Rauma, PT, Dale and Borg among others. I love Rauma: Lamullgarn (lambswool) and Finull (fine wool, 175 m per 50 g knits on a 3 mm/ US 2-3, tension 26 sts), which comes in a 100 colours. The Lamullgarn, 250 m per 50 g usually knit on a 2.5 mm/US 1-2 with a tension of 30 sts, felts like a dream. Below is a photo of a felted swatch, knitted with 2 blue tones on a 4 mm/US 6 and felted using a 60°C /140°F programme in the washing machine. Yes, they do sell shade cards if you are tempted. Still my favourite to browse in and where I tend to buy! You can see their yarns on www.husfliden.no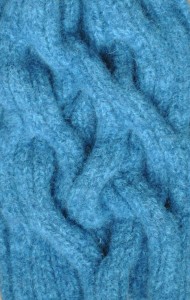 3. STRIKKEDILLA, Oslo City, ground floor (shopping centre next to the Central Train Station) Tiny shop, but a good selection of mainly Norwegian yarns. www.strikkedilla.no
4. BOGERUD TEKSTIL, Gunerius, first floor (old fashioned department store) on Storgata, 5 minutes from Oslo City. This is were you go to buy yarns and clothes, especially underwear & socks, if you have a tight budget and/or knit a lot for growing children. Among their stockists are Norwegian yarn producer Gjestal and Viking. My mum's favourite. www.bogerud.no
I never miss out on a visit to Tjorven nor Husfliden but tend to skip the last two so if you are short of time…  Do not miss NORWAY DESIGNS, www.norwaydesigns.no close to Saga cinema by the National Theatre station. It is one of my favourite shops in Oslo and a visit there is elementary! Check out their large paper department, ultra modern kitchen section and trendy clothes department. The photo is of their Christmas table. It is an inspirational shop with great designs!