I am so happy to announce that I have received a design contract from Thomas Kvist Yarns. The patterns I make will be sold as pdfs available in both Norwegian and English, in selected yarn shops and online shops, for a complete list see www.thomaskvist.se
My first design for Thomas Kvist Yarns is a vest with a short front and a long back. Professional photos will follow, but here is a photo of the swatch, knitted in Delicious Tweed, made of 65% lambswool, 10% angora, 5% cashmere and 20% nylon, 100 g/3.5 oz, 190 meters/207 yds 16 sts to 10 cm/4" on a 5 mm/US 8.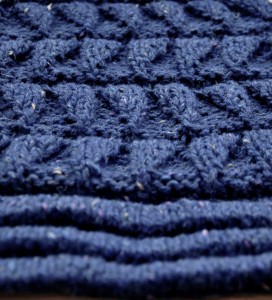 Here is a detail of the cowl I made to match the vest. In my book 'To rett en vrang. Designstrikk' published on the 25. January, in Norwegian, you will find 3 patterns using Thomas Kvist Yarns. A scarf that can be tied up to sculptural jewelry, knitted in the very same Delicious Tweed, a rectangular shawl with buttons that can be worn as a shrug, knitted in Colina, a linen and cotton mixture and a vintage Japanese inspired jacket, knitted in Amoretto, an alpaca and cotton mixture with a bit of nylon.