I have waited so long to be able to present the cover of my book and finally it is ready. Most of my friends who have seen my designs agree that the Aran Bolero, knitted in Mostly Merino Lightweight colour October, was the best suited garment but there were less agreement on which of the photos that was the stunner, thanks to Kim Müller's fantastic photography. The cover was chosen because it shows the details of the garment and the delicacy with which ballerina Francesca Golfetto holds on to it. Here is the cover chosen: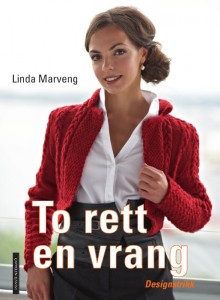 My favourite photo is the one where she is wearing her tutu and her pointe shoes together with the knitted belt I designed for the bolero to lengthen it. I believe you would have seen the stars in my eyes if you had been there when Francesca went up on her toes and how it knocked all breath out of me. It is photographed at the Ekeberg Restaurant high on the hill overlooking Oslo. Here is the photo I wanted for the cover:
I live in the dream that, one day, one brave foreign publisher will chose my favourite cover. The book title: 'To Rett En Vrang. Designstrikk' translates to 'Two Knit One Purl. Design Knit' but also has a second meaning as in 'Two Right One Inside Out. Design Knit'. It is available, in Norwegian, from 25. January and will be available in Finnish, from January 2013.
The back cover chosen, to my relief, was ballerina Cristiane Sá in the Pleated Cropped Cardigan, also knitted in Mostly Merino Lightweight but in Granite, with her wonderful Swanlake tutu on, photographed at the Architectural Museum in Oslo.