I am very proud to present you photos from my knitting book launch of 'To rett en vrang. Designstrikk' at Cappelen Damm held last Thursday. Around 60 people made it to the launch, including sponsors, family and friends. Here I am, in the middle, with gorgeous models Katja and Anna!
By the time my husband, Michael and I arrived the yarn stall by 'Nøstet Mitt' was already set up! I was delighted that they decided to take part in my launch, so that those present would have the chance to touch and feel a large selection of the yarn chosen for the book and several of the alternative ones. You can see their yarn selection on their website www.nostetmitt.no. With a lot of assistance from my editor, Inger Margrethe and Hobby Book Club editor Guri, I hung the knitted garments to be worn by models Anna and Katja on a rail, later to be transferred next to the yarn stall for everyone to study in detail.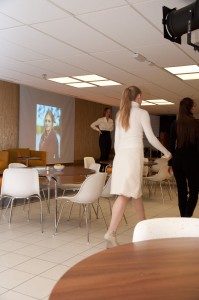 Next Anna and Katja tried on the selected shoes and boots before they tested their catwalk round. I wanted them to stop on the stage so that I could comment on their garments and show the different ways they could be worn before the continued on their round. Playing in the background is a film made by the wonderful photos taken by Kim Müller for my book created by my husband with Norwegian music by Øystein Sevåg.
While Events Manager, Kristin,  informed me about the agenda and how to use the so-called 'mosquito microphone', I recalled my 20 year old tour-leader experience and remembered the old-fashioned microphones which left a black mark on your chin. During the fashion show and my presentation of the book, the inside cover with Cristiane Sá was on the screens and the music was Mike Oldfield's Tubular Bells.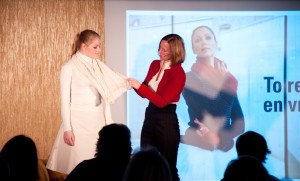 Each model showed 7 garments each and thankfully Anne Grethe and Vibeke from 'Nøstet Mitt' had offered to wear one as well. Here I am showing the reversible Cabled Snood, knitted in Ultra Alpaca Fine by Berroco, and the different ways it can be worn.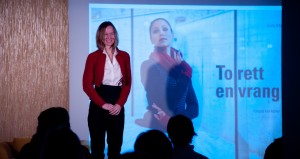 In between talking about what the models were wearing, I talked about my knitting journey and the book process.
Anna posing wearing the Lilac Shrug and wrist-warmers, that can be buttoned on, knitted in 4-ply mohair from Wagtail Yarns.
Anna wearing the Japanese Lace Jacket, knitted in Amoretto by Thomas Kvist Yarns, a popular pattern & yarn choice.
After the fashion show, I was given beautiful flowers by my publisher and I had by then been given several bouquets by my friends! I was then asked to sign books and had brought a pile of pens, just in case …
More professional photos taken by Guri Pfeifer from the fashion show will follow. Do take a look at more of her stunning photos on www.guripfeifer.blogspot.com The remaining photos were taken by my husband, in case you were wondering…