The book launch for 'To rett en vrang. Designstrikk' went so well and I had more photographs taken by Guri Pfeifer so I had to write another post about it. It was exhilarating to be able to present my first knitting book to the audience it was meant for, all of you Norwegian knitters who want inspiration as well as flattering and trendy knitting patterns, and show a selection of the garments on gorgeous looking models.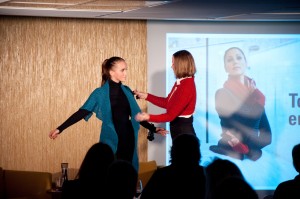 Here I am demonstrating how the reversible Japanese Vest, with only one armhole can be worn in two different ways with a shawl pin: Long with a small collar or short with a large collar. Katja is modeling the vest, knitted in Huldra Kamgarn by Hifa.
One of the most popular patterns is this Japanese Lace Jacket with a small puffed sleeve and a pattern from a Japanese stitch dictionary, hence the name. Worn by Anna and knitted in the soft Amoretto by Thomas Kvist Yarns.
Another popular pattern is the Mohair Poncho worn Katja, knitted in Alamo, now discontinued but can be replaced by Destiny Mohair, by Texere Yarns. It is an easy knit on 5 mm/US 8 needles, made up of 3 rectangles sewn together. My idea was to design a more fashionable poncho, than the ones worn decades ago, with a matching set of wrist-warmers.
Blackberry pattern is an old favourite of mine, used here in a sweater knitted in Egyptian Cotton, held double, by BC Garn worn by Anna. I love wearing loose collars because they can be taken off, easily and make the sweater look more 'dressed up'.
Last picture from the fashion show is the Daisy Shrug and Snood, knitted in Tynn Alpakka by Du Store Alpakka, worn by Katja. It can easily be worn on top of a dress, oversized shirt or tunica instead of these body conscious clothes.
I am so grateful that so many people came to my book launch, that 'Nøstet Mitt' took the challenge to sell yarn for the patterns, see www.nostetmitt.no, and that my publishers, see www.cappelendamm.no, believed in me. Thank you!