I have skis somewhere, probably in my brother's garage, sticks and boots in out-dated style and size since they were bought while I were still a teenager – ages ago! London does not offer many opportunities to ski so buying new ones have not been a priority exactly. But with all this lovely winter weather, while I am back in my Norwegian mother country, has made me realise the need for new equipment.
Here is a photo from a recent ski race at Skullerud in Øst Marka, the forest that surrounds Oslo, and I must say that I do admire the how easily these children can ski totally without using their sticks! I obviously need to practice a lot more…
My niece received her first pair, Christmas 1 year ago, at the tender age of 3! While she was keen to test them straight away, indoors, my brother had quite a job explaining why that was not such a good idea. I can report that they have been tested on snow and are in use.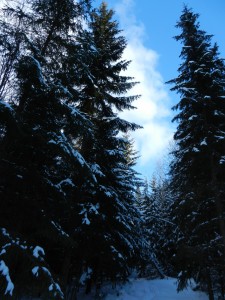 Another photo from Marka where I love walking and will ski one day soon!