My new knitted, actually a knit print, raincoat given to me by the yarn shop Nøstet Mitt after a successful knit café fashion show & presentation. It makes my rainy day! Yes, it is photographed in the mirror – due to lack of assistants. The pattern chosen is a variation of the traditional Fana pattern from Fana outside of Bergen, Western Norway, from the 1850's. Annemor Sundbø claims, correctly, the pattern is a Setesdal pattern and not Fana.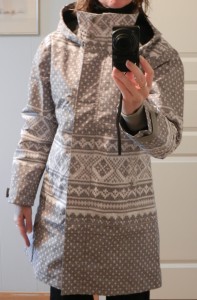 It is designed by Grete Marchmann-Jensen, manager of Søs Jensen, søs is an abbreviation of 'søstrene' Norwegian for sisters, see the reflector image on fabric swatch at the back in the middle of the shoulders.
"The idea to make raincoats for women came from one of the sisters, who looked around and said, "What about cool outdoor clothing for women in the city, "it doesn't exist in the market." The idea and research started autumn 2006. 3. July 2007 SØS Jensen was established." See www.sosjensen.no.
Freddy, co-owner of Nøstet Mitt, discovered the collection and knew that most knitters would be intrigued. So it is available to buy from them. See www.nostetmitt.no.
"Our PU Raincoats have welded seams and supersoft qualities that fits you great with a high waterproof and breathability rating.
The raincoats are feminine and contain raffined details. Our technical raincoats/parkas have taped 3M seams for great comfort. The parkas looks like a regular parkas, but has all the qualities of a raincoat. Our clothes also have reflective elements for your safety."
My new raincoat and this photo, a different colour way, makes me happy!