This is a book about unfinished knitting projects, gathered by the artist Kari Steihaug for more than 10 years and with comments by the knitters, an essay by Dag T. Andersson, Professor of philosophy at the University of Tromsø and another by Art Historian Jorunn Veiteberg written in both Norwegian and English. It is a book where the unfinished objects – UFO in knitspeak – are placed like pieces of art to be studied and analysed: Why was it abandoned? Was it pure boredom that put an end to the project? Or was it time or running out of yarn or lack of attention? Did the knitter change her/his mind about it? Did life interfere in a dramatic way? And maybe we will ask: What if… ?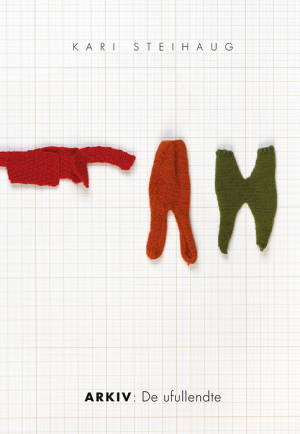 "Archieve: The Unifinshed Ones is about the poetry in imperfection and about directing attention to something failed and lost. It is a documentary project and can simultaneously be read as an expression of the many aspects of life that turn out differently than we plan." Kari Steihaug writes in the introduction and confirms that the unfinished garments have been donated by strangers, acquaintances, friends and family through different events and arrangements. See her amazing knitting installations – Rewind: an 11.5 m dress slowly rewound back on the cone. "Something ends and something new can begin" – at karisteihaug.no.
All the UFOs are photographed on knitting graph paper just as the front cover with a brief comment by the knitter whose name, age and location are given. For instance the cover: "9809 01.10.07 (ca. 8 cm x 21 cm x 3 pcs) Found at a flea market at Vinderen elementary school. Anne Karin, 44, Oslo. Photographed by Espen Tollefsen."
Another unfinished garment that attracted me looked like the beginning of a grey cardi knitted on grey plastic circular needles. The knitter, Randi 47 years from Elverum, stated that: "Jeg er ingen grå mus lenger." which translates to: I am no grey mouse any more; meaning I am not a wall flower anymore. It is numbered, dated and measured like all the garments in the book: 0265 18.04.07 (170 cm x 15 cm)
"0053 18.01.07 ( 10 cm x 50 cm) Black strip that I made to have something to knit while my son practiced knitting. Kristin, 44, Oslo." Yes, it is garter stitch – knit on all rows – on standard grey Innox needles. I always unravel – rip in knitspeak – those pieces made while teaching others to knit.
Jorunn Veiteberg essay "A Collection of Remnants – a series on knitting." tells the story about the author's interest in knitting: "A ruin – not made of stone, but knitting: Stacks of garments packed so tightly together that they form a wall. That was the sight that confronted visitors to Kari Steihaug's solo exhibition at the West Norway Museum of Decorative Art in 2007, an exhibition that introduced the museum's theme for that year of knitting."
Dag T. Andersson essay: "The Order of incompleteness" asks numerous questions we do not always ask ourself when we abandon yet another UFO: "Our attention must be directed towards those images that show us what history could have, yet did not become." He refers to the literary critic Walter Benjamin that it is not the finished products that the child is primarily interested in, but the remnants or "waste material". We all recognise the child's play with the empty box in preference of the valuable gift inside it.
The Norwegian title: "Arkiv: De Ufullendte" has a deeper meaning than just unfinished, it is closer to unfulfilled but I believe the editor chose the title unfinished in English since it refers to the common knitspeak term UFO as in unfinished objects.
The book is published by Magikon, see magikon.no and yes, they do send abroad. Steihaug is still collecting so I believe we will more from her in the future and I for one will be delighted.