My latest design, an A-line top with ruffled bell border, three layers to twirl around in, and a continued bell-rope stitch pattern. Wear it with belt if you like. Comfortable for the summer with loose sleeves. Why not pin one sleeve into a scarf collar? Both are knitted in Aneta, from Thomas Kvist Yarns, a lovely soft, denim cotton tweed, with a great stitch definition. See thomaskvist.
Aneta is a sport weight yarn made of 100% cotton denim tweed and comes in 100 gram hanks,  330m/361yards. I chose a delicate medium blue shade. Knits to a 24 sts tension/guage to 10cm/4″ using a 3mm/US 2-3. It could easily be replaced by Drops Safran by Garnstudio or Ultra Pima by Cascade Yarns.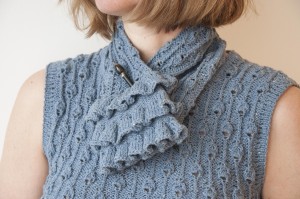 The ruffled borders and the bands around neck and arms are knitted in the round, while the top and the sleeves are knitted flat.
The pattern will be available in both Norwegian and English as a downloadable pdf to buy from this website and Ravelry. My husband is currently working on the schematic and assisting on all technical issues, I have.
I have called this a top but realised it could also be called a sleeveless pullover, sweater or even jumper. To be enlightened read Karen Berthine's brilliant post: A Kangaroo and a Sweater, here is the link: sweatyknitter.
Here is a close up of the stitch pattern, which shows off its beautiful texture.