One of first things I crave when I am back in my native Oslo is waffles. Like most Norwegians I have tested out different recipes and made my own lunch version, which tastes delicious served with honey, especially after a long walk in Marka.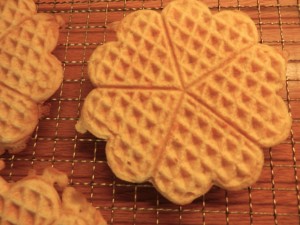 Here is the recipe:
1. 5 dl plain flour
1.5 dl oats
1/2 tsp baking powder
1/2 tsp salt
2.5 dl soya or ordinary milk
2 eggs
1/2 dl melted butter or margarine
Mix well and leave in the fridge to swell/prove for at least an hour, before using the waffle maker. Serve with real Norwegian honey, now available to buy online from Scandikitchen in London, see www.scandikitchen.co.uk. Enjoy!