That is the amount Perlehuset/The Beading House bought from a bankrupt French producer which fills their warehouse to the brim. I have been there – feeling like a gold digger – and was absolutely gobsmacked! Despite the fact that the shop itself is small, located in Grønnegate off Hedgehaugsveien in Oslo, its warehouse size will fit the space of the shop several times over, see perlehuset. Why was I there? It started with a lunch invitation from Thomas Kvist in Drøbak – an idyllic small town located one hour by road or ferry from Oslo by the fjord at its narrowest – to the house where he grew up. His mother Aneta Kvist is the proprietor of Perlehuset so Thomas' textile interest is in his genes and I could hardly keep my hands from trembling watching his selection of shade cards covering the dining room floor – yes, it was staggering! Since Thomas Kvist Yarns is no longer in business, Thomas offered me to select what yarn and buttons I wanted as payment for my designs.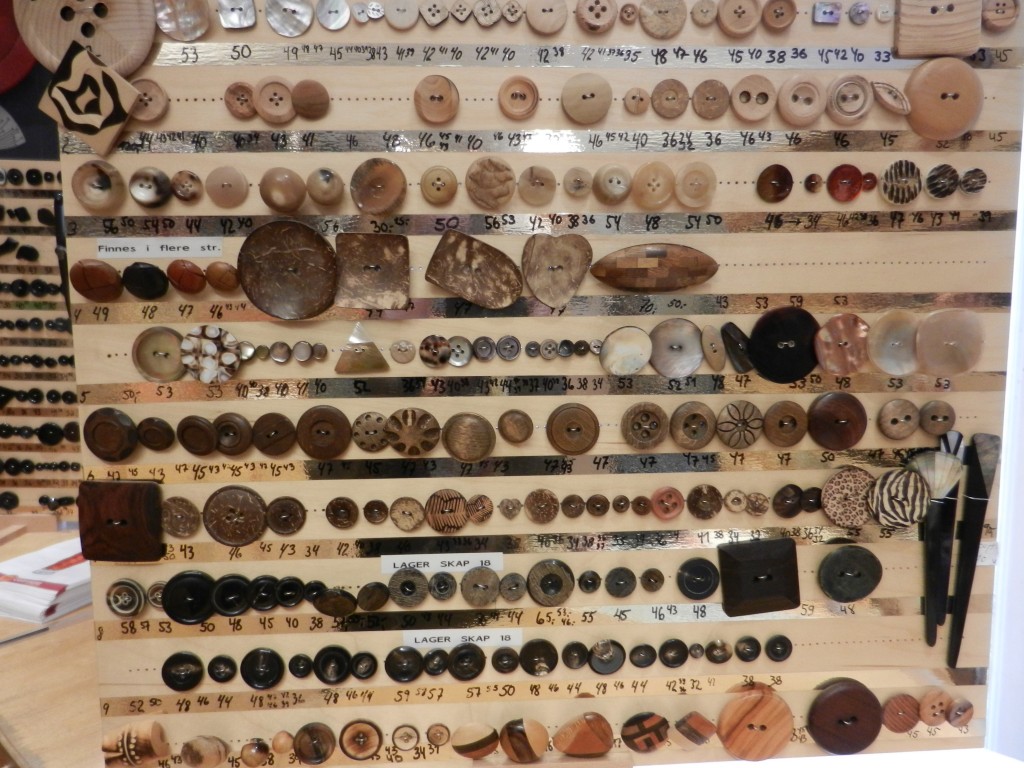 No further encouragement was needed, as I am sure you understand. The simple question was how to select and in which room to start. If somebody had filmed me they would have seen the total lack of coherence in my movements as one button or yarn after another caught my attention. The mere number of buttons made it close to impossible to select anything and I ended up with only a few leather buttons. Yes, I did look for the natural buttons straight away, I must admit. Above is my favorite set of buttons from Perlehuset, all made of natural materials. Yarn was a lot easier to pick. I went straight for the ones I love:
Amoretto – the alpaca and cotton mixture in beautiful colours – in a soft melange pink. See photo above and see photo of Japanese Lace Jacket from my book knitted in cream using a 3mm/US 2.5 shown in my post: sneak-peak-2.
Colina – the slubby linen and cotton mixture that have no replacements in my opinion – in mustard, black (see photo below) and beige. The last one I also chose for the Lacy Rib Shawl, Cowl and Wrist warmers knitted using a 4mm/US 6, see photo in my post: sneak-peak-1.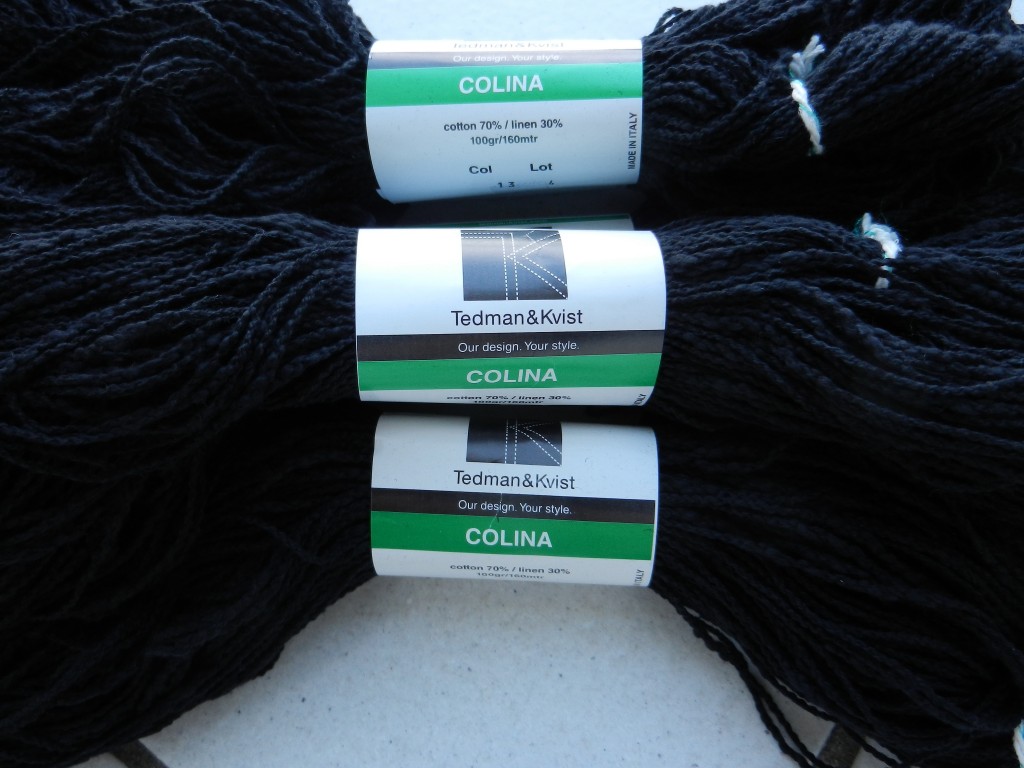 Merci – a perfect cotton, silk and merino mixture I wanted to use in my book but it was discontinued quickly due to lack of demand, unfortunately – in orange and purple, see below. Merci has a fabulous stitch definition and knits on a 4mm/US 6.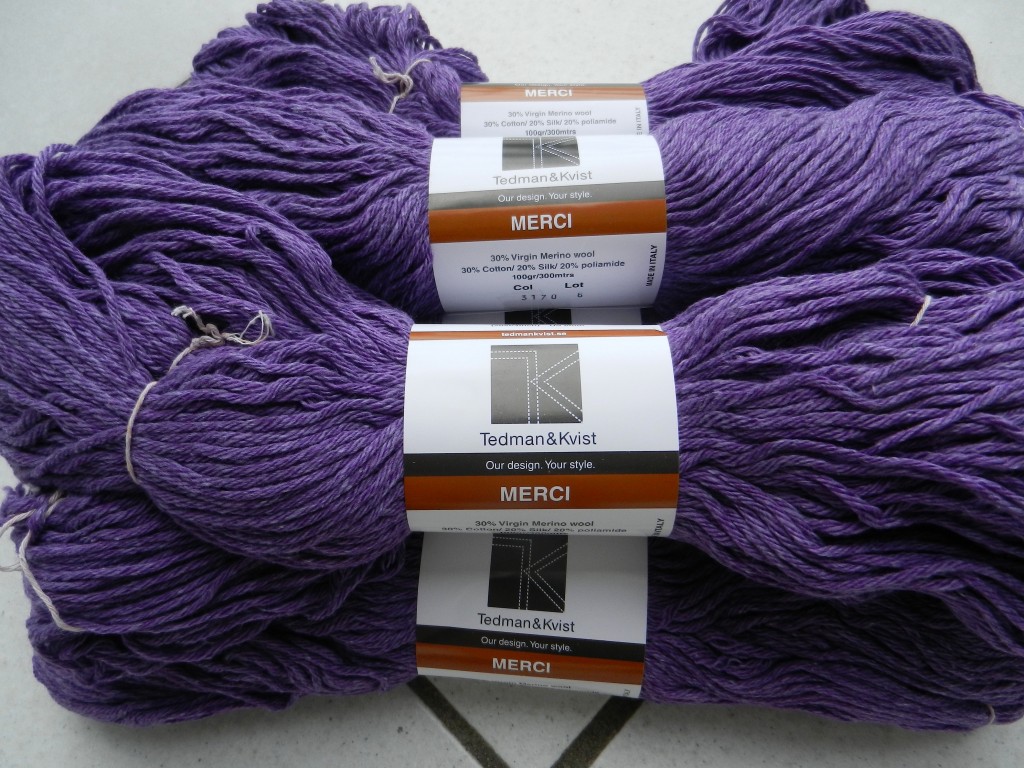 Linen 2.0 – yet to be tested but I liked the look of it straight away and love wearing the shrug I knitted in Rauma Linen. It is made of pure linen and knits on my favourite needle size 3mm/US 2.5. I found a rich brown with a dark olive undertone.
There is no need to feel that you missed the opportunity to test out Thomas Kvist Yarns, since all the yarns are still available online from perlehuset and if you are in Oslo you will find Amoretto and Colina together with my book at nostetmitt at Lambertseter. I recommend you try them out while you have the chance!
Thomas will continue to be an agent for the following yarns: Manos, Artesano, Viking Garn and Grignasco. I, for one, will be excited to see what he does next…