Yes, it is one of my favourite yarns too! The number of fans the German Wollmeise yarn has, seems to be increasing all the time. It is one of those discoveries you hear about through other knitters and whose reputation is going sky high. How did you get hold of yours? Is a common question among Wollmeise fans since the demand is so much larger than the supply from indie dyer Claudia Höll-Wellman of Wollmeise.
What makes it so special, you ask. It is the vibrantly intense colours that knock you sideways as well as the stunning stitch definition it gives. The number of colours is, just as the fanbase never ending, well above 150 solid, semi-solid and the multi-coloured combinations you could only dream about. Claudia never found the excact colour she wanted hence she started dying by hand herself: "…for a long time I experimented in getting for instance the velvet bluish lilac of violets and not only the ordinary lilac. Sometimes this just happens, like Rhubarb. I see the colour and remember the juicy leaves and shafts of rhubarb."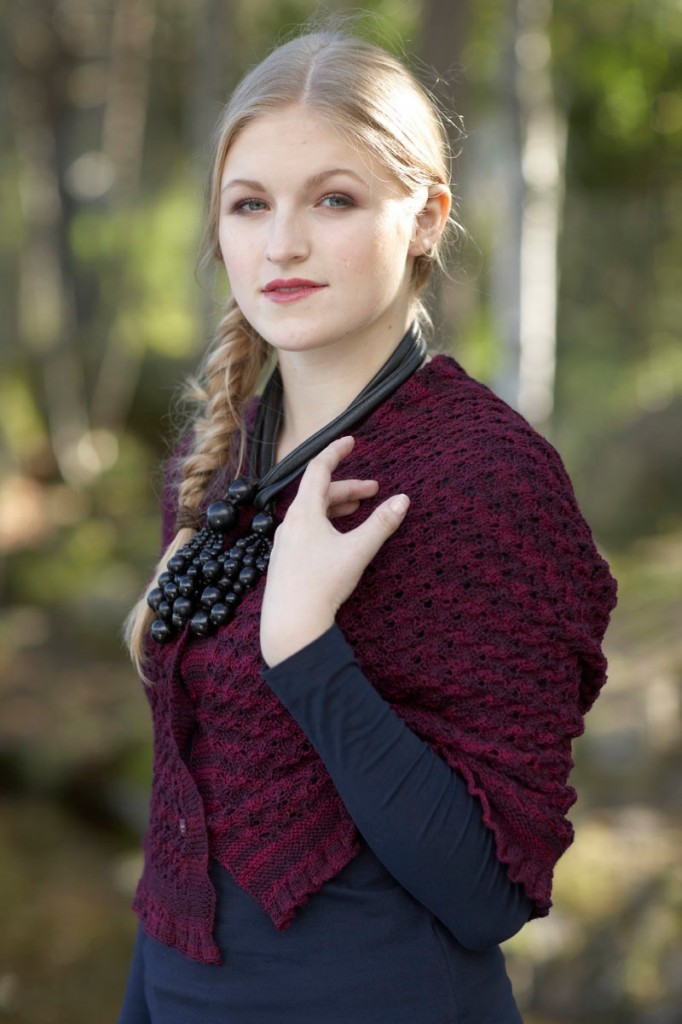 I am one of nearly 5600 members of Wollmeiseholics Anonymous on Ravelry – a group for the seriously addicted. It comes in 2 thicknesses: sock and lace in generous hanks. Where can you buy it, you ask and here is the catch: you can only buy it directly from the shop in Germany – you need to follow their updates on whats available – or by visiting or telephoning Loop in London who receives a monthly supply – for updates see their group on Ravelry. Here are the links: rohrspatzundwollmeise and loopknitting.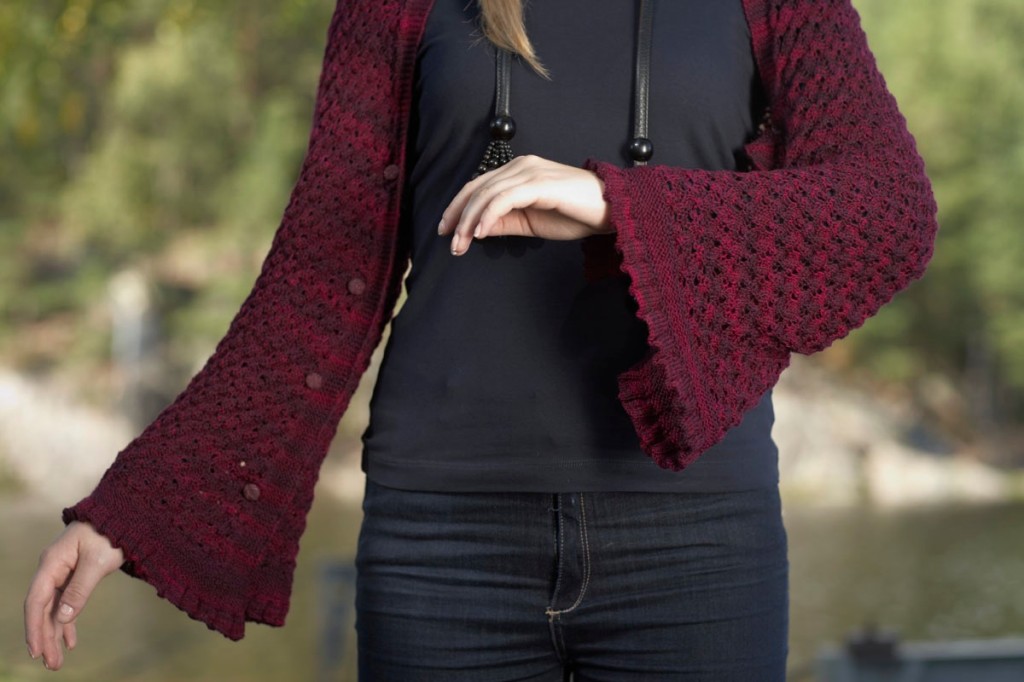 I felt the urge to use 1 hank of Lace in shade "Petit Poison" to make the "Milanese Lace Shawl" in my book – still only available in Norwegian – that can be buttoned into a shrug. Above are two photos of Anna Pfeifer wearing it, photographed by Kim Müller. I do not need to stash dive – I love that idea – to know that my Wollmeise stash could be larger and contains only enough yarn for 2 projects. Below is a photo of a hank of 100% in Magnolia. I have seen photos from the summer sale at the shop in Germany – yes, on Ravelry – and would love to go to admire each colour and bringing an empty suitcase…