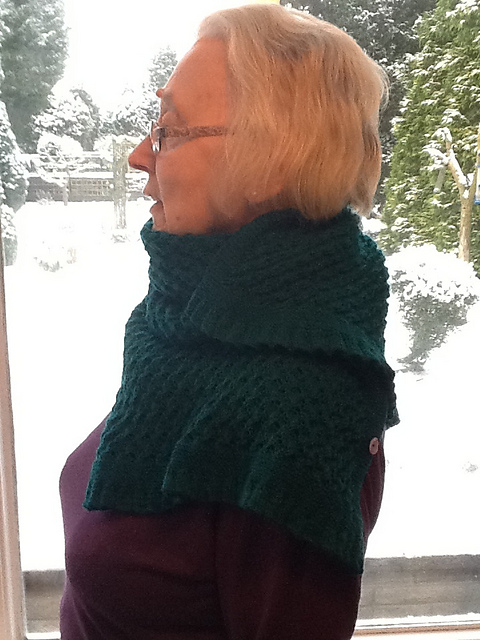 I am so delighted to show you Janie's Milanese Shawl, designed for my book, knitted in the original yarn Wollmeise Lace in Sabrina, a stunning teal shade photo-graphed on her mother. Janie ordered the yarn from Loop in London by telephone (details here: loopknitting) after checking their Wollmeise updates in their Ravelry group. The demand for this marvelous lush hand dyed yarn is greater than the supply, see: wollmeise-one-of-my-favourite-yarns. The shawl requires nearly a full 300 g skein (1591 m/1740 yds) of Wollmeise Lace (rohrspatzundwollmeise) or Malabrigo Sock (malabrigoyarn) or Anzula Cloud (anzula) or Kauni Effekt Garn (kauni) or Rauma Lamullgarn (raumaull). Thank you, Janie!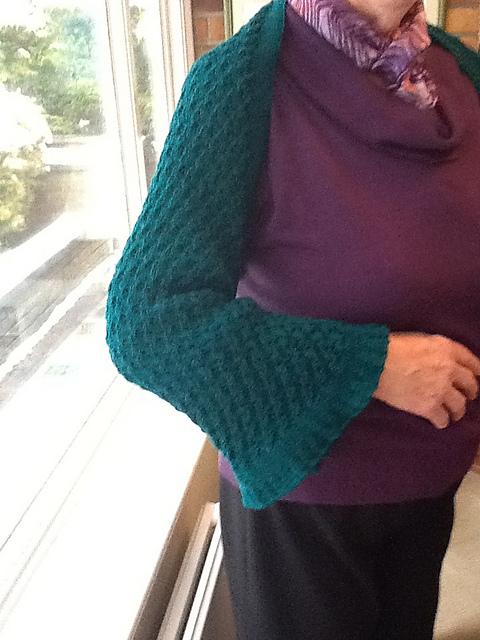 The shawl is rectangular with buttons on one side of each end so that it can be buttoned up into a shrug or a vest and therefore easier to use than a triangular shawl in my opinion. Holes in the pattern are used instead of made buttonholes. The lace is framed by garter stitches on all sides and has a ruffled bell border on each end. Hence it is cast on with a temporary method which is unpicked at the end and the border knitted on. The shawl, measuring 46 cm/18″ wide and 150 cm/59″ long, is knitted using a 3 mm/US 2.5.
The pattern is not only available in Norwegian and Finnish in my book, but also in English as a downloadable pdf from my Ravelry store here: ravelry. Below is the beautiful Anna Pfeiffer wearing it in the colour I chose for the book: Petit Poison No 5 dark, photographed by Kim Müller.