I am taking part in this year's Bookfestival, where more than 200 Norwegian and foreign authors, take part in more than 200 different arrangements. Our main shopping street Karl Johan has been turned into a book shop where you can read and flick, receive good advice and good discounts, see above. No events are charged for nor closed for invitees only which makes it quite unique. The chair leader of the festival writes in her introduction: "It is not obvious that a small country such as Norway can publish more than 7000 new titles every year with high quality, in a multitude of genre and form, and in Norwegian." We are among the most well read people in the world, she claims, maybe because we find adventures through entertainment and out of a curiosity of knowledge. See the complete program at oslobokfestival.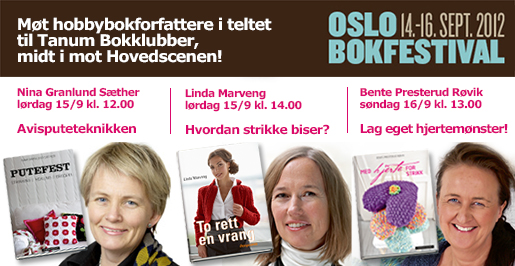 Hobbyklubben – my publishers' book club – is organising my demo of how to knit pleats as well as Nina's demo of the newspaper technique and Bente's demo of heart patterns, in a large tent outside Oslo' s largest bookshop Tanum. Do join Bente today if you are able to!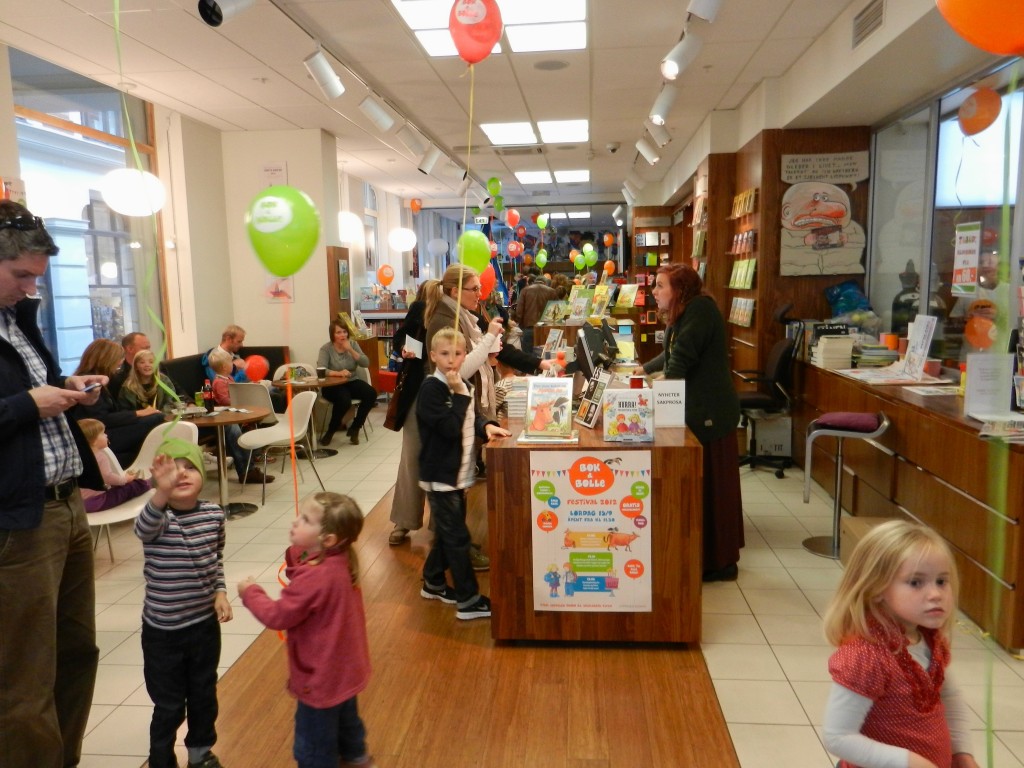 Other equally interesting events are Literary Speeddating, Crime-o-rama, Dancing on top of the Bookshelves (at the music department at the main library), Book and Bun see above (reading for children) and my all time favourite; the Audio-Book Tram, one for adults and one for children, see the queue below. Two veteran trams travel a city centre route and selected authors read out loud on the Lydboktrikk. Now, that is a popular event that I believe could be done a lot more frequently! I can dream on and in the mean time I will continue to bring my knitting and my own selection of audio books to listen to when I am traveling on the tram!