I spent the weekend in Larvik, 2 hours by train, south of Oslo where I held a workshop in Lace knitting, called hullstrikk/hole-knitting in Norwegian organized by Larvik Husflidslag. It is not difficult to make holes in knitting, but to make them on purpose in alignment is quite an achievement! So the reaction Nina Hove Myhre received when she told friends and colleagues that she was taking a course in "hole-knitting" was: you are going to do, what? Read more about it in Norwegian – or use Google Translate – on her blog: fiberandart.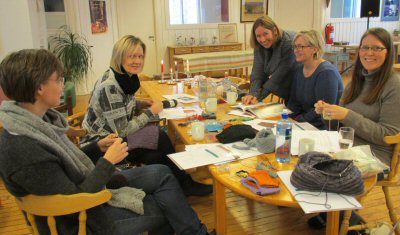 It was to a small group of four women I was teaching and it was such a pleasure. We had plenty of time to chat, as well as exchange knitting experiences, during lunch and in between periods of concentrated pattern reading, and me teaching theory and techniques such as; how to insert a lifeline; identify the spine; how to make lacy effects; and how to read lace charts.
The day went quickly, and I spent the evening knitting, chatting and eating – delicious homemade food – with Nina, while her husband was busy refurbishing downstairs. I was also lucky to meet Nina's niece who popped by with her father – to give refurbishing advice. Ingrid is a fellow blogger, so both I and my book was duly photographed. Here is the result: ingrid-inmari. On the second day of the workshop, we practiced beading, before more lace swatches and lace projects were worked upon.
I look forward to holding my next weekend workshop in Larvik, in April, on Finishing and Fairisle. For more details go to: larvikhusflidslag.
After reading my previous blog post and watching my video on making tucks Mary Jo wrote a blog post – with a marvelous heading. Do read it: whatzitknitz.com/nip-and-tuck.