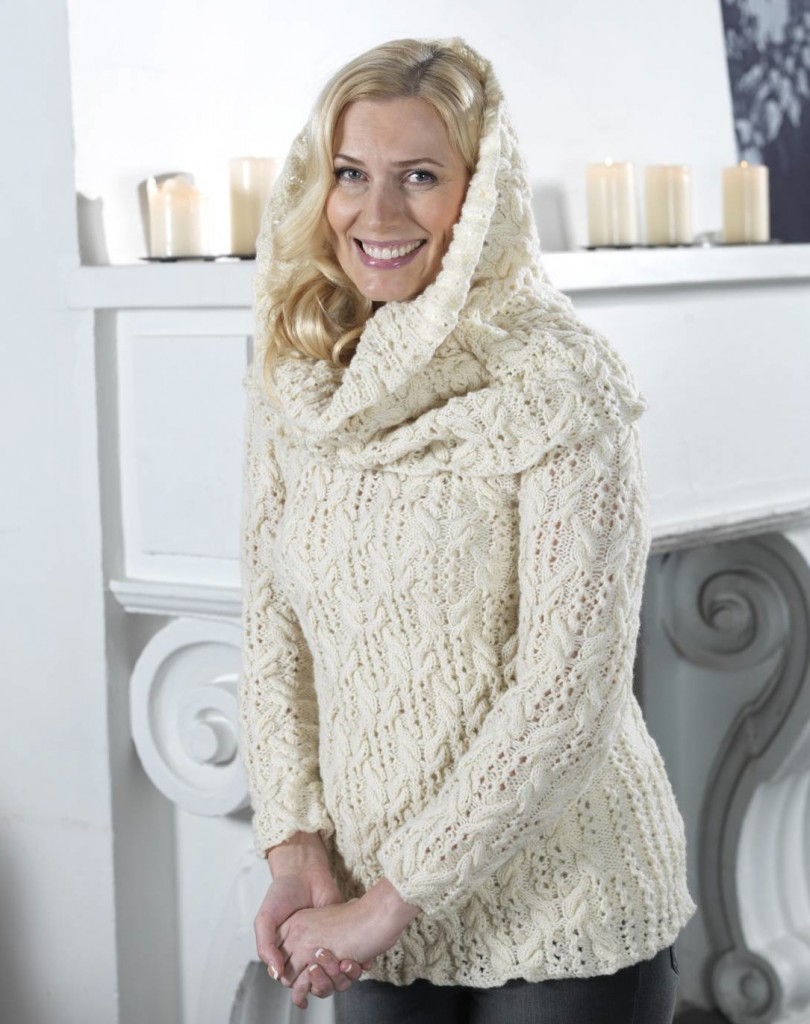 I am pleased to show you my Flettevinger/Cablewing Sweater with cowls plus the Tweed Cowl stunningly photographed by Esten Borgos on behalf of the Norwegian Magazine Familien/The Family. Unfortunately, I do not have a publication date yet, but will keep you posted. Above the large cowl, is worn as a hood but equally elegant worn around the shoulder like a shrug, see the photo below. The yarn is firm pure wool with a beautiful stitch definition, called Embla – Hifa 3 from Hillesvåg Ullvarefabrikk and comes in a large selection of magnificent colours. It knits on a 4 mm/US 6. Here is the link: ull.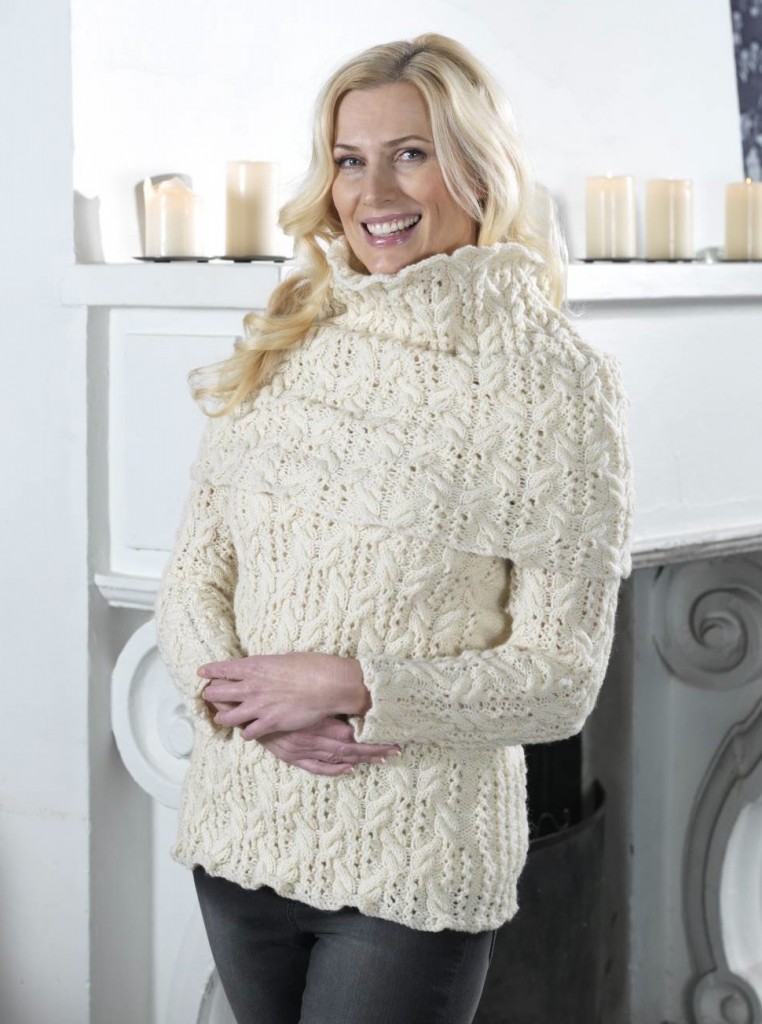 If you prefer knitting accessories, I designed matching wrist warmers and a smaller version of the cowl. I was smitten by this purple pink with all its flower connotations which seemed so perfect for the lace and cable pattern. It is an additive pattern – the number of projects tells its tale of how I addicted I became – and not as complicated as it looks with its symmetry of yarn overs and cable crossings. The cowls are created in two sizes so that they can be worn in layers, essential in cold climates like here in Norway.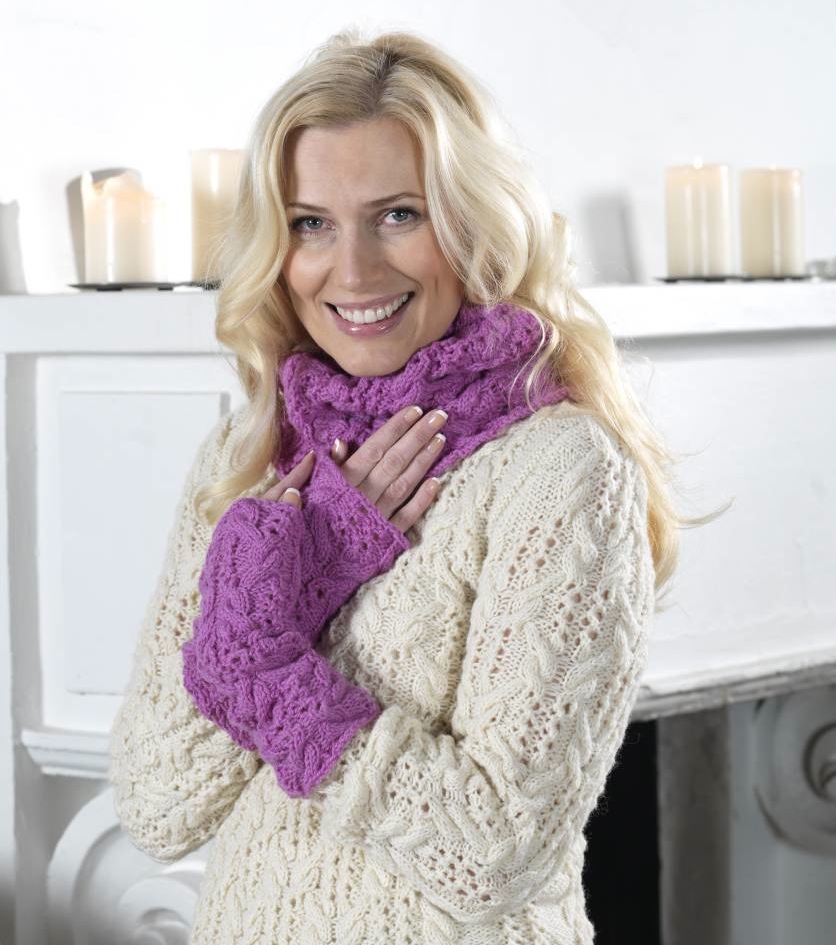 A second pink, named red purple, was chosen to make a third cowl in tweed, more like a high neck and to bind the offwhite sweater together with the pink accessories. See the Tweed Cowl photographed below. So if you have a high neck – like me – and need to wrap up in the winter, wear all three cowl at the same time. Photographed by my husband on me, here: new-design-cablewing-sweater-and-cowls.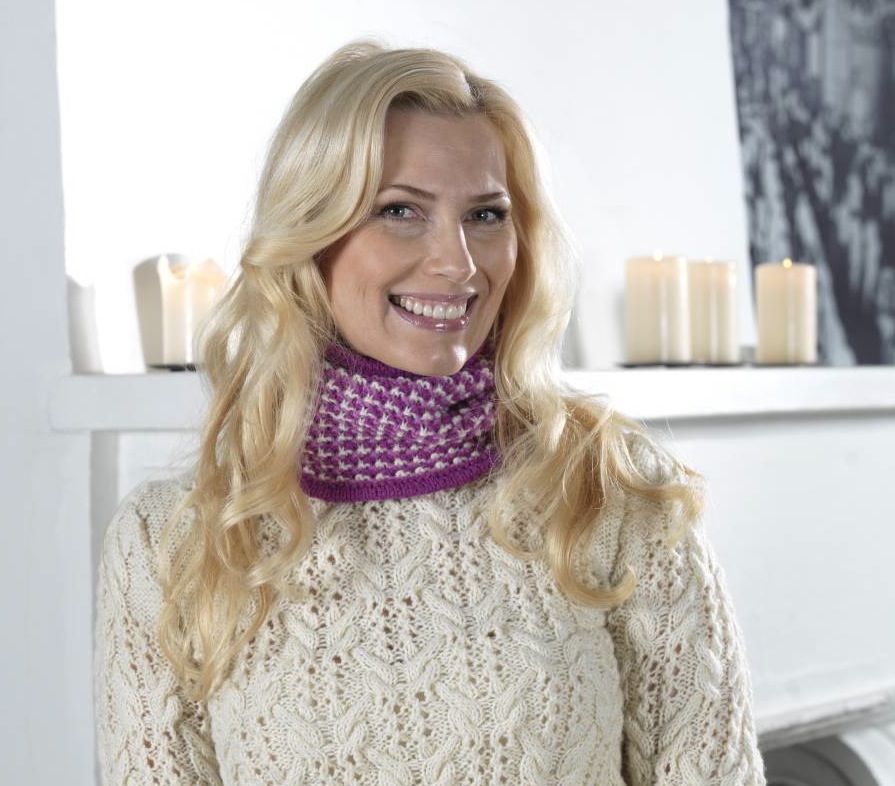 These patterns will be published in Norwegian together with the Patent Poncho, knitted in the thinner Ask – Hifa 2 by Hillesvåg Ullvarefabrikk, which I am excited to show you very soon in another post.
PS: When the pattern rights are released after one year, I will publish the patterns for sale in both Norwegian and English from my Ravelry pattern store, see ravelry.com/designers/linda-marveng.