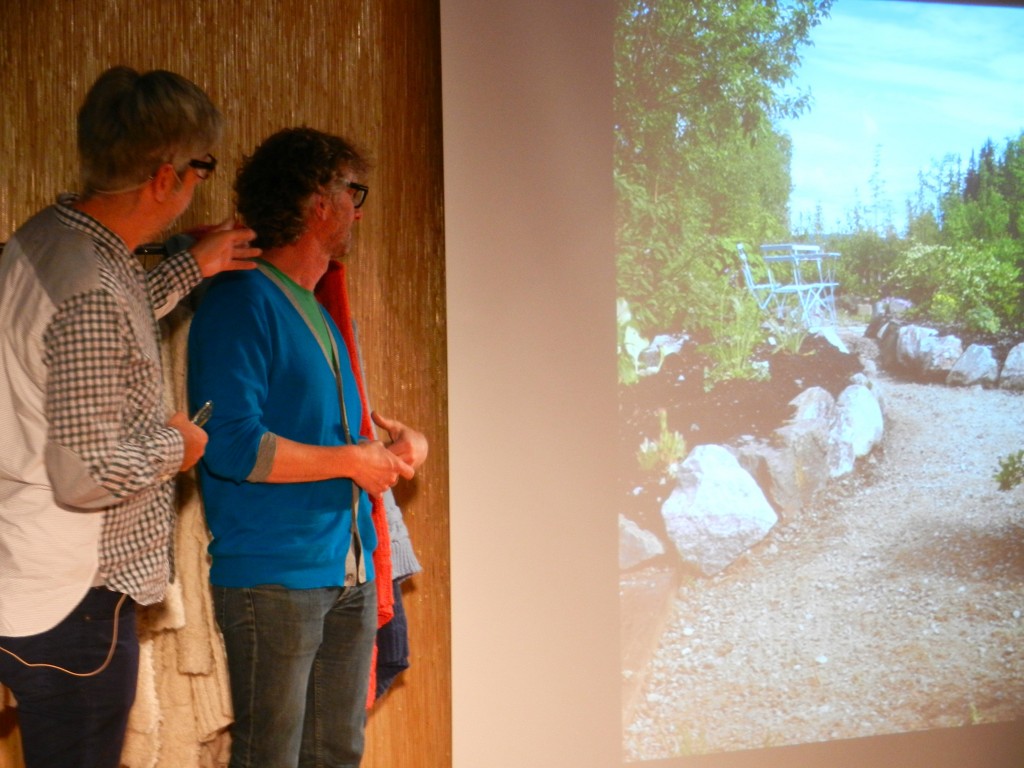 I have been to another book presentation, this time a joint one given by Arne & Carlos and Tine Solheim at their (and mine) publisher Cappelen Damm in Oslo. More than 250 people were there. We were welcomed through the book shop and given Garden Wine from boxes designed and served by Arne & Carlos, in addition to free raffle tickets before finding some seats in their canteen. I were in the very good company of fellow designer Nina Granlund Sæther (blog: syl.tynn), designer Sidsel J. Høivik (webpage: sidsel-j-hoivik) and her editor Ann Kristin Nås Gjerde from Gyldendal – Sidsel's book is out next month and it looks marvelous! In addition, I met my editor Inger Margrethe Karlsen and other friends who were there, not wanting to miss this event.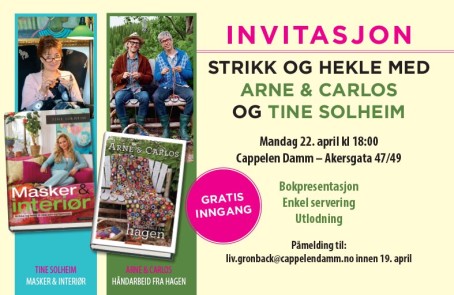 Tine Solheim started by presenting her 5. book called "Masker og Interiør"/Stitches and Interiors with a focus on comfortable knitwear and fashionable interior items to knit and crochet. A huge selection of ponchos in different shapes, cushions and throws just to mention a few of her new designs. One throw was inspired by a pair of shoes she had bought in Paris and it was great fun to see her inspiration. You can read more about her and her designs here: tinesolheim.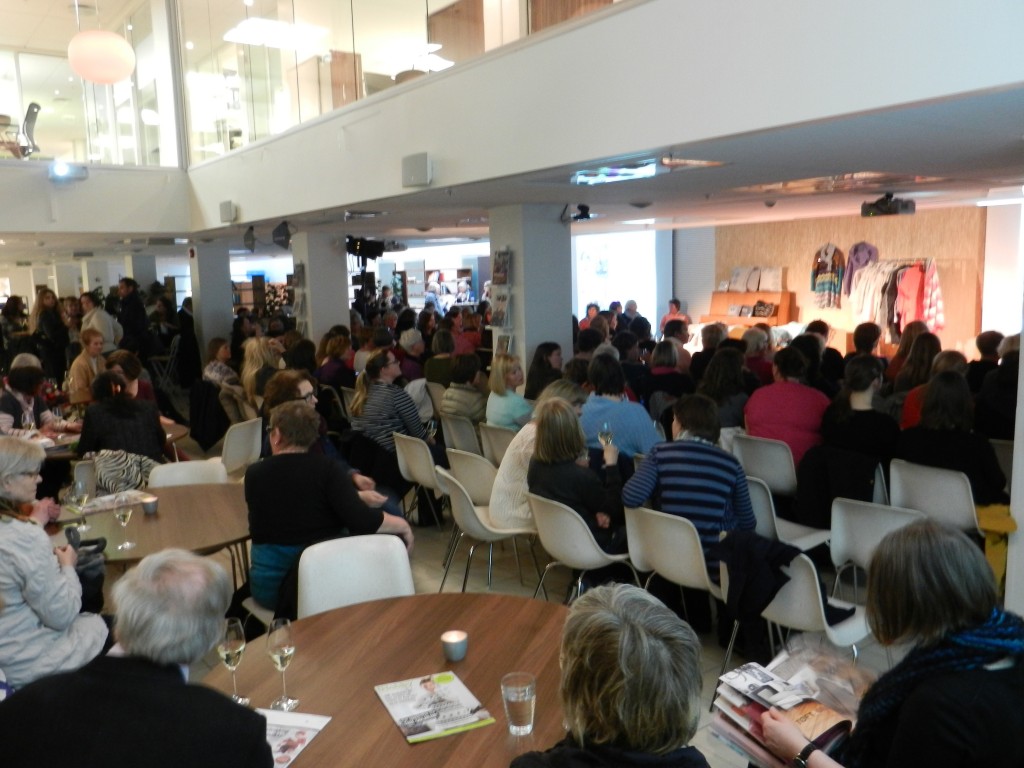 After a short break, Arne & Carlos started their presentation and slide show. We were all envious seeing their beautiful garden, the source of inspiration for this latest book called "Håndarbeid fra Hagen"/Crafts from Our Garden. Packed with projects like the stunning throw on the cover and many fun smaller ones like the garden mouse called Magnus. Their newly released book has already been sold to 10 countries and will be published in Denmark, Finland, Iceland, the Netherlands, The UK and the USA this year. Arne & Carlos are busy with promotion and working on patterns for the Japanese Knitting and Crochet Magazine Keito Dama in between enjoying their house (all 4 buildings which used to be the old Tonsåsen Train Station) and their garden! Here is their blog: arnecarlos. Both books in Norwegian are available to order from Cappelen Damm, here is the information in English on how to order: cappelendamm.
The raffle tickets were drawn and the prices were one neat sewing machine, two bags stuffed with yarn and other goodies plus another one I could not spot. As you can see from my photos it was packed but an ever so enjoyable and inspiring event!