Leaves cover this A-lined jacket knitted in one piece with a false seam in a middle of a triangular shaped stocking stitch panel. The sleeves are knitted in the round with leaves up to the shaping, where the lace pattern is changed to reverse stocking stitch. A belt in autumn coloured tweed lengthens the jacket, and introduces the orange wrap, see photo above without the wrap and below with it, all taken by my husband. Or why not wear the wrap as a belt and opposite. The set is knitted in the gorgeous melange coloured Ask – Hifa 2 from Hillesvåg Ullvarefabrikk, see ask-melert, using 3.5 mm/US 4 needles. For details of each stitch pattern see my post, design-in-progress-autumn-symphony. I am delighted to tell you that the Norwegian pattern has been sold to magazine Familien but the English pattern will be ready for test knitting in late January in my group on Ravelry. First I need to finishing grading it from size S to 3XL, and send it off for tech editing. The idea is that you find your favorite look, or use the accessories as you like.
Below is the opposite look, wearing the belt as a wrap and the wrap as a belt. The belt is shaped and I will grade it to the different sizes, while the wrap is one size knitted in the round without any shaping, which makes it easy to add or remove a pattern repeat depending on how small or large you want to make it.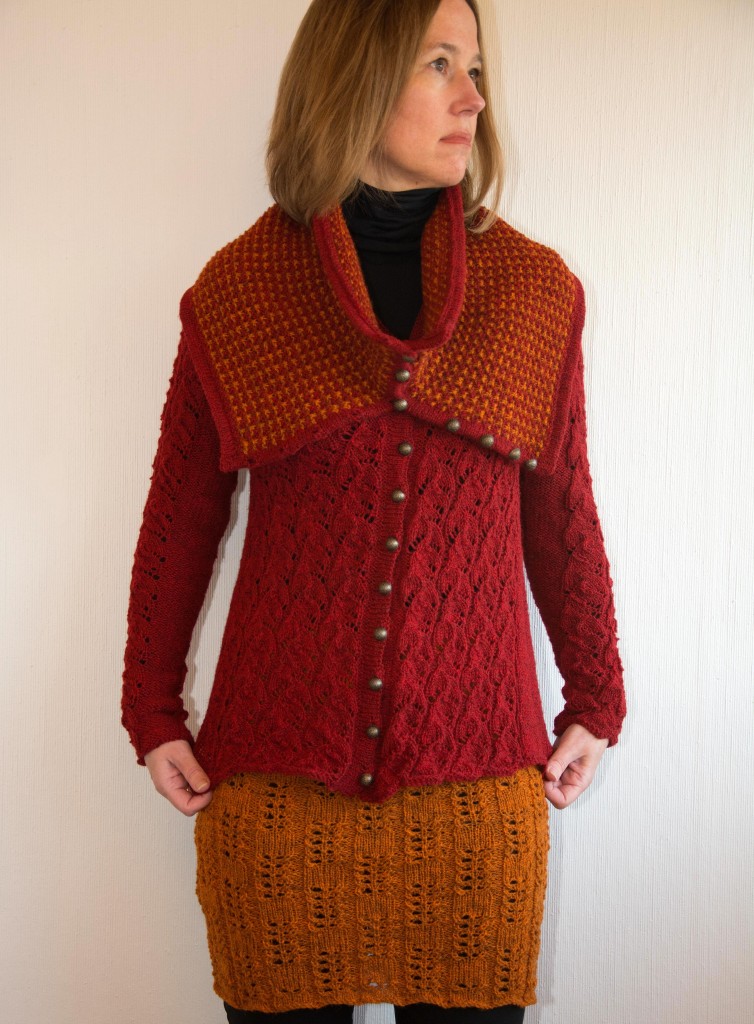 Or if you want to wear the belt as a wrap too, then consider how far down you want it to hang and choose the closest size. Ideal for a cold climate like we have in Norway. And with this new design I want to wish all my readers a Merry Christmas!