Knit with speedy knitting needles is a direct translation of Kristin Wiola Ødegård's first knitting book title recently published by Gyldendal, containing 44 easy and playful patterns. In her preface she writes: "I love large, soft sweaters and jackets that can be worn with anything, hats in cool colors which make a simple outfit exciting, and chunky cowls that do not itch. In Strikk med raske pinner, I have gathered my favorites of lovely knitting garments that can easily be combined with your wardrobe. My vision has been to make a knitting book that can inspire the reader to make simple garments found in the fashion of today." I have no doubt that is has been a fun project, as Kristin writes, since both her daughters have supported, and assisted her. Ida has been a stunning model, together with 3 others, and Sofie has beautifully photographed the entire book. The original setting; at a garage with its bare brick and concrete walls makes a perfect setting for all the soft knits as well as the borrowed tractor. The book launch was last Saturday, and it was packed with 200 people attending, not wanting to miss the fashion show; the yarn store Nøstet Mitt's stand; the opportunity to both see the garments close, and to win prizes such as yarn kits and ready made hats.
This delicate yoked sweater is knitted in Alpaca Mix from Drops in a main color with 5 contrast colors and decorative beads, using a 4.5 mm/US 7. It was the most popular yarn kit donated by Tjorven, the yarn shop, where Kristin works. She is well aware over how much remains most knitters have in their stash, and encourages everyone to play with them to make your own yarn by working several strands at the same time. Why not add another strand when you need to add width instead of increasing? See the glimpse of the red multi coloured dress in the last photo; you start working the skirt from the hip using 2 strands and a 7 mm/US 10.75, add another strand and change to a 10 mm/US 15, then finally add a fourth strand and change to a 15 mm/US 19. A crocheted edge graces the long dress.
Marvelous leaf pattern combined with garter stitch in a chunky yarn gives this poncho with long sleeves, and hat a fabulous stitch definition. Both are knitted in a mole coloured Eskimo from Garnstudio using a 8 mm/US 11 needles. There are numerous other hats to choose from and they proved so popular at the book launch that Nøstet Mitt sold out of  Puno Alpakka from Rauma. The yarn is also one of the options for the cowl on the cover.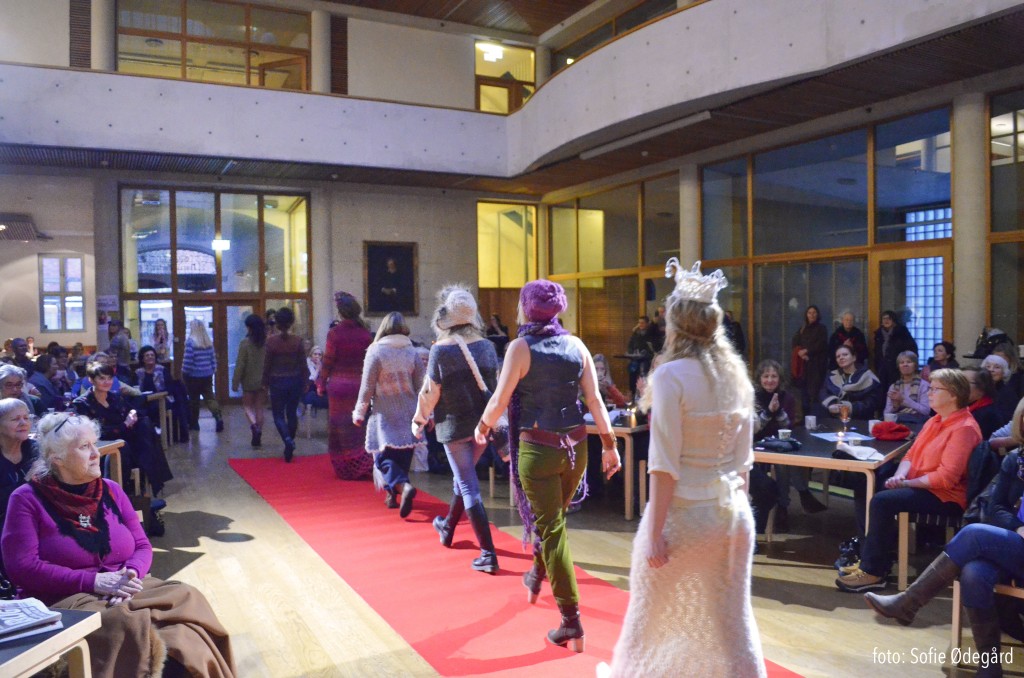 Kristin designs, and makes clothes too, and decided to make all the clothes for the fashion show on the book launch. She is number four from the right, her daughter Ida is number two from the right. No wonder that Kristin's second book will be published next year, really! Until then, I suggest you enjoy her first, and learn from the Knitting and Crochet School at the back. You will find more photos here: Gyldendal.