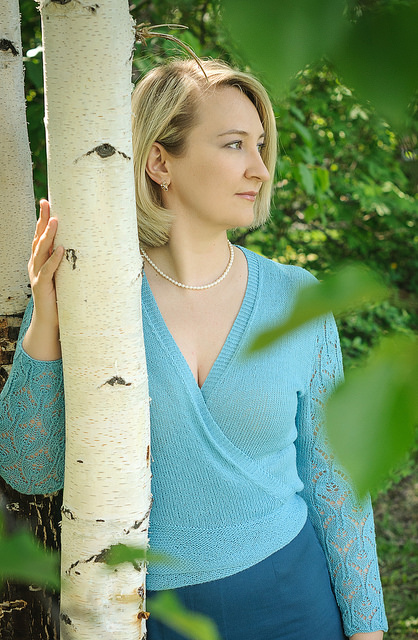 Russian knitter Elena wanted, to my delight, to take part in the test knitting of the English Oriel Ballerina pattern in my group on Ravelry. I had been admiring her photos on her project page as well as the lace berets she has designed. Elena knitted size Large and tested out two different yarns before she discovered Debbie Bliss Rialto Lace in pure merino in Aqua a shade very similar to the one I choose for the sample called Teal – read Turquoise to me – in Jaggerspun Zephyr Lace a beautiful mixture of merino and tussah silk. Elena wanted a yarn "which emphasized to all the beauty of your design". I had to include this quote, obviously. She found the pattern clear and easy of follow, I am happy to report. I was overwhelmed by Elena's gorgeous photos, and I am so pleased to share some of them here. You will find even more on her Ravelry page where her name is Lenta. Thank you so much, Elena! The Norwegian pattern was published in the magazine Made By Me, issue no 1 this year, while the English pattern will be released shortly in my Ravelry shop: ravelry.com/stores/linda-marveng.
The ballerina wrap is knitted using 3 mm/US 2.5 needles in stockinette stitch with garter stitch edges and stunning Oriel Lace sleeves. The body is knitted in pieces and sewn together. Both the tie and the front band is knitted at the same time as the front.
I chose to end the outer Oriel Lace pattern repeats at the top of the sleeve cap and  made pleats at the top, while Elena chose to work the lace to the end without pleating the cap. These are small adjustments you easily can do to make the garment perfect for you. Here is a link to the pattern page: Oriel Ballerina.