I was so excited to be invited to hold workshops at Strik Bornholm, and could hardly believe my eyes when I discovered that the American designer and former Creative Director of Berroco; Norah Gaughan would be the star attraction. Well, since I was holding 2 workshops, I wondered whether they both would go ahead with enough participants. For once I had the chance to take part in one of Norah's workshops, and for awhile I considered whether I could participate in two if my second workshop was cancelled. Just as some knitters signed on for all her workshops; Day 1: Modern Cable Design. Day 2: Designing Modern Sweaters. Day 3 (only half-day): Pattern Stitch Development and Design Possibilities. I took part in the latter one, together with designer Bente Geil (above in the centre), designer Maria Gustafsson, yarn dyer Lene Nielsen of Fredsminde Unika Design (above right) and five experienced knitters. Of course I had to wear one of Norah's designs I have knitted; the popular Cabled Bolero that was on the cover of Vogue Knitting winter 2006/07. Below is a photo Maria took of me at the workshop, and I captured her in pink in the second photo below. The bolero, or Capecho as Norah called it, is made from several connected pentagons and is a pattern you either adored like me, or needed help to crack the code, see Capecho Workshop.
I had already met Norah at the breakfast at Hotel Klintely, where we and several other designer & knitters stayed. So I was already star struck before I joined her workshop. To my surprise I was the only one wearing one of her designs, despite the Indian Summer heat we experienced. After seeing her slide show at the Party Dinner, the excitement grew even further. The brief introduction to the workshop – Pattern Stitch Development and Design Possibilities states: "One thought leads to another when it comes to making up pattern stitches. Norah will share some insights about her design process and show the progression of charts and swatches that lead to final products. Then, once you have a pattern stitch, how do you explore what to do with it?" The workshop started with a slide show, where Norah talked about her designs, and how they came into life.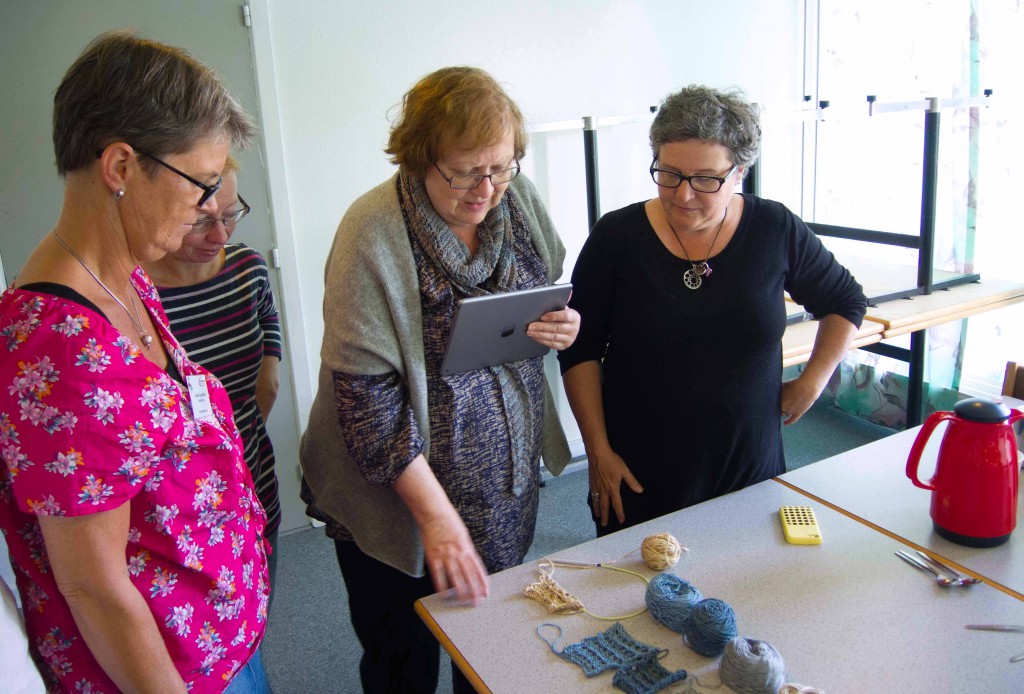 Our first exercise was to match a series of inspiration photos with Norah's designs. It seemed fairly obvious, until we started noticing that there were several alternative solutions. The second exercise was to select a ball of yarn from Norah's collection – all in different fibers and structures – then knit a given lace swatch, a stitch pattern she had found studying a Donna Karan sweater. In a way we were helping her on the next step of the design. We knitted, changed needles, and then started thinking about how we could improve the swatch. I borrowed larger needles since I had brought too small needles, and discovered that due to the two slipped stitches with yarn in front of work, the yarn overs were covered hence a row need to be purled instead of knitted. The minor change I choose made a difference to the pattern, and the visibility of the holes created by the yarn overs. My swatch is second from left.
Above is the result of our knitting and experimentation; proof that we took part in the workshop. The task demonstrated how different a stitch pattern looks in a variety of yarns and fibers. We agreed that the grey ribbon yarn was totally unsuited for this stitch pattern, while the cream colored linen worked the best, followed by the two lighter blue cotton mixes. We learnt the importance of matching yarn and stitch pattern for a perfect combination. Our third and final exercise was to consider what kind of a garment two stitch patterns in a yoked pullover could easily be transferred into. There were lot of suggestions but none of us made the obvious connection to a hat. Other topics covered were her sources of inspiration: Ready to wear collections, nature (see my blogpost on her book: Knitting Nature by Norah Gaughan), science, other arts and herself. Norah uses Barbara Walker's stitch dictionaries, and is introducing her at Vogue Knitting Live event in Chicago in October. Norah will often change a stitch pattern to simplify, or enlarge the scale of it, or make recombinations and changing the scale. Hence she has built up her own vocabulary of stitches and motifs.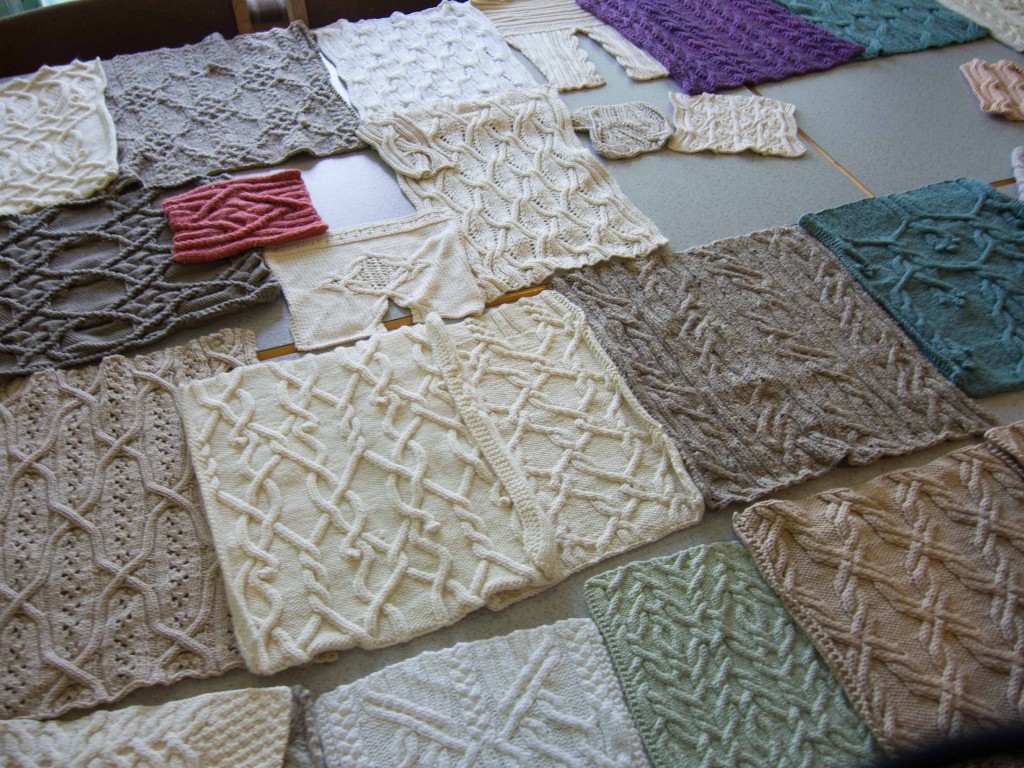 Above is a selection of swatches Norah showed us. We studied the swatches in awe for ages. The large swatches are from the days when she sold swatches to agencies – they demanded large swatches or the whole front of a sweater – to sell on to the high end fashion houses such as Ralph Lauren. These are the ones, Norah could not bear to send off, but wanted to use herself. Her advice to us where to: "Swatch & swatch again; be open to surprises; be one step removed from copying; think of something, then make it easier, be determined, but not in a hurry." Thank you so much, Norah for a superb workshop! And also to Strik Bornholm for making it possible for me to join this amazing class! My head was spinning for days afterwards. This month she is holding a 4 day workshop called "Cable School" where you are part of her design team, near her studio in Harrisville, New Hampshire. I would love to be there, but if you go, do let me know. Here are more details: Four day workshop modern cable design.