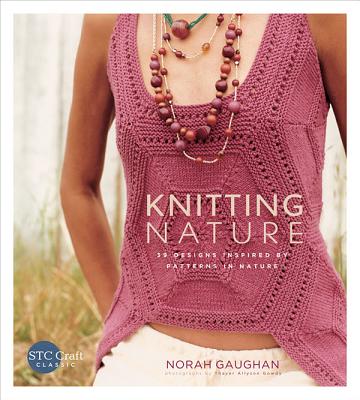 It is what we call Little Christmas Eve today – anything to prolong the festivities, really – and very soon many of you will finally have time to cast on for a new, carefully selected Christmas knitting project. So I thought what better time to introduce another favourite knitting designer and book with the extremely fitting title: Knitting Nature by Norah Gaughan. A familiar name to many of you, I am sure, that are used to reading Vogue Knitting and love Berroco Yarns and their pattern booklets many by their very own  Design Director.
What makes her designs so special? Norah explores the use of naturally occurring geometrical motifs in knitting and incorporate hexagonal and pentagonal symmetries in her designs. Often with a mind boggling result, that looks extremely complicated to the naked eye but in reality feels extremely natural when you start knitting. The book contains 39 marvellous patterns – mainly for women – and is divided into Hexagons, Pentagons, Spirals, Phyllotaxis, Fractals and Waves. Her innovative designs are a pleasure to the eye and a challenge to the mind!
One of her most well known designs is the Capecho which was on Vogue Knitting's cover in the Winter 2006/2007 issue, now available as a downloadable pdf here: cabled-bolero. I was so intrigued by the cables that I had to make it. Here is the workshop, which explains how it is made: vogueknitting Just as it states: "Modular knitting is surprisingly easy and quite addictive once you get the hang of it." I know, I enjoyed it so much I decided to make another. Both times I decided to leave out the button since the pentagons overlap more on me than in the picture from Vogue Knitting.
Below is a photo of my first version of the cabled bolero, knitted in the discontinued Rowan Yorkshire Tweed Aran. If I had more yarn – a very familiar issue, indeed – I would have extended the sleeves and made a ribbed waist extension. Do take a look at the interview with her by Interweave Knits editor Eunny Jang on Knitting Daily TV: youtube. Here is an overview of her stunning designs: ravelry. You will find several postings by Norah on the Berroco Design Studio Blog, well worth reading here: blog.berroco. I hope you enjoy your Christmas knitting and wish you a wonderful Christmas!