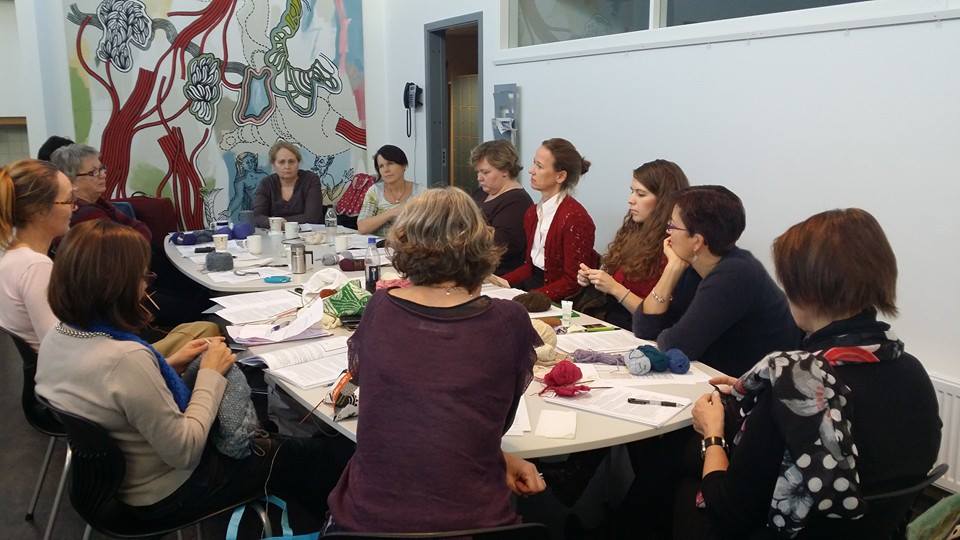 I had a marvelous weekend in Stavanger, and was way too busy enjoying myself to take lots of photos, thanks to organizers Stavanger Strikk og Drikk/Knit and Drink who have done a splendid job. A  large number of the city landmarks were marked by the knitting event; at the airport was a large armchair with yarn & needles provided ready to use, the library was invaded by knitters, and had prepared by exhibiting all their knitting books; exhibitions; as well as providing yarn for charity knitting and presentations by all participating designers, the ferry terminal had first declined the offer from Strikk og Drikk but did not take long to regret their decision… A small trade hall was located at Bekkefaret Bydelshus/Community House with offerings of tempting yarns, patterns, buttons and books together with a coffee shop plus workshop premises, with more located at Eiganes Kolonihagehus/Allotment Community House; where the Saturday party was held. My weekend workshop in Knitting Design was at Gosen Skole, see above. The knitting community in Stavanger was starstruck by the famous Danish designers that participated: Lene Holme Samsøe, Bente Geil aka Geilsk and Charlotte Kaae. Taking part with their respective fans were also acknowledged Swedish designer Anita Grahn, Tove Fevang and Ann Myhre aka Pinneguri/The Needle Lady (read about her workshop here: aftenbladet). I met Bente, Charlotte and Anita at Strik Bornholm but was delighted to finally meet Lene in person as well as some of my Ravelry friends. Read in Norwegian: Se opp for strikk i rogalandsavis, Hele byen strikker i aftenbladet.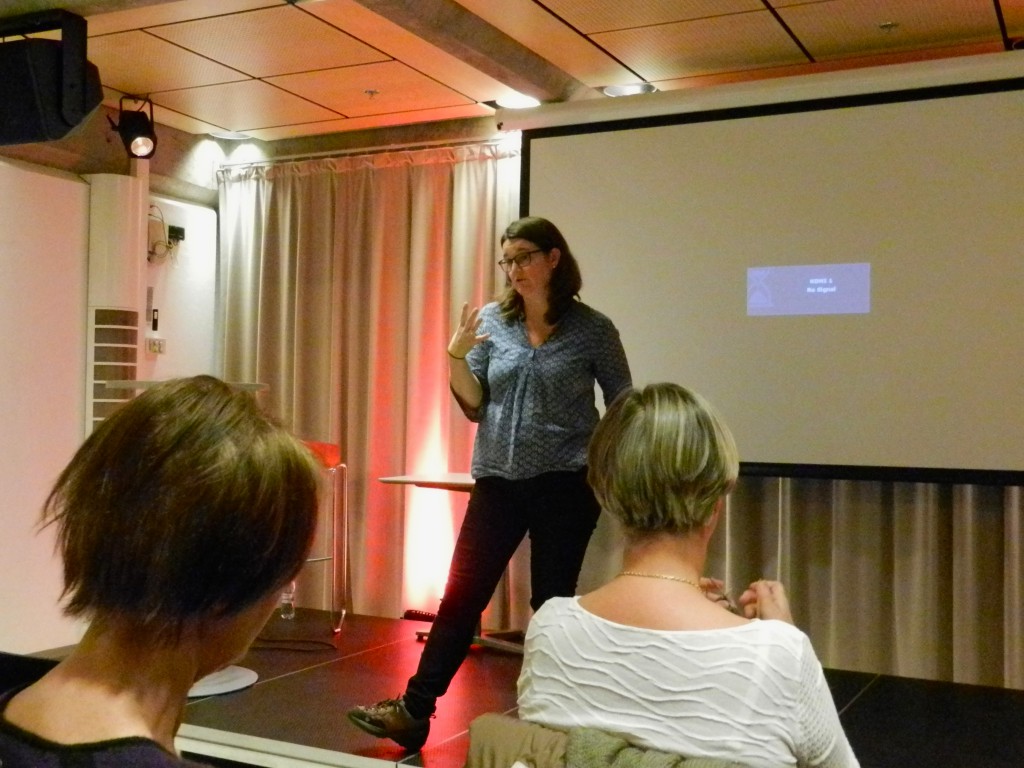 We were 3 Norwegian designer present at the weekend who all gave a talk on Friday evening at the Library; Tove Fevang, myself and Ann Myhre who you can see in action above. While Tove was talking about her inspiration and work, I presented my design experience and book, and Ann defended top-down knitting as well as the fact that women should celebrate the fact that we do have shapely figures. The 3 Danish designers and Anita held talks on Saturday to even larger crowds. See the complete program here: strikkehelgstavanger. After the talk both Tove and I were told to come with initiative taker Monica Haga for safe keeping until we would be collected by our hostesses who were both taking part in Charlotte's workshop: Krydret Strik/Spicy Knitting (read: this relates to Charlotte's bold use of vivid colors). We were duly collected a few hours later, after a delicious dinner in Bente's & Monica's company.
My friend Anja Præsttun Smith and I had to chat a bit even after we arrived at her house by the fjord in Sandnes so well into the night I crashed into bed. Do take a look at her family's exciting Iceland expedition plans here – yes, Anja's husband Neil is English – see: ice2015.no. Anja was one of the many volunteers that had helped by baking cakes for the coffee shop, Tone Cecilie Nystrøm was another volunteer in charge of the premises for my weekend workshop and hence moved it to the school were she teaches; Gosen Skole, while Monica's husband was the dedicated driver who brought us lunch, to our pleasure, with plenty of fruit, chocolate, fizzy drinks and raffle tickets. Excellent service in other words. I had an overbooked workshop but still managed to lead everyone through the planned agenda. It is ever so exciting to see what inspires others, and the abundance of creativity that exists all around us! Numerous swatches later and after the workshop on Saturday, Anja and I had a quick look in the Trade Hall before closing time. I can reveal that Anja bought several skeins of yarn, while I collected business cards, cuddled hand-dyed luxurious Lotus Yarns from Ullrommet and yarns from Nøstebarn before we headed home to change for the party at Eiganes Kolonihage. Above is a photo from the party with the Danish Designers at the front table accompanied by Monica in a sleeveless white dress.
Tone Cecilie dazzled in her orange skirt plus matching tie and recently finished test knitting her bright turquoise Lattice Back Jacket which is much brighter in real life than in the poor quality photo above.  Anyway, I so wanted to show you her fabulous outfit! Instead of the planned zip, Tone Cecilie's jacket had three small coin buttons attached with snap fasteners. You can read more about her difficult zip search in the test knit thread in my group on Ravelry. We had delicious food, music, cakes & coffee and chatted while we all knitted. The sound level, as you can imagine, was out of this world. I flew back to Oslo on Sunday evening after my workshop and managed a quick goodbye to Charlotte and Lene Holme at the airport before my departure. It was wonderful to meet so many knitters and designers at Strikkehelgen in Stavanger, a big thank you to all volunteers and Strikk og Drikk for a magnificent event!