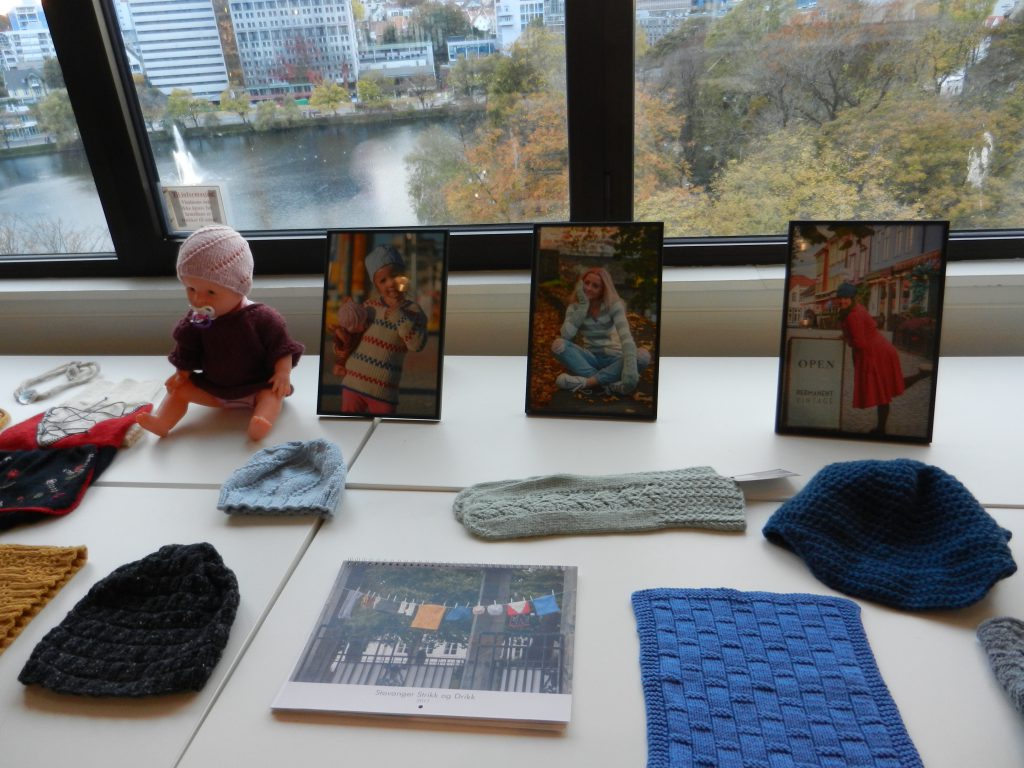 For the third time, the knitting weekend in Stavanger was organised and I was invited to hold a workshop. The organisers Strikk og Drikk/Knit and Drink (yes – it all began in a pub) wanted a knitting design workshop and I was happy to oblige. Just as last time I stayed with Anja Smith, one of the volunteers who was in charge of not only photographing but also proof reading all the patterns with projects selected after a competition was held. Above you see the calendar and some of the projects exhibited on the top floor of the Thon Hotel Maritim. You will  find more photos here: Strikkekalender-2017. I flew from Oslo to Stavanger on Friday afternoon, just in time for a dinner with Anja before she headed to a workshop in beading and I to teach at Stasjonsstrikk/Station knit, both held at the heart of Stavanger at the Library. Station knitting follows the principles of speed dating really, with 15 minutes at each station for a group of up to 4 people to learn a knitting technique. I was teaching I-cord bind-off this year, while designer & author Tove Fevang was teaching 3-needle bind-off and Danish designer & television judge Vithard Villumsen was teaching wrap and turn in addition to 2 stations manned by volunteers.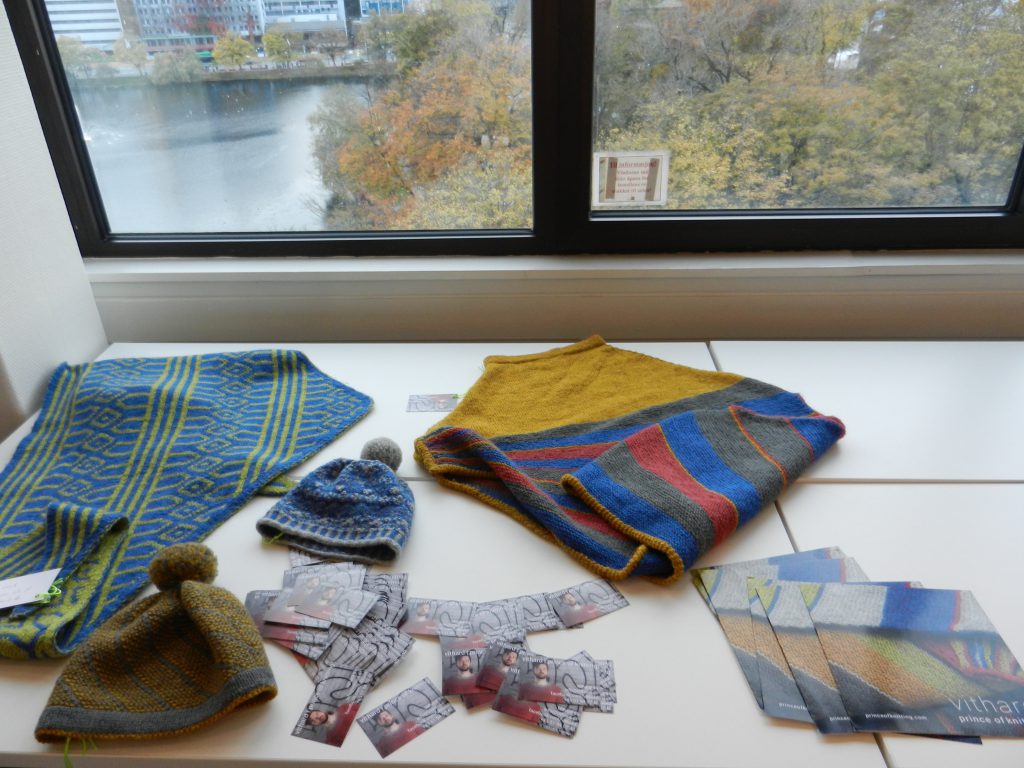 I had spotted Vithard at Strik Bornholm but did not have the opportunity to meet him until last Friday. Just like a number of knitters, I first saw him on the television show "Den Store Strikkedyst"/The Great Knit Off, where he is a judge together with Christel Seyfarth. The series is into its third season, now. It is addictive viewing, and you will find a few episodes with English subtitles at youtube and all of them at Tv Syd. I can confirm that he is both as nice and knowledgeable as he looks on television. The first part of Friday night was spent knitting in the library. And yes, I had to confirm there was a knitting festival in the city for those sitting around me. The last part of Friday night was spent with Anja and her family in their newly refurbished house by the water in Sandnes.
My workshop Strikkedesign/Knitting design was held at the conference center at Thon Hotel Maritim. The Stavangerfjord conference room had comfortable director chairs and a beautiful view of the lake Breiavannet in the city center of Stavanger. I had a fully booked workshop, but struggled with a cold all weekend. Thankfully, I had a wonderful group of knitters on my workshop! We had a 2 hour break for lunch so that we had enough time to visit the market hall at Folkets Hus. There I met up with Swedish designer Anita Grahn, left in the photo below looking at porcelain buttons by Birthe Sahl. I also found Danish designer Charlotte Kaae, who had signed on for the speed knitting contest and came 4th. The winner knitted more than 600 stitches in 10 minutes. Above is Charlotte's exhibit. I would not have come that high, and was too busy eating lunch as well as chatting to Norwegian designer Helle Slente as well as friends, test knitters and Facebook friends.
Below is a view of half the market hall. I was good this time and did not buy any yarn at all. After the workshop on Saturday, a group of us sat knitting in the reception at the hotel before we walked over to the De Røde Sjøhus/The Red Sea Houses for the  knitting party. We made a designer table and exchanged experiences while we ate tapas from the buffet. Charlotte Kaae held an brief talk on how to use Instagram and encouraged us all to photograph with the hashtag #strikkehelgstavanger.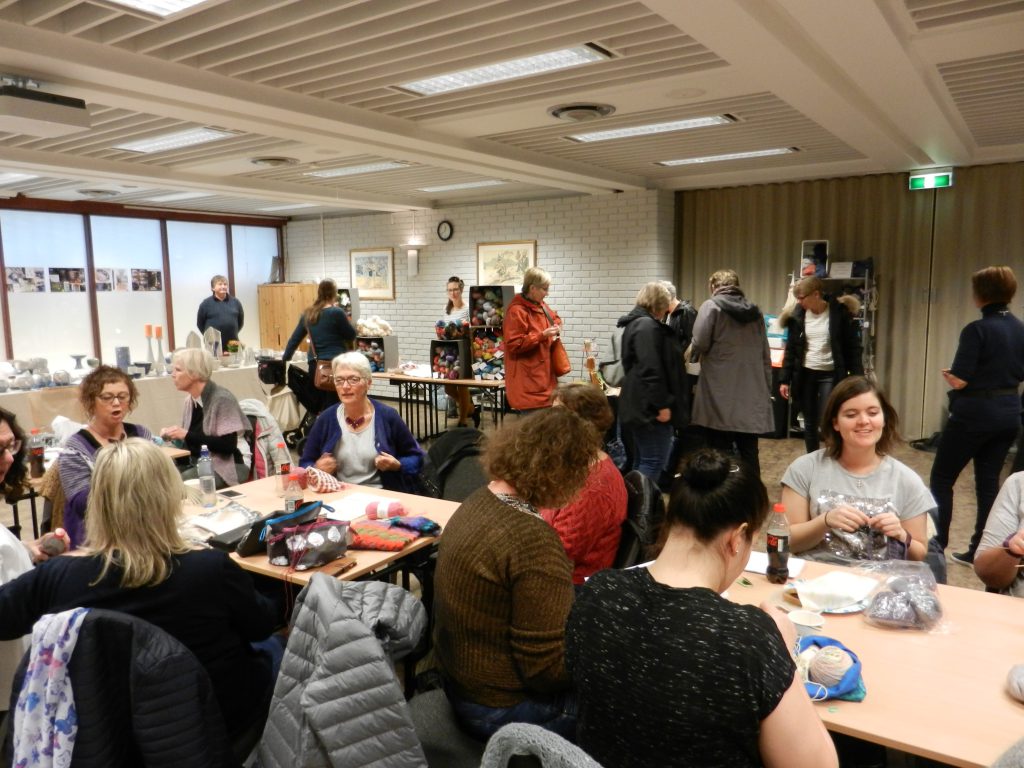 Below is Maskepigen Garn with stunning hand-dyed yarns. They were tempting, I must admit. During the workshop we were visited by a personal trainer Marte Haga, who helped us with tension in our shoulders and hands by giving us all exercises to do. You will find a couple of videos on Instagram, even from the pub Cardinalen (read: Strikk og Drikk's home). They have become used to invasion by knitters by now and everything they tend to do…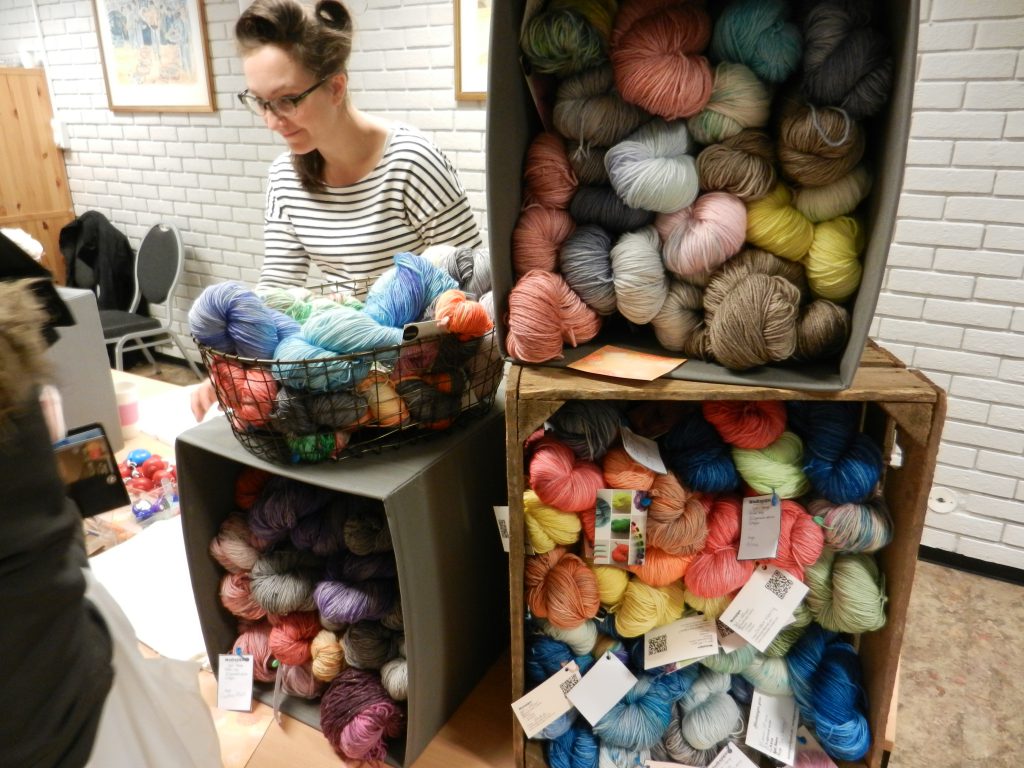 For lunch on Sunday I met editor of the largest handicraft blog in Norway, Tusenideer.no, Mary-Ann Astrup, who was house hunting in Stavanger and had flown in from Copenhagen.  It was the weekend to be in Stavanger, that is for certain!  Thank you to Strikk og Drikk, and to all the friends, designers & knitters I met!