I knew that model Emma Ross did not need to wear a wool cardigan on top of the Sigyn wool dress at Villa Malla in the sweltering heat at the end of May, but I did want to show how well they work together. Photographer Eivind Røhne knew my plan and captured these brilliant photos after Sissel Fylling had finished perfecting Em's hair & makeup. The accessories are also of Norwegian design: Jewellery is by Kaja Gjedebo Design and the ankle boots are by Monica Stålvang. Michael was ready to hold the large reflector but did not need to hold it in the end. I was making sure that all sides of Irpa was photographed and also wanted Em to wear a pair of pencil trouser beneath instead of the dress to show off its versatility. The Norwegian pattern and yarn kit will be launched by Hillesvåg Ullvarefabrikk at Oslo Design Fair at the end of August, while the English pattern will be test knitted in my Ravelry group beginning on the 12th of November before it is released.
Irpa is Norse for dark brown and suited this long oversized cardigan with a v-neck and a slight shaping for waist. Pine cable cover the center back, while only one pattern repeat adorns the fronts and sleeve. A wide rib makes this casual jacket a perfect extra layer to the Sigyn dress.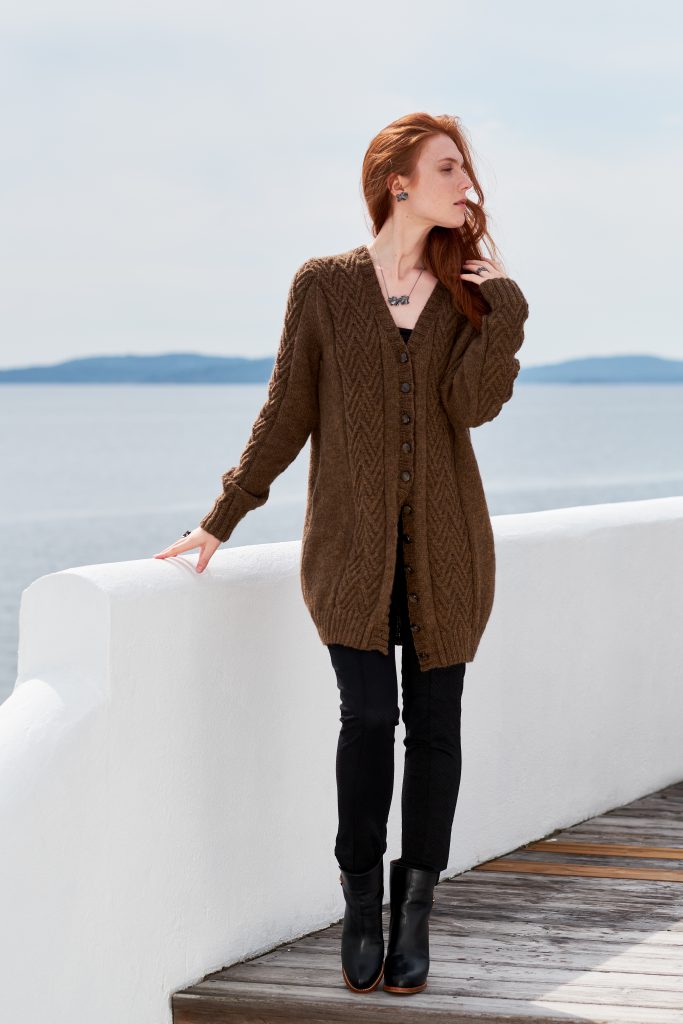 Kristin Nygård, aka Quiltefeen on both Ravelry and Instagram knitted the beautiful sample in size Small for me, while I was working on another project you will see later this autumn. Irpa is knitted in the  luscious and bounce Tinde – a breed specific Norwegian pelt wool – from Hillesvåg Ullvarefabrikk using a 3.5 mm/US 4 needle with a gauge of 21 stitches and 30 rows in stockinette stitch measuring 10 cm/4″ square. The button band is knitted using a 3 mm/US 2.5 needle. The sample has 11 buttons with a diameter of 20 mm/0.78″.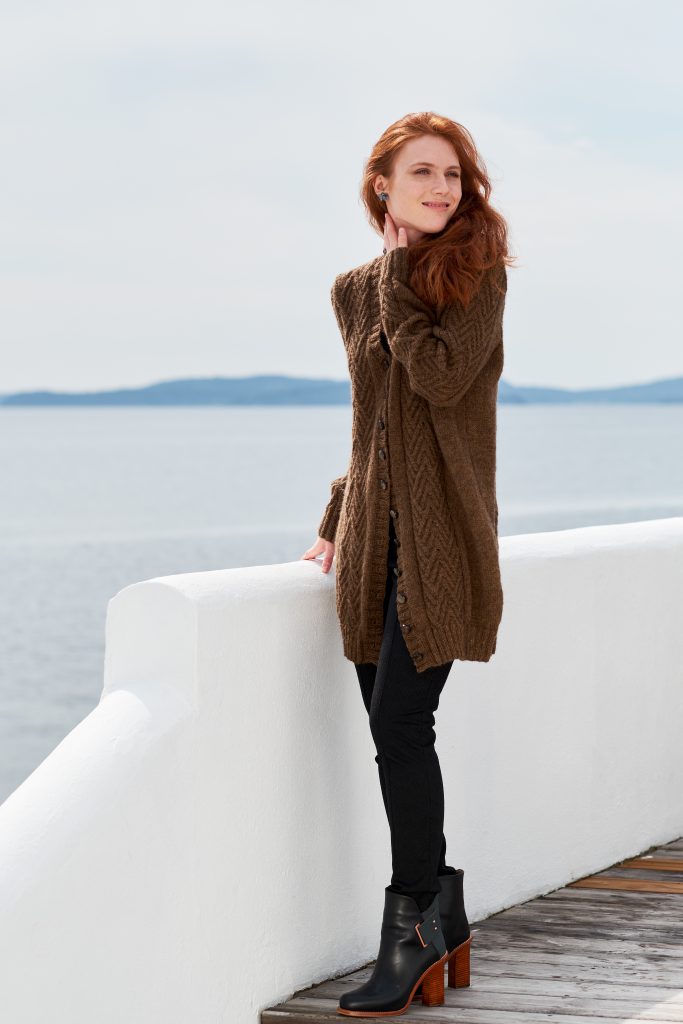 The cardigan is knitted in pieces and seamed. The second part of the v-neck decreases on the fronts moves to the opposite side of the cable in order for the cable to continue to the shoulder.
I have graded the dress from sizes S to 2XL, with a bust circumference of 110 to 154 cm/43.25 to 60.75″. Next out in this series is the last of the new designs: Lofn.
SaveSave
SaveSave
SaveSave
SaveSave
SaveSave
SaveSave
SaveSave
SaveSave
SaveSave
SaveSave
SaveSave
SaveSave