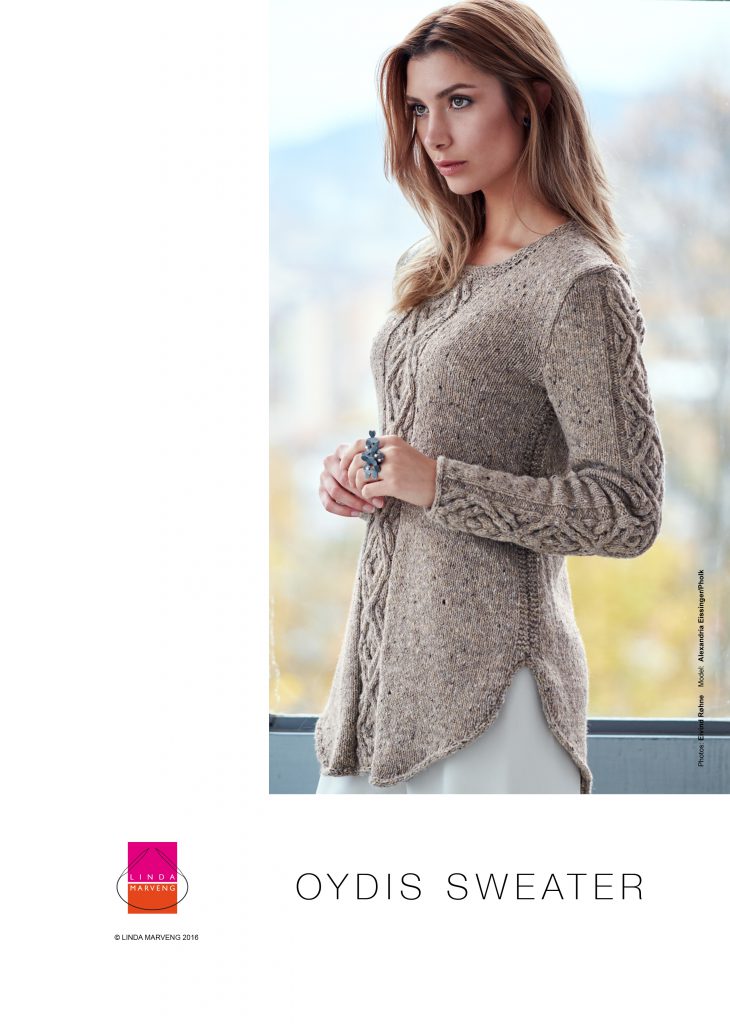 The test knit of Oydis has just been completed and the English pattern is released. 18 testers took part and you can see the different variations on the pattern page and there are more too come as well. I am grateful that some testers knit it as I intended, but I am also curious to see what changes testers would prefer to do. Quite often a test knitter suggest an idea I had thought about but chosen not to follow through. It is amazing how much a different color and different fiber will change the outlook of the garment too, hence a treat to see a large number of completed projects to compare against. Above you see Oydis worn by Alexandria Eissinger with hair and make up by Sissel Fylling, jewelry by Kaja Gjedebo Design all captured brilliantly by Eivind Røhne. Here is my introduction to Oydis: A shadow diamond cable dominates this a-line sweater with a curved flattering hem. I-cord bands frame the bottom of the sweater, while garter stitches mark the sides and the round neckband. The sweater, with or without the cowl to dress it up, make the outfit ideal for the Goddess of good luck; Oydis. The body of the sweater is knitted flat, while the sleeves and the cowl, are knitted in the round. A fine tweed yarn is held together with an alpaca lace yarn, with a chain construction, to create a fabric with a beautiful stitch definition and a slight halo.
Sizes: XS (S, M, L, XL, 2XL)
Finished Measurements:                                                                                                             Bust: 84 (90, 96, 106, 116, 126) cm/33 (35.5, 37.75, 41.75, 45.75, 49.5)"                                   Hip: 98 (104, 110, 120, 130, 140) cm/38.5 (41, 43.25, 47.25, 51.25, 55)"                        Length: 74 (75, 76, 77, 78, 79) cm/29.25 (29.5, 30, 30.25, 30.75, 31)"                                Sleeve length: 49 (50, 50, 51, 51, 52) cm/19.25 (19.75, 19.75, 20, 20, 20.50)"
Yarn: Du Store Alpakka, Dreamline, Soul (68% baby alpaca, 32% nylon, 25 g, 177 m/195 yds). Sample is knitted in DL204 Greybrown.                 http://www.dustorealpakka.com/garn-sortiment/?category=29                                                7 (8, 9, 10, 12, 13) skeins; 1111 (1274, 1437, 1713, 1996, 2269) m/1215 (1393, 1571, 1873, 2183, 2481) yds.                                                                                                                               Pickles, Merino Tweed (100% wool, 100 g, 380 m/415 yds). Sample is knitted in PMT5508 Nature.                                                                   http://shop.pickles.no/en/products/yarn/pickles-merino-tweed/                                                3 (4, 4, 5, 6, 6) skeins; 1111 (1274, 1437, 1713, 1996, 2269) m/1215 (1393, 1571, 1873, 2183, 2481) yds.                                                                                                                                           Note: One strand of each yarn is held together throughout.
Alternative yarns:                                                                                                                       For Soul: Fyberspates, Gleem Lace (55% British Bluefaced Leicester Wool, 45% silk, 100 g, 800 m/874 yds). http://fyberspates.com/gleem-lace/                                                    Madeline Tosh, Praire (100% superwash merino wool, 100 g, 768 m/840 yds). http://madelinetosh.com/store/index.php/yarns/prairie.html                                          Shuibui, Cima (70% alpaca, 30% merino, 50 g, 300 m/328 yds). http://www.shibuiknits.com/Yarn/Colorways.php?Yarn=Cima                                           For Merino Tweed: Rowan Fine Tweed (100% wool, 25 g, 90 m/98 yds). http://www.knitrowan.com/yarns/rowan-fine-tweed                                                                Or another DK/8 ply yarn held singularly.
Needles: 4 mm/US 6 circular needle (80 cm/32″). 4 mm/US 6 DPNs. 4 mm/US 6 circular needle (40 cm/16″) for neck band. Adjust needle size as needed to match gauge.
Notions: Stitch markers, stitch holders, waste yarn and yarn needle.
Gauge: 20 sts x 30 rows in st st measures 10 cm/4″ square. 1 Shadow Diamond Cable across 30 sts measures 11 cm/4.25″. 20 sts x 30 rows in garter st measures 10 cm/4″ square.
Notes: The body is worked flat, while the sleeves are worked in the round. The sleeves begin with making an I-cord and picking up stitches from the cord, but use a provisional cast on and then later work an I-cord bind off, as on the body, if you prefer. Each side has garter stitches as edging and the sleeves have a fake seam created with garter stitches.