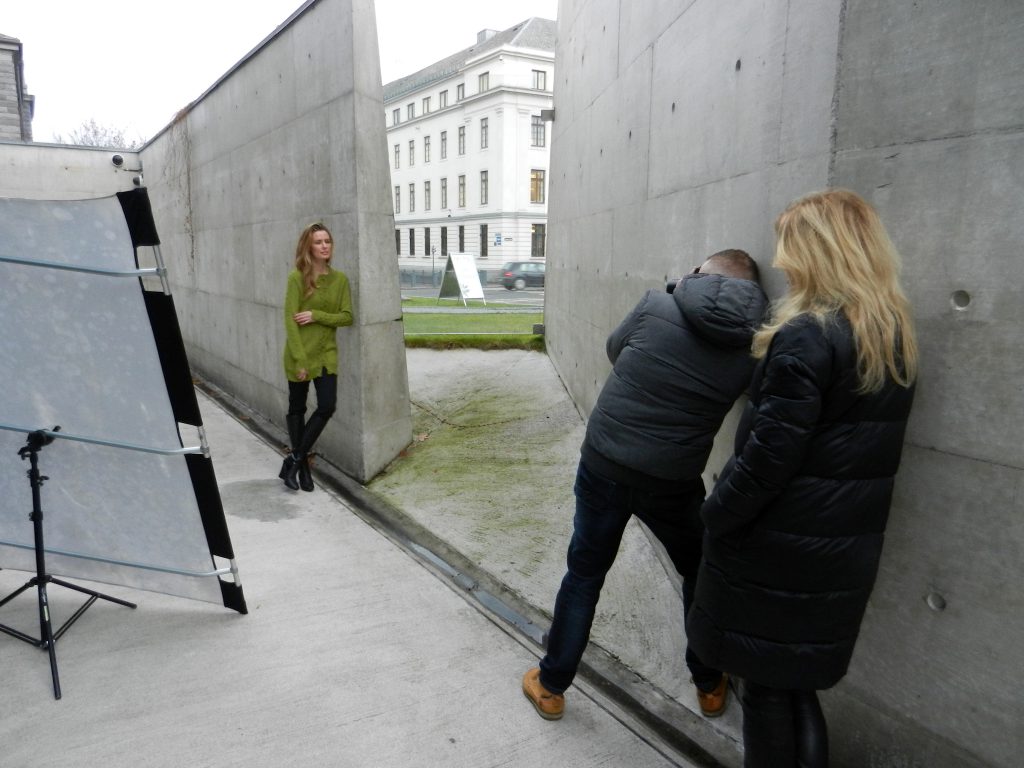 It was a cold November day, our photoshoot took place at the National Museum – Architecture, but at least it was not raining. I had settled all formalities with the museum and they were expecting us, with an extra security guard since we were photographing outside around the Fehn Pavilion, in the "klostergang"/cloister, designed by Norwegian Architect Sverre Fehn. This time the team consisted of photographer Eivind Røhne, the hair & makeup artist Sissel Fylling with assistant Nora, model Silje Andresen/Team Models and assisting photographer Michael Marveng-Puckett. Silje retired as a full time model ten years ago, at the age of twenty seven, to my astonishment. She knew Sissel and was probably not too surprised that Sissel just had to cut her hair. So no change there, then.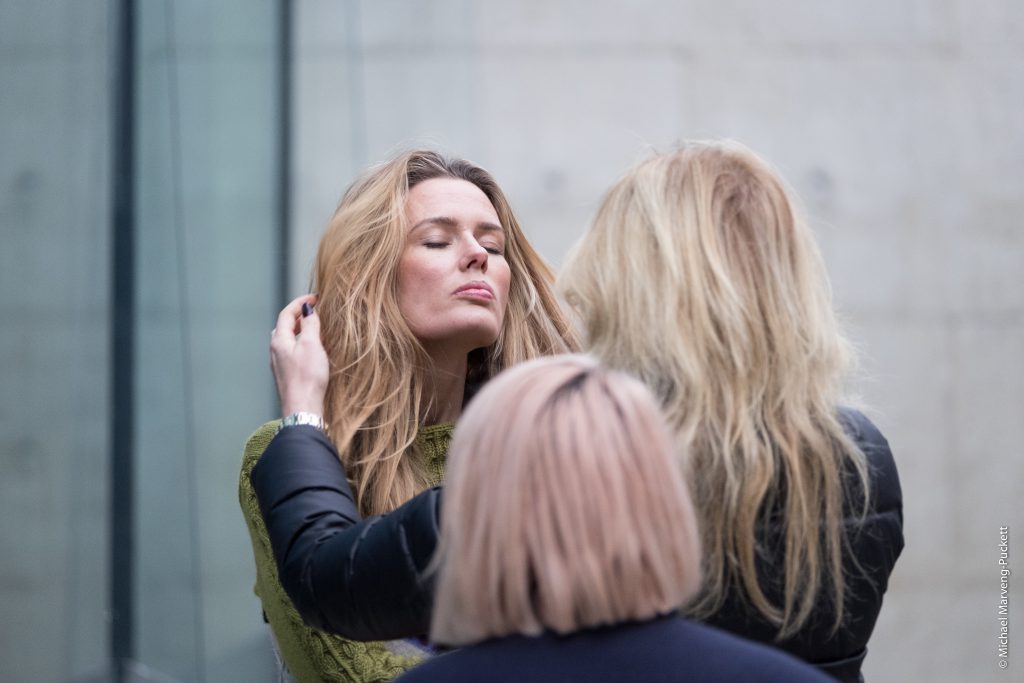 We were photographing ten designs with two extra accessories, not all new designs: 2 designs returned from Interweave; Irina Pullover and Harding Cardigan; 2 old designs in need of new photos: Check Cable Cardigan and Cable On Scarf, in addition to 6 new designs. At the top is Hanasa a-line pullover, below is the Irina Pullover. I had, as usual, borrowed several skirts and a dress from designer Judith Bech. I am sure you recognise a few of those we used this time. In addition to jewellery from designer Kaja Gjedebo. Selecting from her home studio where she keeps it all, is ever so difficult and the list does seem to grow longer for each photoshoot…
Eivind and I started by walking around the premises together with Michael, to look at possible backdrops, while Sissel was cutting and then styling Silje's hair. We agreed that the "klostergangen"/cloister was the best one, and that there were possibilities at the front, the main entrance door to the museum, the terrace entrance to Grosch Bistro, as well as the back wall. The interior – with its vaults and the tiled entrance hall – is lit with LED lights and difficult to use as backdrops without using blitz plus a lot of extra work for Eivind to do afterwards. The main building is the old (and first) National Bank completed in 1830, by architect Christian Heinrich Grosch, while the Fehn Pavilion was built in 2008, together with the refurbishment of the building into the National Museum – Architecture.
I had brought several blankets to keep Silje warm, in addition to a Reindeer skin I planned for her to sit on while we were photographing Biondo scarf and a short jacket. Below you can see how that worked out. As for keeping her warm, I made sure we started with the coldest designs and then the warmer ones. But we all got cold and had a warm lunch at 12.30 inside at Grosch Bistro. I had spoken to the manager to let her know that we would be a bit in and out during the day, ordered fruit and drinks for us in the morning and that we would have our lunch when we needed a break.
After lunch we were ready for the last designs. Thanks to Silje's experience we could speedily photograph the remaining garments in quick succession. In time before the November light turned blue and the approach of what we call the "blåtimen"/blue hour arriving after dusk around 3.30 pm. All the photos reflect the amazing day we had, and the wonderful team work! Thank you so much!