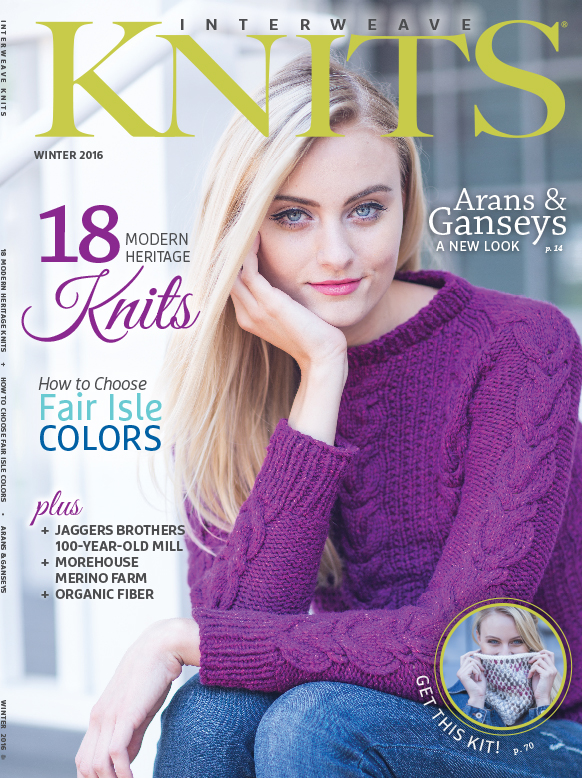 I am so proud to have been selected to have a design in the Classics Issue – Interweave Knits Winter 2016. My design is the Inverness Sweater – which introduces the A light in winter chapter – a classic Aran, has a becoming A-line shape. Twisted rib stitching introduces twisted long cables that are divided by ray-of-honey and moss-stitch side panels. I am delighted with the large selection of photos Harper Point Photography has taken of it, and want to show them all. Above is the cover of the magazine, now available digitally and in a few weeks time in print. My design was also chosen by editor (and a designer herself) Meghan Babin as her favorite project to my astonishment and utter delight, see the Knitting Daily newsletter here: cable-month-kick-off-interweave-knits-winter-2016.
I found the submission call on the Interweave website for the Classics Issue intriguing. Read their description, and you will understand why: "Though we typically ask for designs that follow several different themes, in this issue we are trying something new. For the Winter issue, we want to see traditional, iconic sweaters. That is the theme. Give us your best Arans, Fair Isle pullovers, ganseys, Nordic ski sweaters, Icelandic yokes, Bohus yokes, and more. Show us rich texture and colorwork in traditional shapes: drop shoulders, underarm gussets, unshaped bodies, steeks, picked-up sleeves, circular knitting. What subtle details can you introduce to make the looks modern without totally redesigning the archetype?".
Those were my key words and set me to work. I decided on a popular a-line shape and a modified drop shoulder and a round neck with a double neck band. The twisted cable is one of many favorites and set me off. I choose a rib with the same twisted stitches, a border dividing the different patterns including the moss stitch panels in the side. A number of swatches later I was delighted with my combination of the dividing borders, twisted cables and ray of honey as the center panel. The design was born and a sketch with suggestions for sizes plus yarn, gauge plus needles as well as construction notes was submitted.
This pullover is worked from the bottom and up with modified drop shoulder. The body and sleeves are worked in the round up to the armhole, then flat to final bind off. There is one cable on each side of the center Ray of Honey panel on the body but only one centered cable without the Ray of Honey panel on each sleeve. The decreases are worked in each side of the body for the a-line shape. The neckband is double in a Twisted Rib and also worked in the round.
The previous editor, Lisa Shroyer, e-mailed me with the wonderful news that my design was accepted and suggested using Plymouth Yarn Galway Worsted. I had no objections to that at all and was keen to try out this yarn, new to me. Like me, Lisa suggested the shade natural, keeping it classic.
I choose to knit it using a 4 mm/US 6 to obtain a tight gauge and maximum stitch definition, even though a lot of knitters would choose a larger size with the Aran/Worsted yarn. During knitting, I must admit I wished I had opted for a larger needle but then I did love the result when it was finished. As usual I could have made the sleeves longer but then I have no standard sized arms but extra long ones, just as the model in the photographs.
Above is yet another photograph of the front, with a slightly different backdrop. I love the neutral backgrounds they have chosen which make the cables on the sweater stand out even more. When you see the large selection of photos they have chosen you understand how difficult it is to choose only a few out of so many excellent photographs you usually have after a photo shoot.
Here are the last two landscape format photos. The one above creating interesting lines as a contrast to the ones on the sweater.
A close up shows the neckline and the different stitch patterns clearly. I do also think this sensual look draws you in, and capture the essence of the sweater so well. Now, I am looking forward to seeing a few knitters make their own version of my Inverness Sweater from Interweave Knits Winter 2016.