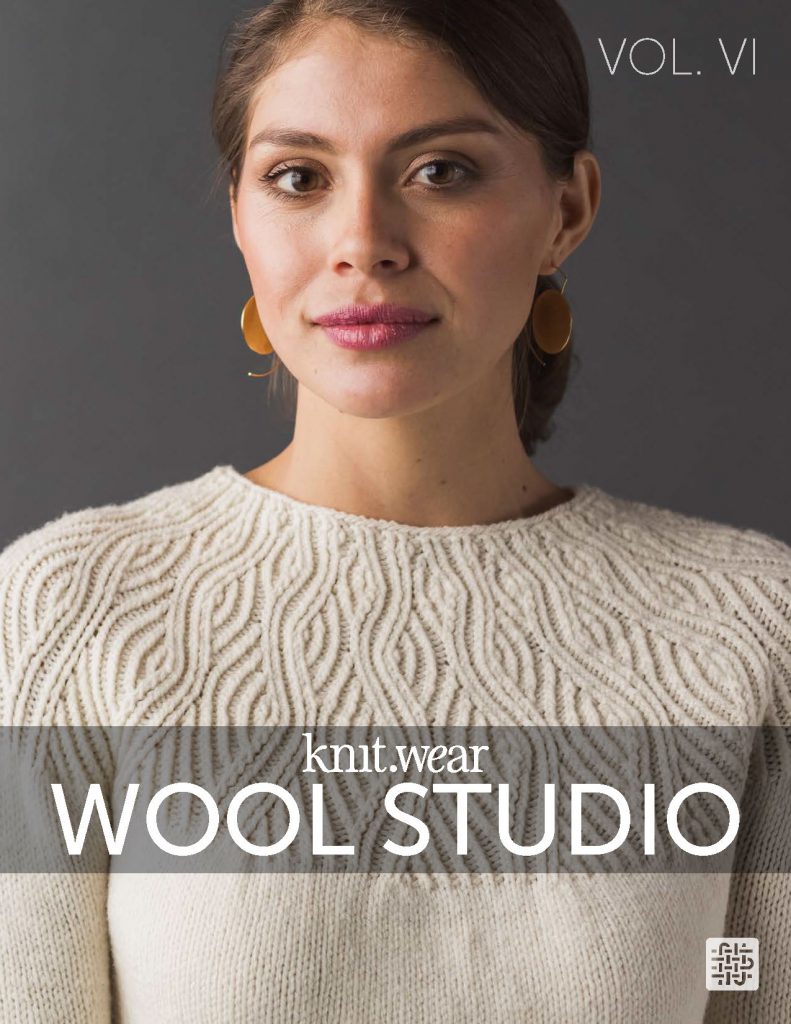 The latest issue of knit.wear Wool Studio Vol. VI by Interweave has been released and I am thrilled that my Euler Cardigan is included. On the cover is the stunning Undulating Lines Pullover by Stella Egidi knitted in Mountain Meadow Wool Alpine. The design submission call asked for designs that "converge around the theme of geometry: lines, curves, and polygons, in addition to the three-dimensional forms that make up every stitch of knitwear." Named after the accomplished and creative mathematician Leonhard Euler, this cardigan combines dropped stitches with bold cables along the front panels. The pieces are worked separately and seamed together for structure. The dramatic front panels hang loosely without a closure for an elegant but cozy sweater.
Euler Cardigan is knitted in the divine Lorna's Laces Shepherd Worsted (100% superwash Merino wool, 206 m/225 yds, 113 g). The sample is knitted in 14ns Denim using 4 mm/US 6 and 4.5 mm/US 7 with a stockinette stitch gauge of 20 sts and 27 rows using the larger needles. The cardigan shown in the smallest size which measures 85 cm/33.5″, modeled with 4 cm/1.5″ of positive ease. It is available in six sizes and the largest size measures 132 cm/52″.
The cardigan is worked back and forth from the bottom up in separate pieces and seamed. The visible stripes at the back is working with two different skeins to integrate the hand dyed colour. These beautiful photographs are all taken by Harper Point Photography.
Petra, aka Petra777 on Ravelry, asked me why I had named the cardigan after Euler. I replied that the Interweave Wool Studio theme was geometry and I wanted a name that reflected well with the intricate cable pattern. I searched for a bit and then found Euler! Petra replied: "I don't know how much you know about Euler but he was such an awesome mathematician. He is celebrated for so many accomplishments, amongst the many as the father of graph theory. One concept in graph theory is an Euler path. The cables with the dropped stitches of this cardigan remind me so much of an Euler path; which is a path composed of vertices and edges and visits every edge only once. This is another fantastic design Linda!" I am overwhelmed by this, that the name fitted so well as well as the complement! Thank you so much, Petra!
The digital magazine contains 10 designs. Interweave has written in their introduction: "Discover sophisticated, simple, and luxurious knitwear that pairs exceptional designers with splendid yarns in Wool Studio Vol. VI". I am flattered to be called an exceptional designer and I am in fabulous company, just see for yourself below:
The digital magazine is available to download from the Interweave Store. A blogpost with photos of me wearing the Euler Cardigan, taken by Michael, is coming soon.