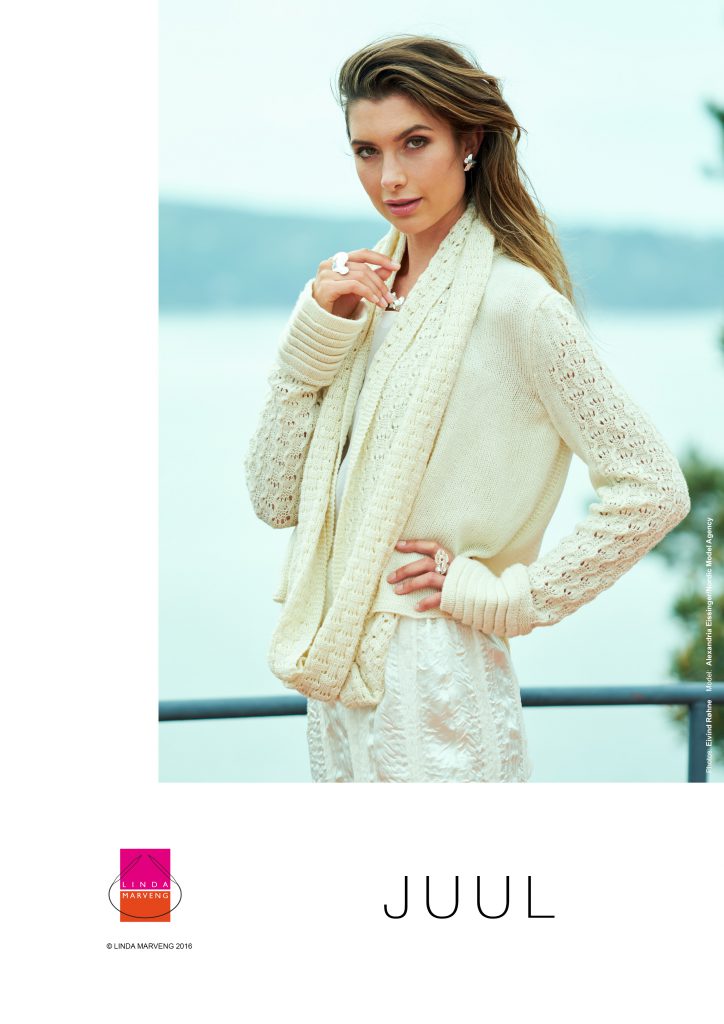 Juul Cardigan was designed for Interweave Knits Winter 2017 and their Winter Bride theme. The pattern rights have reverted to me and the English pattern has been released on Ravelry and on Love Knitting with new photos brilliantly taken by Eivind Røhne. The gorgeous model is Alexandria Eissinger, with hair & makeup by Jens J. Wiker and jewellery by Kaja Gjedebo Design. I also wanted to style it with a wedding skirt and borrowed one from Judith Bech. For a more casual style see the cardigan worn with grey pencil trousers by me here: Juul Cardigan Again. Below is the pattern introduction.
A reverisble beautiful lace pattern, is the focus point of this straight cardigan with a generous loop collar and tuck stitch cuffs. A fake garter sttich seam add a bit of structure to this cardigan. The loop collar can be worn loose, folded once behind the neck or twice in front or three times around the neck in a ballerina style hence perfect for a Winter Bride.
Sizes: XS (S, M, L, XL, 2XL)
Finished Measurements:
Bust: 90 (98, 104, 114, 124.5, 134.5) cm/35.5 (38.5, 41, 45, 49, 53)"
Length: 54 (54.5, 56, 56.5, 57.5, 59) cm/21.25 (21.5, 22, 22.25, 22.75, 23.25)"
Sleeve length: 46 (46, 47, 47, 47.5, 47.5) cm/18 (18, 18.5, 18.5, 18.75, 18.75)"
Cowl: 17 cm/6.75 wide and 296 cm/116.5" long
Yarn: Jaggerspun, Zephyr Lace 2/18 (50% merino, 50% tussah silk, 100 g, 1024 m/1120 yds). Sample is knitted in Vanilla.
http://www.jaggeryarn.com/wholesale-yarn-lines/zephyr-woo…
4 (4, 4, 5, 5, 5) skeins; 3258 (3549, 3840, 4204, 4640, 5078) m/3562 (3881, 4199, 4597, 5074, 5553) yds.
Note: Yarn is held double throughout.
Alternative yarns:
Fyberspates, Gleem Lace (55% British Bluefaced Leicester Wool, 45% silk, 100 g, 800 m/874 yds)
http://www.fyberspates.co.uk/mall/departmentpage.cfm/Fybe…
Madeline Tosh, Praire (100% superwash merino wool, 100 g, 768 m/840 yds)
http://madelinetosh.com/store/index.php/yarns/prairie.html
Shibui, Cima (70% alpaca, 30% merino, 50 g, 300 m/328 yds)
http://www.shibuiknits.com/Yarn/Colorways.php?Yarn=Cima
All held double throughout, or another 4 ply/fingering yarn held alone.
Needles:
3.25 mm/US 3 circular needles (30 cm/12", 40 cm/16" and 80 cm/32").
Adjust needle size as needed to match gauge.
Notions: Stitch markers, stitch holders and yarn needle.
Gauge:
25 sts and 32 rows in st st using 2 strands of yarn held together and 3.25 mm/US 3 needles measures 10 cm/4" square.
25 sts and 40 rows in garter st using 2 strands of yarn held together and 3.25 mm/US 3 measures 10 cm/4" square.
24 sts and 32 rows in Lace using 2 strands of yarn held together and 3.25 mm/US 2.5 measures 10 cm/4" square.
Notes: The body is worked back and forth in one piece from the lower edge to the underarm, then the upper fronts and back are worked separately.
The sleeve cuffs are worked in the round, then the remainder of the sleeve is worked flat and seamed to the underarm to provide stability for the heavy cuff.
A circular needle is used to accomodate the large number of stitches.
The hem and tucks on sleeves are made by holding a 30 cm/12" and a 40 cm/16" circular needle together.
SaveSave
SaveSave
SaveSave