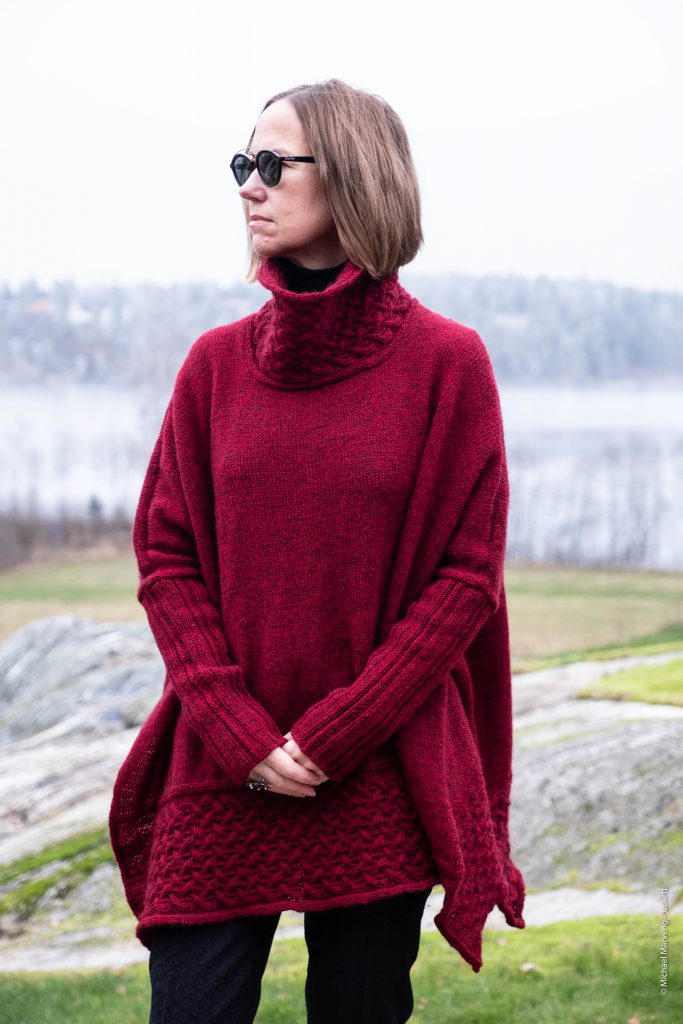 Canola is the third of the new designs made for  Hillesvåg Ullvarefabrikk in the Spring 2019 collection, which will be launched in Norwegian at Fagstrikk/Trade Knits trade fair in April, while the English pattern will be test knitted beginning on the 15th April before its release. Canola is knitted in their divine Tinde pelt wool yarn by my expert sample knitter Kristin Nygård, aka Quiltefeen on Ravelry and Instagram. The poncho is the same shape as Donia, because I wanted a second go with a smaller cable in the lovely burgundy colour way 2104. Here is my introduction: Named after Canola the Irish deity who ruled over music magic is this poncho with sideways cables at the bottom and on the high collar. The upper part is picked up and knitted from the lower cable panel and worked in stockinette stitch with shaping for the shoulders. The short sleeves in rib hold the poncho together. You can wear it with a belt or a shawl pin to gather it at the front or loose, just as you prefer.
Michael photographed me, wearing the one size Canola on our terrace in November. The cable is the same I used in Stonethwaite made for The Borrowdale Collection for The Fibre Co.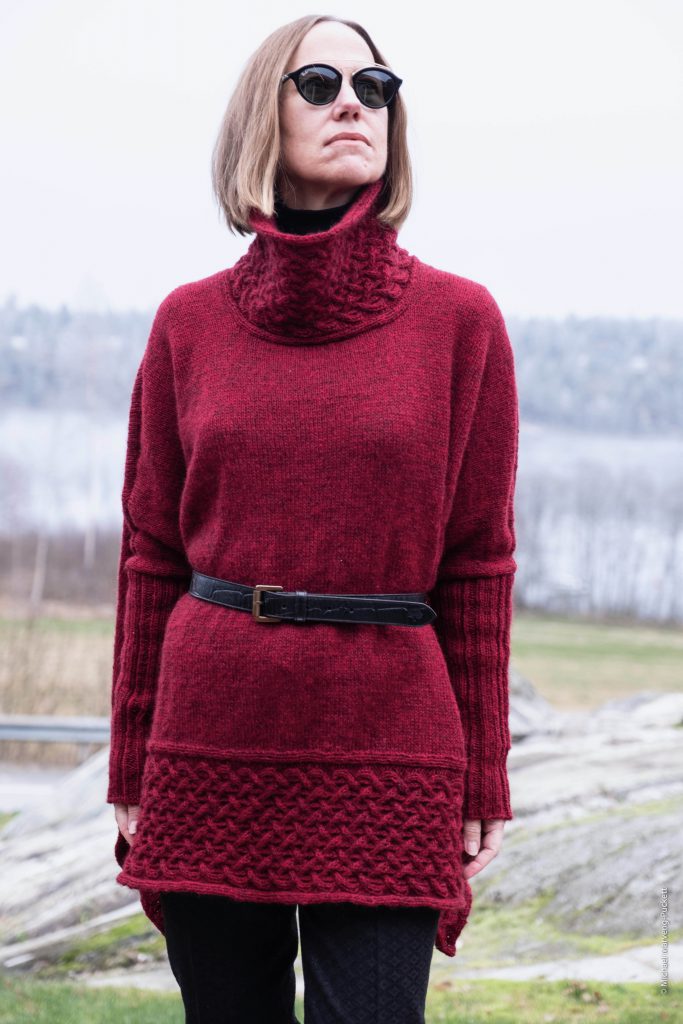 Canola is knitted using 3.5 mm/US 4 needles with a 21 stitches and 30 rows in stockinette stitch gauge to 10 cm/4″ square.
The body is knitted in four parts with cables on bottom part and stockinette stitch on the upper part. A long circular needle is used to accommodate the large number of stitches. The sleeves are knitted in the round in rib. The collar is knitted separately using a provisional cast-on so that the ends can be grafted together. If you prefer to have the collar loose, pick up and knit stitches around the neck and work an I-cord bind-off.
Here is a detail of the collar and also the photo closest in colour to the lovely Burgundy shade. I have one more new design to show you before you will see the fabulous photos taken at the Vigeland Museum.
I wish you all a Happy New Year and the best for 2019!                                                             "Takk for det gamle"/Thank you for the old one, as we say in Norway!