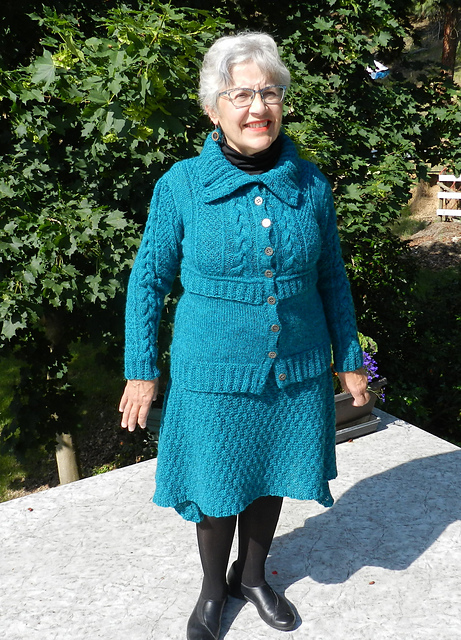 I am thrilled to show you Patricia's version of Thia jacket and Damara skirt, which she test knitted for me early this spring, before the Norwegian book "Norsk Strikkedesign. Strikk din favoritt", which I take part in with 5 designs, was sent for print. I asked Hillesvåg Ullvarefabrikk if they would be willing to sponsor Tinde pelt wool yarn to five selected test knitters and to my delight they accepted. Patricia choose the colour Blåturkis/Blue Turquoise 2129 and knitted size small but made both the body and the sleeves 10 cm/4″ shorter plus the collar 1 cm/0.5 shorter than the pattern. The skirt she made in size S and shortened the skirt with 8 cm/3.25″ plus the waistband with 2.5 cm/0.75″. On her project page for the cardigan on Ravelry, Patricia, aka Bellllama, writes:
"I was invited to take part in the test knit of this gorgeous cardigan. It's a wonderful knit using spectacular Norwegian yarn. The book is being sponsored by Hillesvåg and so test knitters received the yarn to complete the project. I ordered pewter buttons for it, as I couldn't find the proper size here. A beautiful pattern that fits wonderfully according to size. The pattern as with all of Linda's designs is easy to follow. I would strongly suggest ordering Tinde to create this sweater. It's available now in Canada!" See Farm to Cable Yarns and Espace Tricot.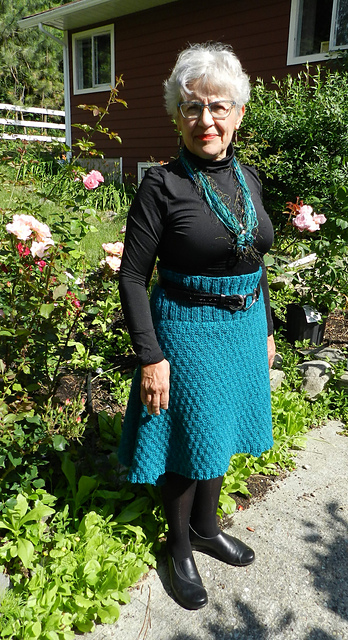 Pat continues: "I was also able to make the skirt, Damara and so I now have a wonderful suit to wear this fall and winter. Lovely patterns, Linda has done another great job!!"  Thank you ever so much for the complements and for test knitting for me, Patricia!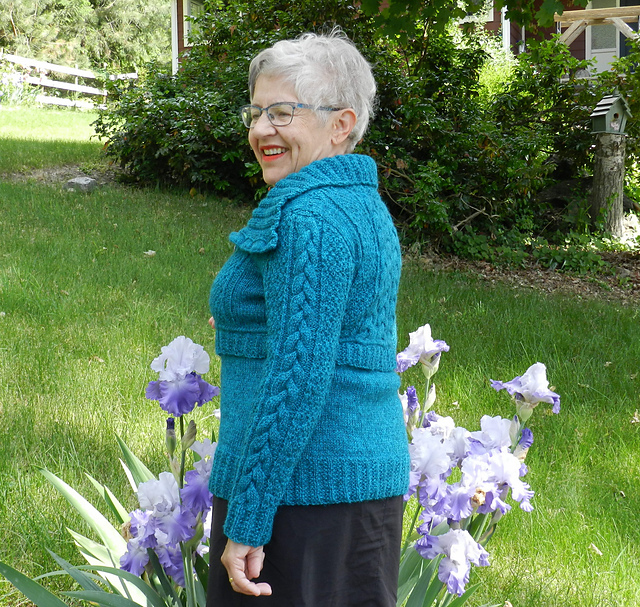 Thia is a sweet fitted cardigan with a small extra rib above the waist, cables adorning the center framed by double seed stitch. The lower part is all in stockinette stitch to allow the beautiful hand-dyed Mikkel Rev on Tinde pelt wool by Værbitt shine with its colours and depth. Thia ends in a large collar that can be folded down.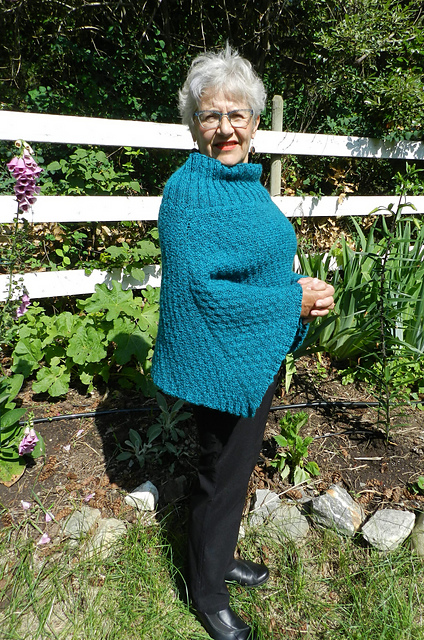 Damara: Named after the fertility Goddess is this asymmetrical skirt with a seeded rib check pattern, that can also be worn as a poncho. The high waist in ribbing is loose so that the skirt can be worn around your hips or folded down, both with a belt to hold it up. Damara is knitted in pieces with a side seam in the divine Hillesvåg Ullvarefabrikk Tinde. The ribbing is worked last so you can easily adjust it to your preference.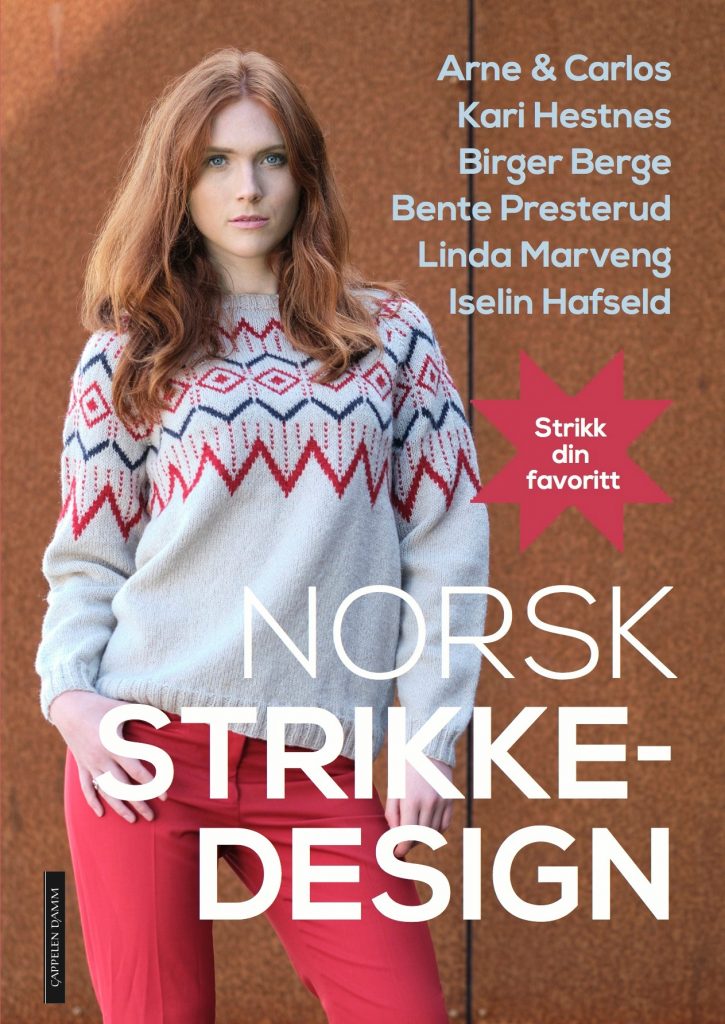 The two patterns (plus three of my other designs) are included in the Norwegian knitting book: "Norsk Strikkedesign. Strikk din favoritt"/Norwegian Knit Design. Knit Your Favourite has been released by publisher Cappelen Damm but is only available in a printed format in Norwegian and can be ordered directly from the publisher or from online book stores like: Adlibris. You can look inside here and see more photos in my blogpost: Book Club Presentation. We all hope that this will increase the possibility of it being sold by the Cappelen Damm Agency to foreign publishers, hence translated. However, the rights will revert to me in January 2021 and I will make the digital patterns available on Ravelry and LoveCrafts.