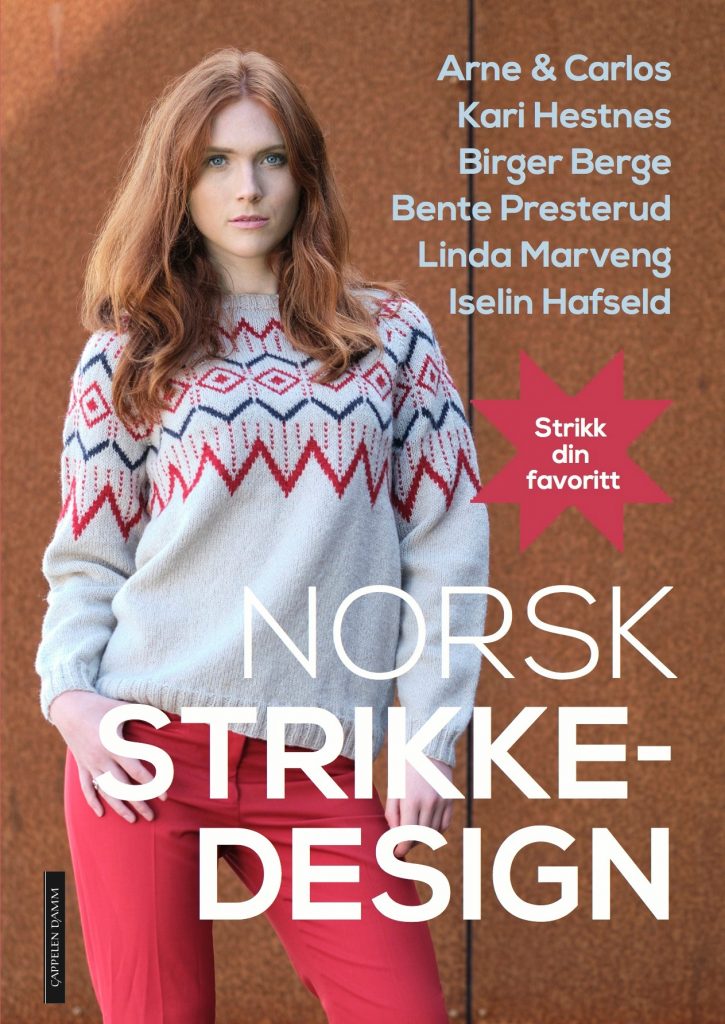 Above is the new cover of the upcoming Norwegian book: "Norsk Strikkedesign", featuring model Emma Ross wearing a pullover designed by Arne & Carlos. The editor is Iselin Hafseld and she is also a participating designer together with Arne & Carlos, Kari Hestnes, Bente Presterud, Birger Berge and me. The book will be launched before the Frankfurt Book Fair in October, where Norway is the Guest of Honour this year. We all hope that this will increase the possibility of it being sold by the Cappelen Damm Agency to foreign publishers, hence translated. The Book club, called Hobbyklubben, have sent out their magazine where the book is the main book for October. Below you see the cover they choose, a stranded colour work dress made by Bente worn by model Kaja Kvernbakken. The photographer, you will recognize I believe, is Eivind Røhne.
Gorgeous garments from six of our most popular knitwear designers. 30 knitting patterns. On the second page mittens by Arne & Carlos and the heading saying "Godt norsk" as in "Good Norwegian".
"The interest for the Norwegian knitting tradition has had a surge during the last years. In the book "Norsk Strikkedesign" designer Iselin Hafseld has persuaded 5 other active Norwegian designers to join in. It has turned into a book filled with unique designs, with small and large garments for everyday use and party, for both women and men."
Above is four garments named with designer name.
"Knit your favourite. The best of Norwegian design. Here you will find more than 30 gorgeous garments from six of our most popular knitwear designers."
The book club editor writes that this includes the best from some of the best and that she has looked forward to flickering through this. The advantages of having a real book (read: printed book) in your hands and being able to flick forward and back. How easy it is to find  a pattern she wants to try out, evaluate what colour to use and suddenly she is back with her head into her yarn basket and just have to start.
 Next is Iselin's introduction to the book: "The idea behind this book was to gather a group of designers active in the field today and who have made their mark on Norwegian Knitwear design. Six designers were invited to join with their unique designs for women and men. We, who have contributed hope that this will become your new inspirational book. A book that makes you want to create even more with needles and balls of yarn." Then follows a few sentences from each one of us about our inspiration and information about the yarn used.
The book is on schedule and has been sent to print. I have also received all the photos of my garments taken so I will be sharing those soon.