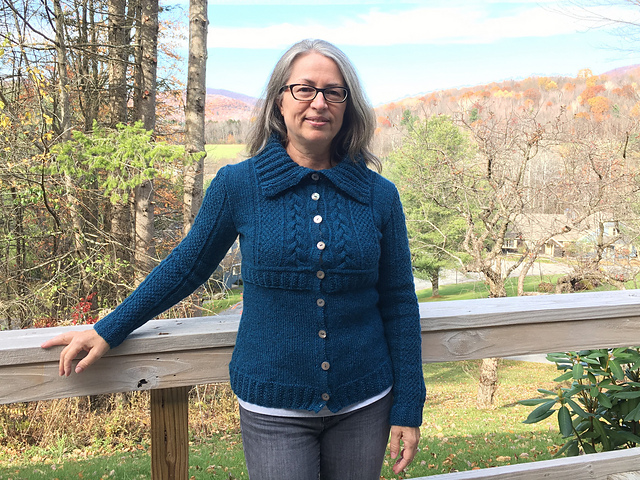 I am so happy to show you the beautiful Thia Cardigan that Dawn test knitted for me. The pattern is published in the Norwegian book "Norsk strikkedesign. Strikk din favoritt", which is currently being translated into English for publication in the US by Trafalgar Books, due out in Spring 2021. Dawn, aka Dawnadair, writes on her Ravelry project page project page: "I was extremely honored to be asked to test knit this beautiful cardigan and thrilled to accept! And also to use the lovely Hillesvåg Ullvarefabrikk Tinde pelsullgarn which was generously donated by Hillesvåg Ullvarefabrikk for all of the testers".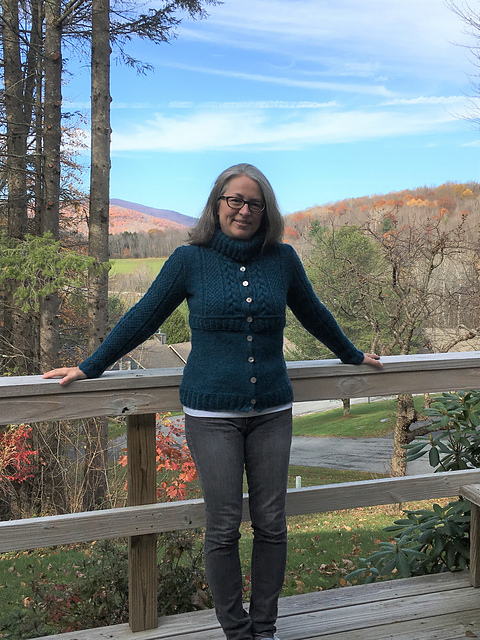 The pattern comes in sizes XS to 2XL, with a bust circumference of 84 to 126 cm/33 to 51.5″. As for size, Dawn writes: "I knitted a size S, although my usual size is M. I love it, but if I were to do it again, I would knit my usual size so that there was more room to layer under it".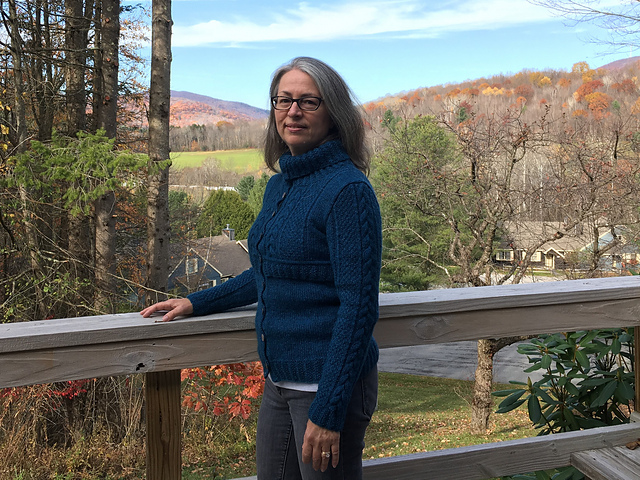 The sample made for the book was knitted in Værbitt, Mikkel Rev hand dyed on Hillesvåg Ullvarefabrikk, Tinde pelt wool using 3,5 mm/US 4 with a 21 stitches and 30 rows in stockinette stitch gauge. This is Dawn's verdict of the yarn: "It was my first experience knitting with a yarn other than Merino wool or other super soft fibers, and I was surprised by how much I liked it. I enjoyed the way the stitches grabbed each other. The resulting garment is light but very warm. And the color is very lively and perfect".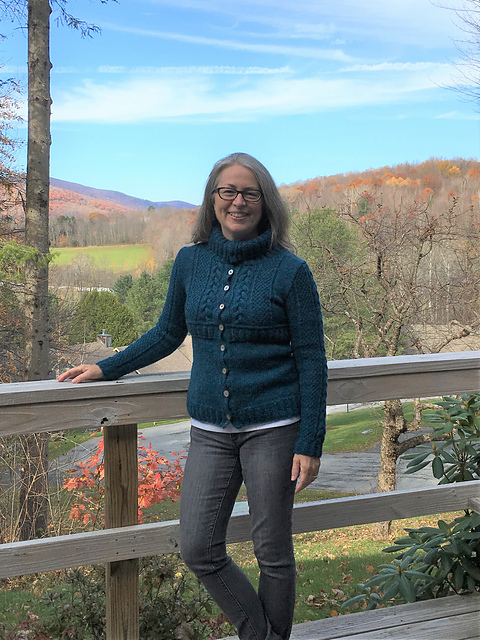 I am so chuffed by Dawn's summing up: "I love the high collar and being able to change the look of the sweater by wearing it either open or closed. The tuck and ribbed band under the chest are both fun to knit and very attractive design elements. As always, Linda has designed a unique, modern classic!". Thank you ever so much, Dawn!
The Norwegian book can be ordered directly from the publisher Cappelen Damm, for updates on the English version, see Trafalgar Books. Individual patterns in both English and Norwegian will be added to my Ravelry store and LoveCrafts on January 1st 2021 when the rights revert to me.
I hope you will stay well and keep safe in these difficult times!