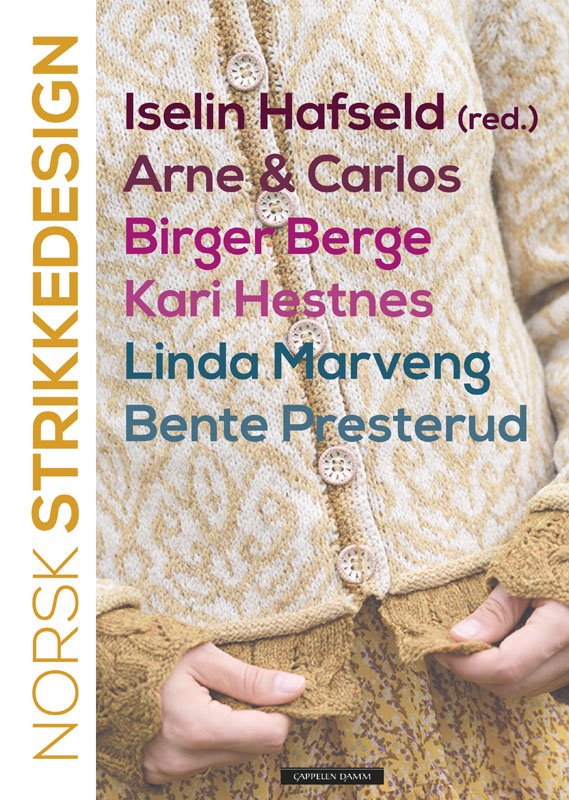 I am taking part in a Norwegian book, called Norsk Strikkedesign/Norwegian Knit Design, together with 5 other designers, all with 5 designs each, that will be published early in October by Cappelen Damm (who also published my knitting book in Norwegian and sold it to a Finnish publisher). My former mentor Iselin Hafseld, who is also the editor and a participating designer, asked me at the end of last summer. When we all had agreed, the publisher's editor Anne-Berit Tuft revealed the other 4 designers taking part: Arne & Carlos, Kari Hestnes, Bente Presterud and Birger Berge. I was thrilled with the company I am in, and that Iselin would be in charge of the photoshoot. The book was Anne-Berit's idea and she suggested it should be launched before the Frankfurt Book Fair in October, where Norway is the Guest of Honour this year. We all hope that this will increase the possibility of it being sold by the Cappelen Damm Agency to foreign publishers, hence translated.
Above is the cover, the second version that is, and we are eagerly awaiting the next one. The photographer, you will recognize I belive, is Eivind Røhne. Below is my Thia jacket knitted in Tinde pelt wool by Hillesvåg Ullvarefabrikk but hand dyed in Mikkel Rev/Michael the Fox (a child's rhyme) shade in red/orange/pink by Laila Henriksen of Værbitt/Weather bitten in Oslo.
All my designs are made in Hillesvåg Ullvarefabrikk, Tinde pelt wool since Cappelen Damm preferred Norwegian yarn or at least yarns that are easily available in Norway. I also wanted to take advantage of the offer I had received several months back from yarn dyer and shop owner Laila Henriksen, who runs Værbitt/Weather bitten in Oslo. She hand dyes on Tinde and I had already fallen in love with her Mikkel Rev/Michael the Fox. Laila was delighted to take part in this project and dyed Mikkel Rev for a cardigan for me, especially. I just had to knit this one myself, while I asked my fantastic sample knitters: Grete Jenssen – aka ma9 on Ravelry – a turbo knitter and Kristin Nygård – aka Quiltefeen on Ravelry to make the remaining 4 projects: a pullover, cowl and beret with the same cable and a skirt. All are knitted using 3.5 mm/US 4 needles and a 21 stitches and 30 rows gauge per 10 cm/4″ square.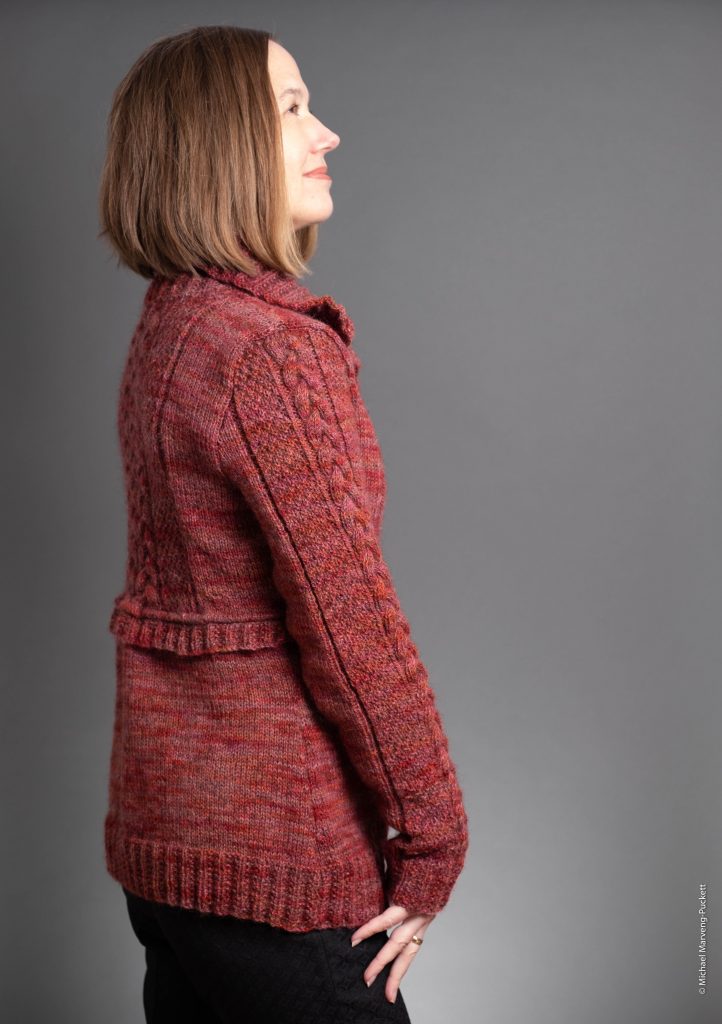 My initial idea was to make an outfit, including a beret and a skirt. I asked Laila for colour suggestion to go with her Mikkel Rev, she suggested Burgundy and Natural grey. I agreed and thought Burgundy looked best with it, so I decided to use it for the skirt, while the pullover and accessories are all made in Natural grey. As I did the finishing of the garments, I was no longer convinced they all fitted together, hence I suggested to Iselin to photograph the skirt and cardigan together.
Thia is a sweet fitted cardigan with a small extra rib above the waist, cables adorning the center framed by double seed stitch. The lower part is all in stockinette stitch to allow the beautiful hand-dyed Mikkel Rev on Tinde pelt wool by Værbitt shine with its colours and depth. Thia ends in a large collar that can be folded down.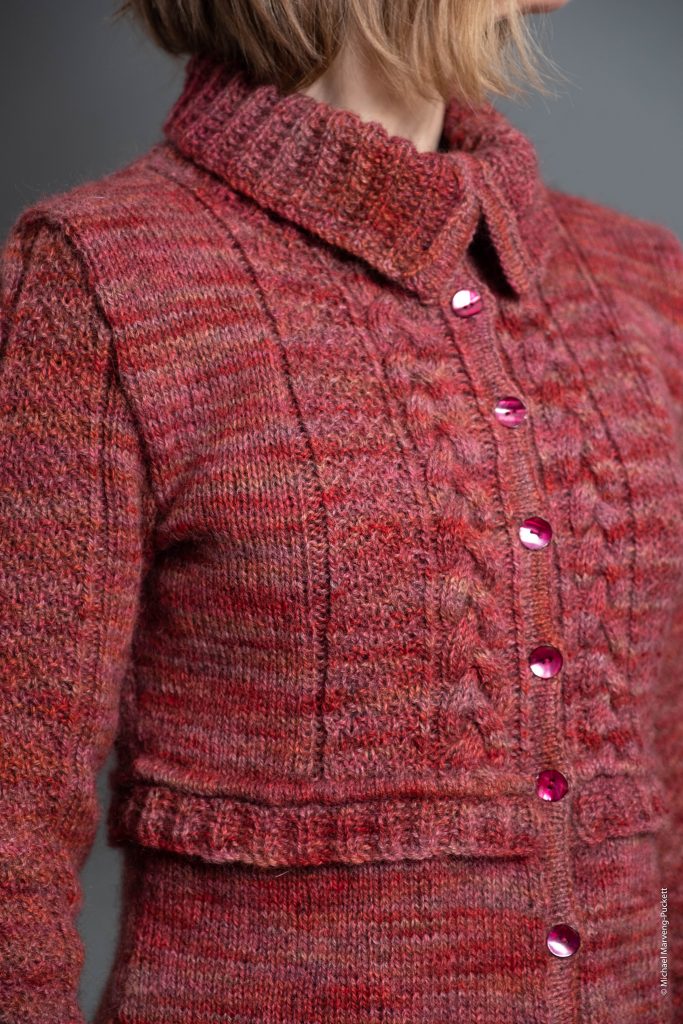 Cappelen Damm wanted all the garments for women in size medium, so above you see me wearing Thia with more ease than intended. The pattern is graded from size XS to 2XL with a bust circumference (without front bands 2 cm/0.75″) from 84 to 126 cm/33 to 51.5″.
I invited a small number of my test knitters with sponsored yarn from Hillesvåg Ullvarefabrikk to check all my 5 book patterns early this spring and I look forward to showing you their wonderful results! But first I will show you the Cian Pullover, Cian Cowl & Cian Beret and Damara Skirt.
If you support me on Patreon, you can read on and see more photos of this. Take a look here: www.patreon.com/lindamarveng