Among all the weaving equipment for sale at Husfliden – a handcraft association shop see photos at report-from-knit-cafe-at-kaffistova – I discovered the spools of Tussah Silk 20/2 from Borgs Vävgarner shining like precious stones just waiting to be touched. Obviously, several spools accompanied me home. What makes it different from any other silk, you ask. On my hands it feels more like a merino and silk mixture instead of a pure, usually, quite slippery silk. Not only easier to knit with but it also wear better due to its firm twist, I believe, since silk often can pill. My addiction to it has become rather severe and I did manage to convince my husband to travel all the way from London to Vittsjö, a village in southern Sweden, via Copenhagen. Here is the link: borgsvavgarner.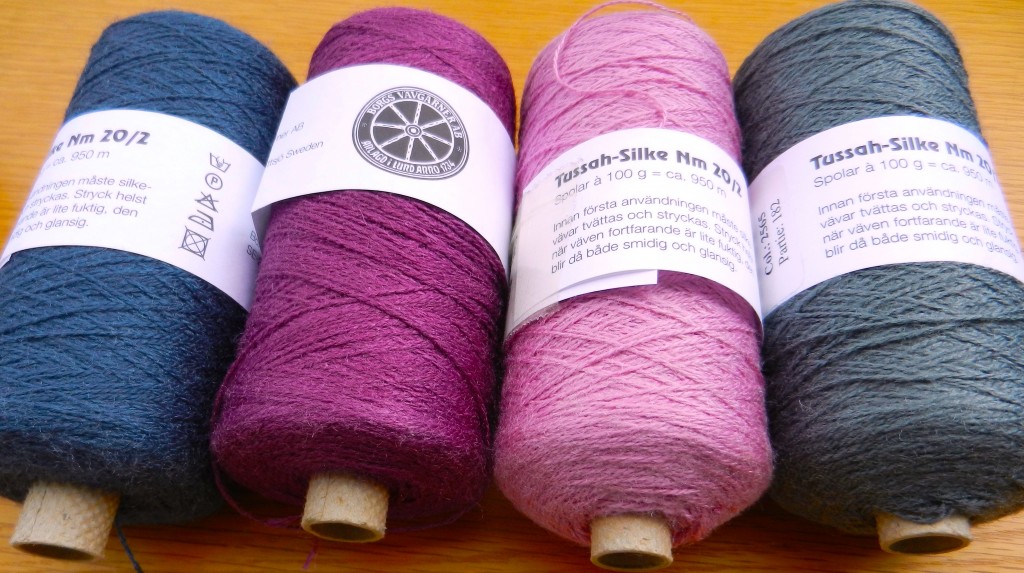 We found very few hotels nearby but soon discovered it was a short train journey away across the bridge that joins Copenhagen in Denmark and Malmö in Sweden. The trip across the bridge itself was way too quick but worth the journey all on its own. Do not attempt to buy tickets online from the Swedish Railway because it costs less than half when you buy tickets in Copenhagen. From Hässleholm we took a bus (read: very local since the bus driver knew everyone except us) past numerous farms and furniture makers before we reached Vittsjö. I was the only customer inside the shop consisting of 3 large rooms with a table & comfortable chairs with newspapers, coffee and cakes from the local bakery available for free especially for accompanying husbands. My husband was chuffed, needless to say…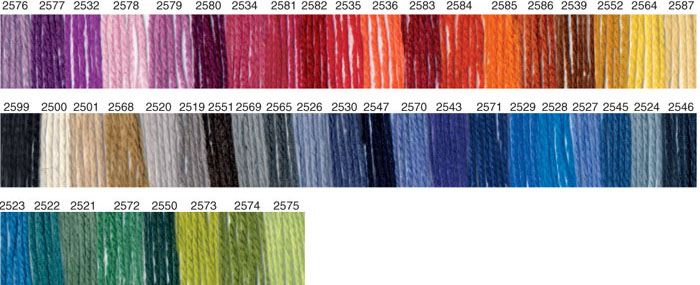 I could not find their Tussah Silk, and could feel the panic coming on, but met one of the owners Jonas who took me into their warehouse. Bliss. Since I do not know how to drive nor operate a fork lift I could not study the shelves at the top but found the silk in question easily. A few hours later my husband came checking up on me wondering both where I was and whether I was still alive. Indeed, I was in yarn heaven and had started to fill my second basket at that point in time. Not only the Tussah silk tempted me but I chose a selection of other tempting yarns too together will all their shade cards. Another customer did enter a bit later and I was not surprised to find that it was another Norwegian woman who had discovered this yarn treasure trove in southern Sweden. Even my husband keeps asking when we are going back to Borgs…
I chose this pale yellow, shade 2587, for the shawl in my book, here stunningly worn by Anna Pfeiffer at Nøklevann in Oslo. The silk is lace weight and I have chosen to knit the shawl with 2 strands held together on a 4mm/US 6 and the cowl with a single strand on a 3 mm/US 2.5. It is important to realise that silk has a drop so too avoid making a garment that stretches a lot after wearing – a lesson learnt the hard way – I suggest you steam generously and stretch firmly during the knitting! I am so pleased that I have more of this luscious silk in my stash!