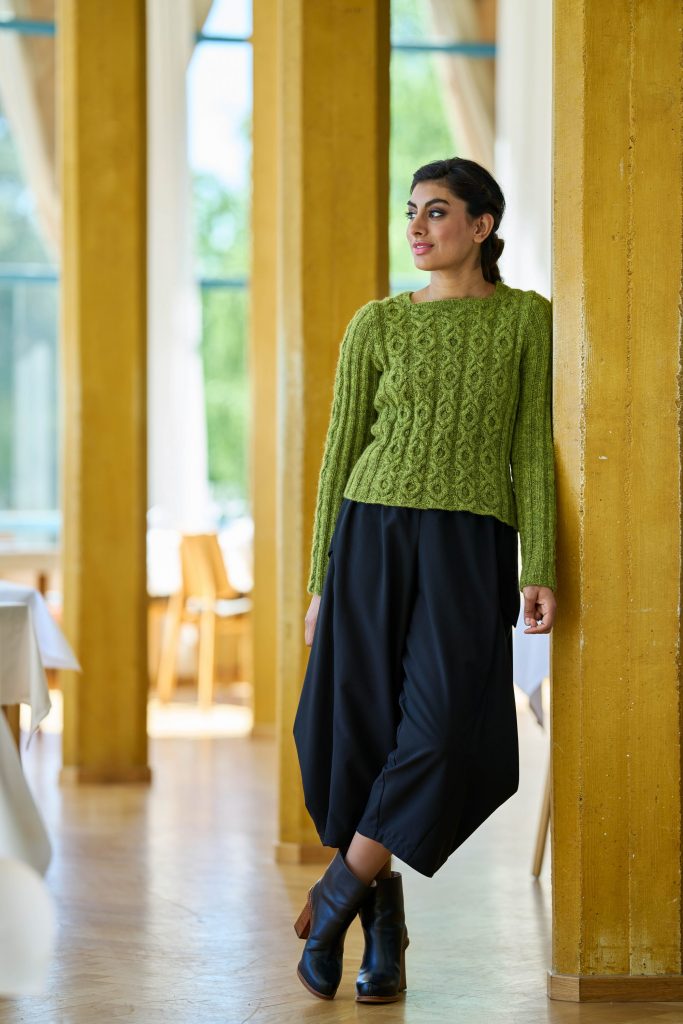 I promised to show you the new photos of Mistale, when I used a detail of one of them for the KAL pattern discount offer, so here they are. The figure hugging sweater with cowl – was knitted in the gorgeous lime pelt wool yarn and first published in the Norwegian magazine Familien Strikk back in August 2015. For these new photos, I decided to style the sweater with culottes of a Japanese brand and Evalina ankle boots by Monica Stålvang. Gorgeous Model Aksa Mortensen, with with make-up & hair by Nina Hjertaas Bull and jewellery by Kaja Gjedebo Design, wore size Small with 6.5 cm/2.5″ positive ease. Brilliant Photographer Eivind Røhne captured these photos at Hvalstrand Bad back in May and they are the last ones from the shoot.
The vivid lime green in the stunning Tinde pelt wool yarn from Hillesvåg Ullvarefabrikk intoxicated me. I discovered that cross cables with round cables in the middle made a gorgeous texture. By framing the cables with a rib, the sweater becomes figure hugging and is the perfect accompaniment to your favourite jeans or trousers. It ends with a squarish narrow neckband and you can choose if you want to add the matching cowl.
The Sweater, both the sleeves and the body are worked in the round to the armhole and then worked back and forth in rows. The cowl is worked in the round as a long tube, and then the ends are joined together.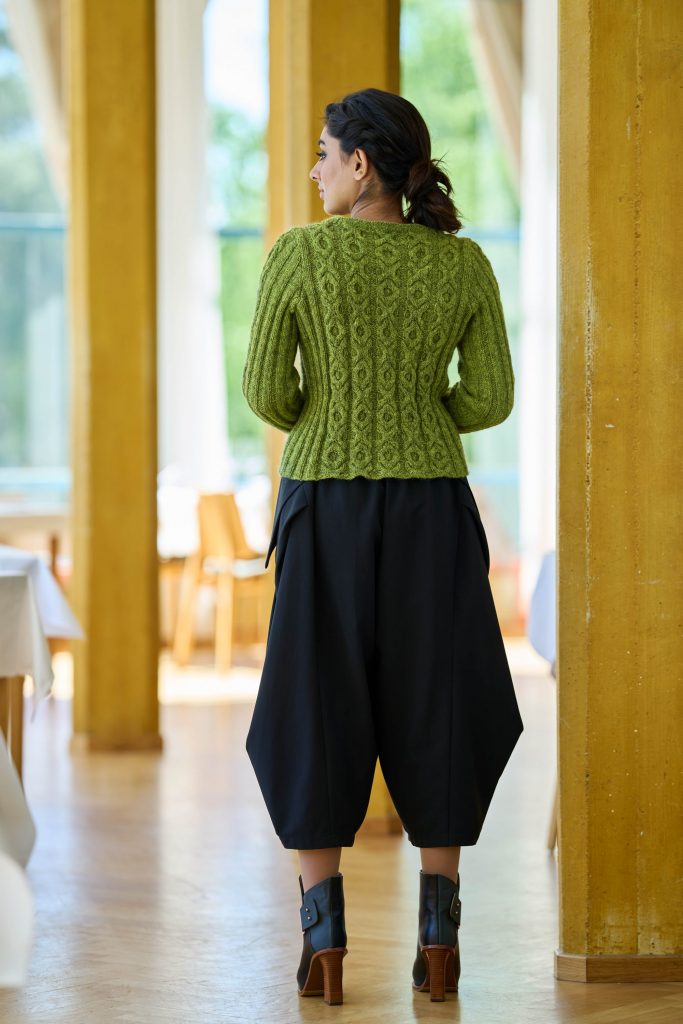 Mistale is knitted using 3.5 mm/US 4 needles and with a 21 stitches and 28 rows in stockinette stitch gauge measuring 10 cm/4" square.
The sweater pattern is available in sizes XS to 2XL with a bust circumference from 89 to 129.5 cm/35 to 51".
You have already seen a detail of this photo used in the KAL pattern discount – still valid for two more days (through September 2021). The digital pattern, available in both English and Norwegian, can be bought at Ravelry and at LoveCrafts. I brought a brightly coloured silk scarf, that Nina folded around Aksa's head. I love these new photos of the Mistale so I would like to thank my awesome photoshoot crew!