Here are the photos of Kolga – pullover and cowl – that I have been looking forward to showing you. The set is knitted in the hand dyed Washed Out colour way in Walk Collection, Merino Sport and looked fantastic on Model Aksa Mortensen, with make-up & hair by Nina Hjertaas Bull and jewellery by Kaja Gjedebo Design. Brilliant Photographer Eivind Røhne captured these photos at Hvalstrand Bad back in May. The test knit of the pattern has just begun in my Ravelry group, so join in, if you are interested. I plan to release the English and the Norwegian pattern on 28th of October.
Aksa is wearing size Small with 6 cm/2.25″ positive ease. The pullover is graded in sizes XS to 5XL with a bust circumference of 84 to 160 cm/33 to 63″.
Kolga is Norse for a cool wave, like the one created by the Honeycomb cable pattern on this pullover. The A-line front moves the side seam and vent backwards, making it flow like waves. Kolga is knitted in the divine hand dyed Walk Collection Merino Sport yarn, in pieces and seamed for the ultimate fit. A folded down cowl gives the pullover a collar, while a standing cowl warms your neck.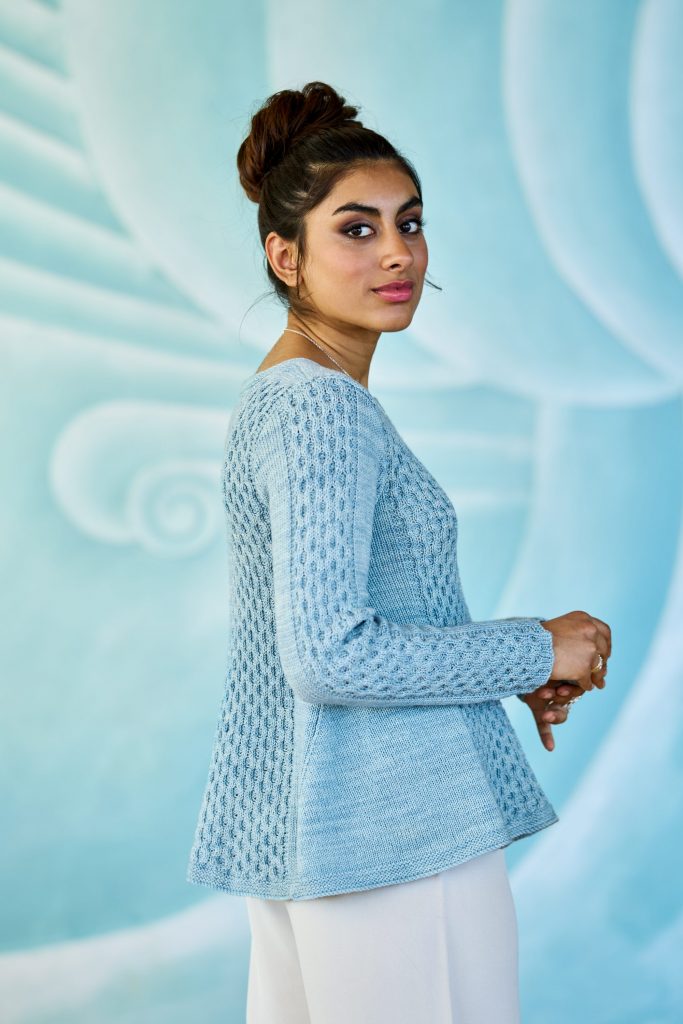 I knitted Kolga with a 24 stitches and 32 rows gauge in stockinette stitch using a 3.5 mm/US 4 needle measuring 10 cm/4″ square. To style it, I choose my cream coloured silk trousers which pick up the white in the divine hand dyed colour.
The pullover is worked back and forth in separate pieces and seamed. The front is 40 (40, 40, 40, 40) (36, 36, 32, 32) cm/15.75 (15.75, 15.75, 15.75, 15.75) (14.25, 14.25, 12.5, 12.5)" wider than the back at the bottom before the armhole.
Above you see the cowl standing straight and not folded down as a turtleneck in the top photo.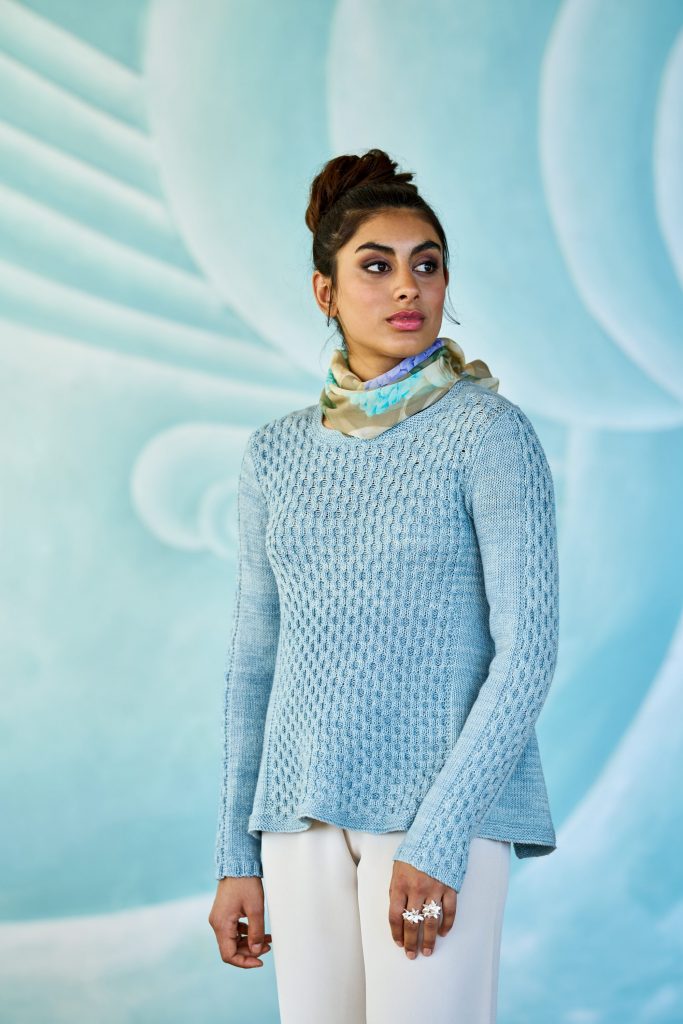 The neckband and the cowl are worked in the round. A circular needle is used for the front to accommodate the large number of stitches. Above you see it with a silk scarf, that Nina styled to lie around Aksa's neck. I loved the tone-in-tone mural as a background and the amazing job my photoshoot team did! Thank you!