The idea for this design came from a hoodie that the modell Olivia Lindtein was wearing during our photoshoot at Bøler Church back in May 2020. Just like Olivia's sweater I wanted to use a mohair mix yarn in a beige or camel colour. Walk Collection had the colour I wanted the Merino Sport in Camel (100% Superwash Merino, 100 g, 325 m/355 yds). Now, did I want the same colour in the KidMohair Lace (70% mohair, 30% silk, 50 g, 420 m/459 yds) or should I choose a similar colour that would make a larger difference in the colour. Below you see the two yarns together and the cable I chose.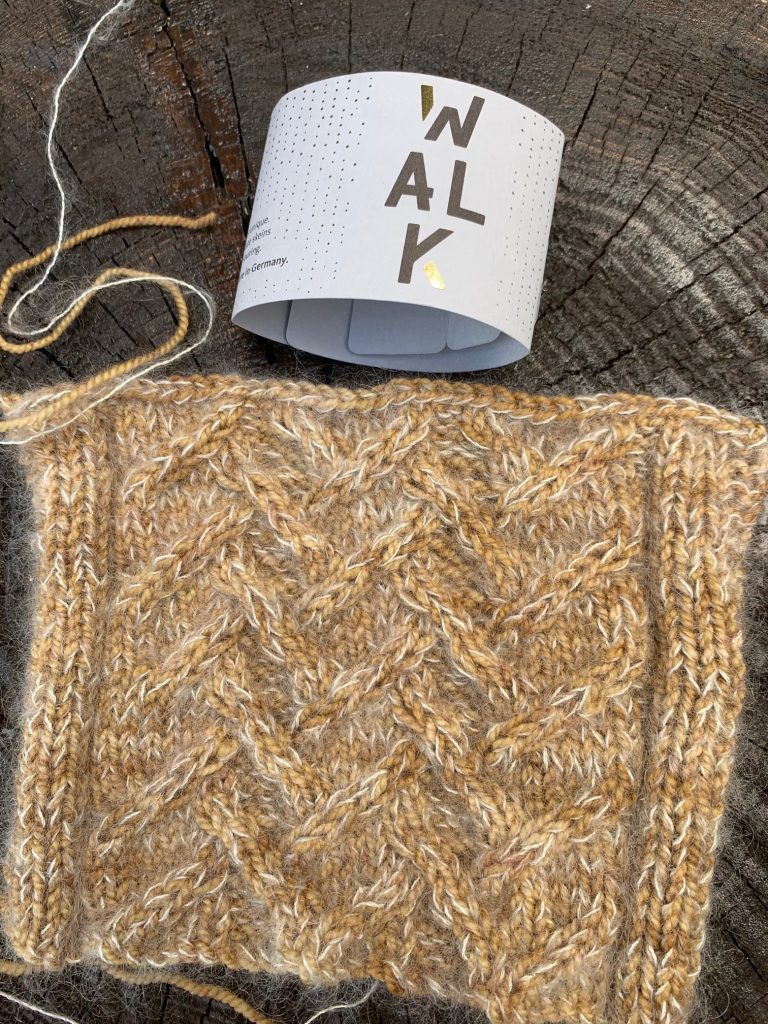 I was so chuffed that Cathrin Walk would sponsor yarn for a second design. The gauge with one strand of each yarn is 20 stitches and 30 rows in stockinette stitch using a 4 mm/US 6 needle measuring 10 cm/4″ square.
Back to the choice of stitch pattern for it. Olivia's hoodie was all in stockinette stitch. I picked a cable for the center front & back as well as sleeve. I decided to use one that I have used previously in my Vaga design and have only one pattern repeat of it, so that it could continue all the way up along the sleeve cap to the final bind off.
What kind of hood should I make for it? I looked at other patterns and the different constructions of it. In the end I chose a close hood, where the back neck continues up along the back head – so that the cable could continue – with a rounded top. Then you pick up stitches around it and increase a number of times before the last part is worked even.
 Grete Jenssen, aka ma9 on Ravelry, brilliantly knitted this sample, in pieces, while I knitted the last part of the hood and tried out different edges on it. In the end the hood became a bit too shallow; It covers the back head but does not stay on the front part of the head.
I asked my technical editor Barbara how I could adjust it. She suggested simply to make the last part of the hood 3.5 to 5 cm/1.5 to 2″ longer, hence I have altered the pattern from sample length 11.5 cm/4.25″ to 16.5 cm/6.5″. I hope to have this theory tested during the test knit.
The photos above are taken by Michael at the beach in Ørje on a very cold November day with a cold blue light – typical for the winter season. I am wearing size S with only 2 cm/0.75″ positive ease. I have graded the hoodie in sizes XS to 5XL with a bust/hip measurement of 84 to 160 cm/33 to 63″, and a waist measurement of 78 to 154 cm/30.75 to 60.75″. This is the next test knit to start on February 15, with a release date of April 6.
I decided to style it with a pleated skirt, as I knew I wanted Olivia to wear cream coloured silk trousers with it during our photoshoot. So that you can see how it looks with different styling. I look forward to showing you those photos soon!