I wanted to show you Tina's gorgeous version of my Lofn design, knitted in Mirasol Sulka Nina. Tina is one of my eagle eyed test knitters and volunteered to make size Small. I was fortunate to meet the lovely Tina, who is from Slovenia at the Vienna Wool & Design Festival, back in May 2017.  On her project page on Ravelry, where she is tinkaslo, she writes: "Another wonderful Linda's pullover. I love special designs and it was my big wish to test knit it. Here I am. Due to different gauge I'll be busy all the time – some adjustments needed." Tina has written down all the adjustments she did on her project page!
Tina found a scenic background to photograph Lofn, somehow it made the texture and cables pop even more. Tina used a 4 mm/US 6 needle, while my sample knitter Grete Jenssen used a 3 mm/US 2.5 and the Hillesvåg Ullvarefabrikk Sølje pelt wool yarn. Thank you so much for test knitting for me and for making such a stunning version, Tina!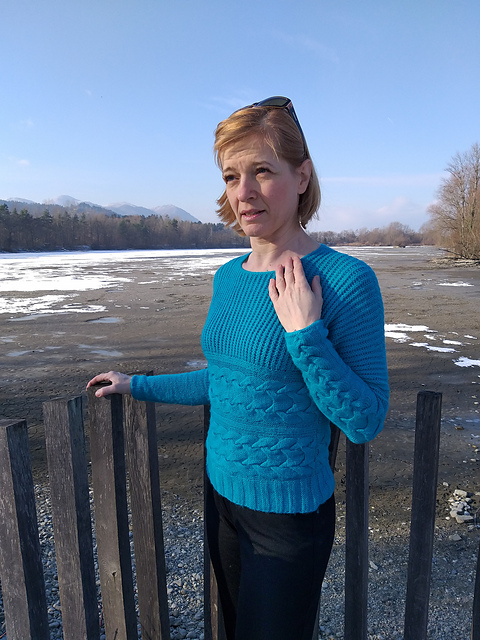 Here is my introduction to the pattern: Lofn is Norse for praise. This pullover is praising texture with its sideways voluptous cables and welt pattern that works like a rib. The upper part is picked up and knitted in Fisherman's Rib and increased into top part of sleeve, while the bottom part of sleeve is knitted separately.
The Lofn pattern is available in English and in Norwegian in my Ravelry store and on Loveknitting. Yarn kits can be ordered directly from Hillesvåg Ullvarefabrikk.