A sweater dress makes you feel both cosy and comfortable. The key is to make the dress in a lighter yarn instead of a thicker one and to choose a bouncy wool or another fiber you like wearing that will also keep its shape. I admit that I have several in my wardrobe that I wear a lot. Hence it did take me a long time to actually design one as I wanted to make it extra special. Now, four dress designs later I can tell you the story of Sigyn, Aibell, Gyro and Keila – coming very soon.
My first and most popular dress is Sigyn made for Hillesvåg Ullvarefabrikk in the fine yarn Sølje pelt wool, modelled by Emma Ross. The A-line silhouette becomes bodycon with the ribbing and has two central swinging cables that are divided, then moving towards the shoulder to make a v-neck at the front.
The second dress I designed was Aibell made for Hillesvåg Ullvarefabrikk this time in the slightly thicker yarn Tinde pelt wool, also modelled by Emma Ross. The balloon dress is shaped by cables introduced one at a time and can be worn as tunic or a minidress.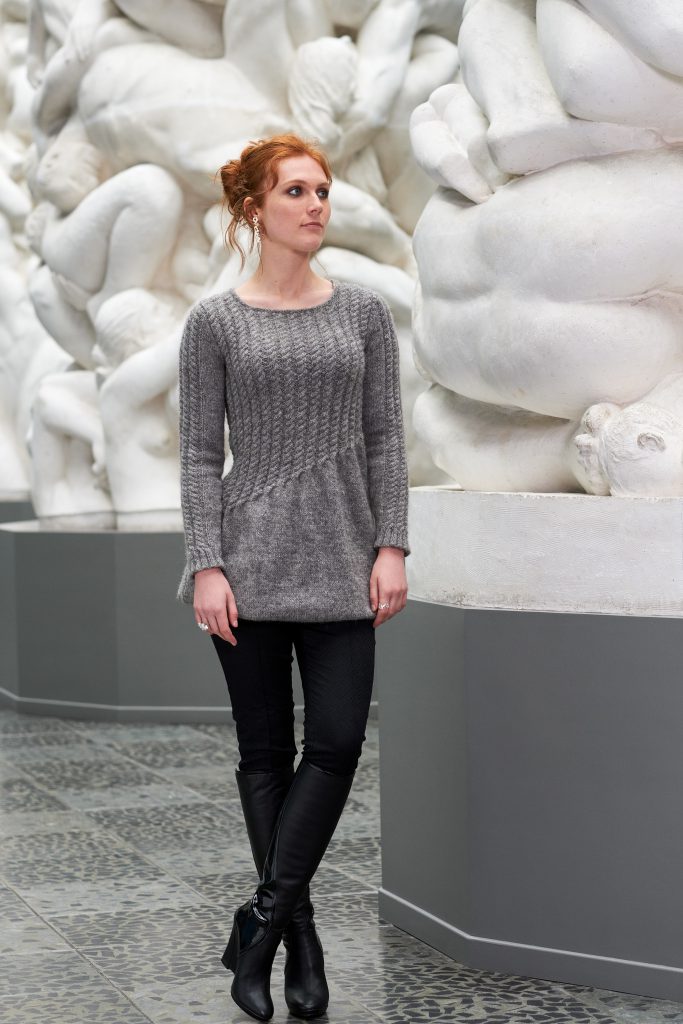 I did not have to appoint Beth Robinson, aka yarnbeth, as my Aibell Ambassador – she actually volunteered after she had made her first Aibell dress. Beth has made another two, so far..
The third one I designed, also for Hillesvåg Ullvarefabrikk, is made in two colours and in two yarns both Tinde pelt wool yarn for the center panel and Sølje for the sleeve panels: Gyro modelled by Olivia Lindtein. This time I wanted to try out an oversized dress with bat sleeves. The center cable panel crowns the dress and ends in a wide neck with an I-cord bind off.
Keila is the latest one and you can guess which yarn company it is made for. Yes, it is for Hillesvåg Ullvarefabrikk knitted in their Sølje pelt wool and modelled by Aksa Mortensen. Honeycomb cables cover most of the dress except for the armhole and half the sleeves. You shape the skirt part into the high bodice part by changing the sizes of the cables.
Wear the dress as a balloon dress or a tunic by inserting a cord into the double hem. I am looking forward to the launch of the yarn kit and the test knit of this pattern beginning in November in my Ravelry group. All the dresses are brilliantly photographed by Eivind Røhne. If you are wondering if I am going to design any more dresses, I can reveal that the next one is already in the works! Enjoy the Sweater Season and your Sweater Dresses!