I am proud to present my Aibell Ambassador. American test knitter and Patron Beth Robinson, aka yarnbeth, made her Aibell in Madeline Tosh Work Sock Sport in a size M to L with length, gauge and band modifications using a 4 mm/US 6 needle. On Beth's project page on Ravelry she writes: "This is absolutely my most favorite knitted thing I have ever done. I am wearing it around the house now like pyjamas, and don't know when I will take it off long enough to wash it."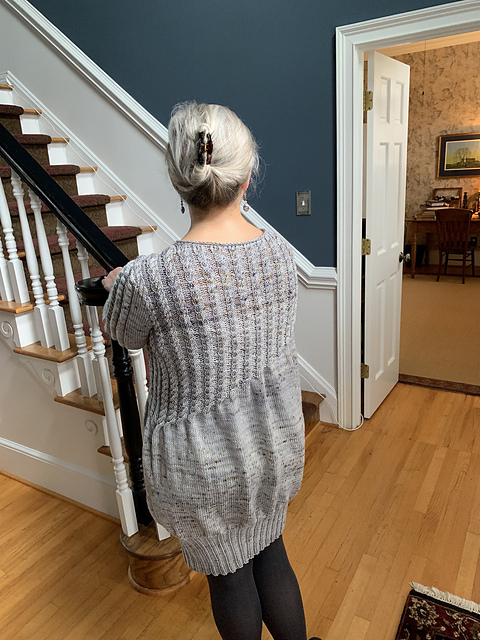 Beth loves it so much she bestowed the role as Aibell Ambassador upon herself, with my blessings; "The shape is fabulous – it is very comfortable and looks good too!" I think my Aibell Ambassador is the best!
Before she made the cowl, back in November 2019: "Haven't made the cowl yet but I might….not sure if I would wear it as a belt, and not sure if I have enough yarn left. I could always blend it with other yarns…hmmm. And hey, I was wrong about whether I could wear this dress shape, so maybe I am wrong about whether I would wear the cowl as a belt too! "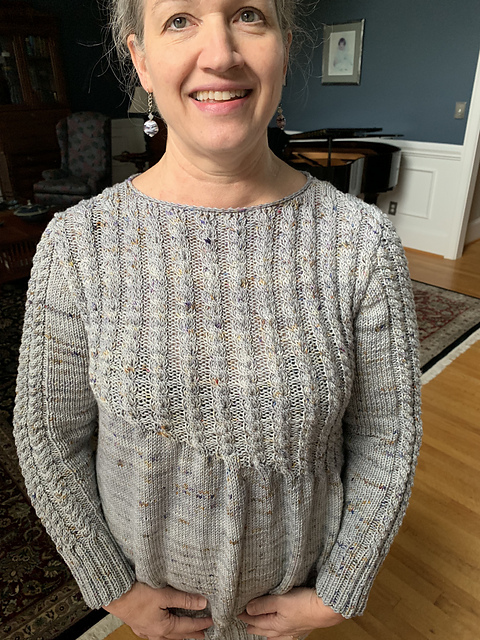 "Finished up the belt – decided to make it more of an obi style since I had so little of the Work Sock left, and I think I would wear that more, if I even do." The only thing left for me to say is that my Aibell Ambassador is doing a fabulous job encouraging knitters to make an Aibell dress for themselves. Thank you so much!
The Aibell  yarn kit with the pattern in English or Norwegian is available from Hillesvåg Ullvarefabrikk. The individual pattern is available in English and Norwegian in my Ravelry Store and on LoveCrafts.